Here at Fangirlish we looovvee Christmas movies! So we thought it would be a good idea to release roundtables up until Christmas, talking about the movies we loved and hated. You know, so you can make your list of what you should absolutely check out, and what you can and should avoid. Here is the first round of Christmas movies we are talking all about.
Joining me this week is Erica, Lizzie, Lyra, Erin and Julie.
McKenzie
I have yet to watch a movie I love so it's been a disappointing start to me.  So far Hallmark has been just a little blah and not capturing my attention. Here's hoping that they get better going into December. 
I HATED The Knight Before Christmas. I'm probably in the extreme minority among us all. I love a good cheesy predictable storyline, those that Hallmark is famous for. However, this one was way over the top it was so bad.  I found myself fast forwarding through at least a third of it because I was so bored and just wanted to get onto the next part of the story.  
Erin
The movie I have loved the most is a screener that I can't talk about. And I haven't had a chance to watch The Knight Before Christmas. But Hallmark, and it kills me to say this, has been letting me down a little this season. But if we're gonna have to chose one – it's Christmas Under the Stars. Mostly because I think Jesse Metcalfe is really hot. Yes, I am not judging on quality of the movie, but quality of thee actor. Cause thats how disappointed I am. However if you want me to go on quality – it would have to be Christmas at Graceland – cause you can never go wrong with Elvis themed, unless Kelly Pickler stars in it. Then no. 
What I hated/disliked/whatever  well that's gonna have to be Write This Christmas. I felt so excited to see Chad Michael Murray – cause OTH forever. BUT it was one of the worst Christmas movies ever in my life. And ill leave it at that – cause – i – am – trying – to – be KIND. but whomever wrote that should be embarrassed. And the acting in it was forced and dry. I'd be more excited to watch that. 
Lizzie
The movie I loved was The Knight Before Christmas. It was just …exactly what I want out of Christmas movies. Sweet, cheesy, tropey and the kind that makes you feel the spirit of the season. Also, Josh Withehouse is ACTUALLY charming, which is rare in Christmas movies, which are usually a vehicle for the woman to shine.
I didn't have a movie I hated. I'm not going to pick one, but I am going to say that Hallmark is kinda disappointing me this season – not one movie has been a standout for me, and The Eve managed to make Matt Davis look unattractive. How is that even possible? 
Lyra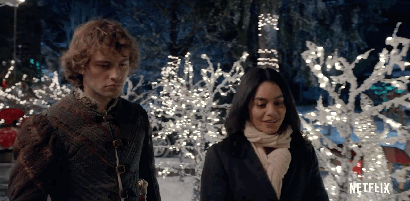 The Knight Before Christmas is going to be the clear winner in this roundtable for most loved. Not only was it funny and full of Christmas cheesiness, it was really sweet. The male lead was charming and made the character into something I've never seen in a Christmas movie before, actually charming. Most male leads of Christmas romance movies are blander than flour. He wasn't. Vanessa Hudgens, our female lead, was exactly what I expected from a Christmas movie heroine. She was down to Earth, funny, and the kind of person I wouldn't mind hanging out with during Christmas. 
As for least loved/hated, does it count if I haven't watched the movie? Turkey Drop looked kind of ehhhh. Like ehhh enough where I didn't want to watch it or invest my time in it.
Erica
The Christmas movie I LOVE is The Knight Before Christmas! Vanessa Hudgens is absolutely one of my favorites and she shines as always. This is just one of those perfect cheesy Christmas movies you fall in love with. The guys in these movies are usually pretty good but Josh Whitehouse is CHARMING AF! Everything is on point with the cast, chemistry, and the story!
I didn't hate this next one but I definitely didn't love it, Noelle. First of all, I have mad love for Anna Kendrick and I was so excited about this movie from Disney+ but it fell way below my expectations. All the factors were there to make it good like Bill Hader as Santa who is just not into it but things never fall into place. If I'm being honest, it felt like a bad rip off of Elf.
Julie
I'm going to have to disagree with Erica and say that I loved Noelle. I'm probably a little biased because I learned while watching it that it was filmed near where I live. You can't totally hate a movie that has scenes at a location where you and your husband used to go on dates. I'm also a die-hard Bill Hader fan, so I loved him as Santa's son. And Anna Kendrick was positively a delight in this whole movie. And (SPOILER ALERT) I watched it with my 7yo daughter, who was absolutely over the moon about the fact that there was a girl Santa at the end. She yelled – "see, girls can do anything they want!" Which made the whole thing worth it.
I can't say there are any I hate this year so far. I'm a little sad that I don't have the Hallmark Channel this time around, but I did sign up for the streaming service. It's not the same content, but I will reserve judgement until we get closer to Christmas.
What has been your favorite Christmas movie so far?