Bringing something to life like Charlie's Angels isn't easy. You need the right cast, the right writers, and the right kind of person to nail the look of your vision. That's where Melanie Hughes-Weaver comes in. We got a chance to speak with Hughes-Weaver, the brilliant makeup designer behind the scenes of Charlie's Angels and this is what she had to say about what makes an angel, Kristen Stewart fangirling, and working with such talented and different women.
First of all, and especially for a movie like this, it's important to understand that anyone can be an Angel or a Bosley. According to Hughes-Weaver, as long as you have "guts, heart, and authenticity," you are more than capable of being an angel or a badass like the Bosley's in this film. And what she did in the makeup department when it came to bringing the Angels and Bosley's to life was just a small but essential part of everything on Charlie's Angels.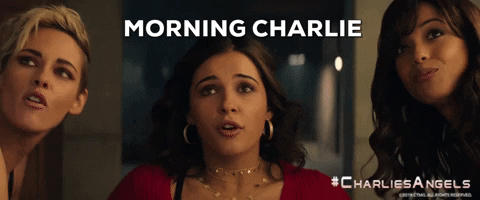 "I think the Charlie's Angels in the past, future, and present and what that means for women, I don't think it's a specific look. It's more of something that you carry inside of you." Because Hughes-Weaver wasn't looking for cookie cutter women when creating the looks for Charlie's Angels. She was looking to tap into that little something that is within all of us. "So that's the part that I think is a more modernistic approach that I really like."
Kristen Stewart, who plays Sabina, was an especially welcome challenge Hughes-Weaver. And from what we've seen when it comes to reactions all over social media, Hughes-Weaver killed it when it came to this character and her look. 
"Sabina, who is obviously Kristen Stewart, she was the edgy understated beauty with the wicked humor. And her makeup could range from natural to just a bold and edgy look, like patent leather liner." Hughes Weaver continued by explaining, "We moved between bold red lips and disco glam that choreographs with dancing or fighting."
And when asked about the online reactions to Kristen Stewart in Charlie's Angels, she said, "I know that they love her and I'm not surprised. I think people relate to her because her style is her own. And it's Kristen but with embellishments. Not just a recreation because she's so undeniably herself and I think her kind of beauty is something women are embracing."
All that does is make us love Kristen Stewart even more because we got to see who she really was on Charlie's Angels in a way that no other movie has ever done for the actress. #Proud
Stewart wasn't the only beauty that Hughes-Weaver helped transform into an angel. There was also Ella Balinska who plays the badass Jane Kano. "For Jane, we made 12 different looks from vulnerable soft tones to her signature smoky brown eyes."
And like Kristen Stewart, it was important that Ella Balinska's character could transition between undercover work, to dancing at a party, to hanging out with Sabina and Elena. It's what Hughes-Weaver liked to call, "warrior mode."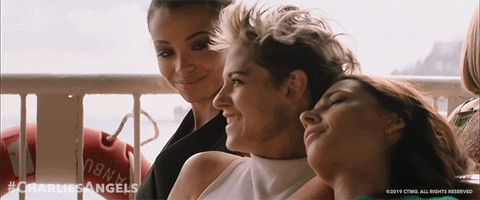 This mode consists of transformative looks that last the long hours these women work on set but also the long action sequences that are filmed over and over again. That also takes into account the different lighting and situations these actors find themselves in, something I've never really thought about until Hughes-Weaver spoke about while speaking on each individual look. 
And then there's Naomi Scott's character Elena. According to Hughes-Weaver, she presented her own challenges. "She was the brainiac, the kind of quirky one that had the tendency of having the comedic tones in this film. Kristen was funny as well. There were funny moments with all of them but she was a little more of the comedian. And I think we had a lot to play with. We decided to keep her organic business look."
As Elena grew and transformed, so did her look. "We enhanced her beautiful skin and facial structure. We concentrated on her eyes and did smoky undertones and accented a pop of color to draw you in. And we intensified her. You can feel her strength growing because of her look."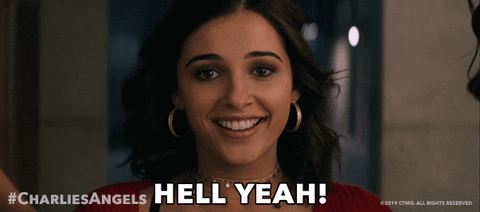 Finally there's Bosley, played by Elizabeth Banks, and who was producing, writing, directing, and acting in Charlie's Angels. According to Hughes-Weaver, that presented a different set of challenges. "I had to think about, I had to be prepared for quick changes that were smart and durable because we weren't going to get a lot of time. So I kind of created a beauty design that can also be layered."
Ultimately, what we learned from Hughes-Weaver is that creating beauty looks for Charlie's Angels was more than just working with talented women. It was creating sustainable looks that brought these women and their characters to life. It was about being adaptable, understanding your craft, and knowing that you're on the go, the entire time you're on set.
So, if you're looking to follow a path like Hughes-Weaver, just remember one thing. "You're contributing to the collaboration of someone else's dream" and it's up to you to help bring it to life, because that is ultimately the job of makeup design extraordinaires like Melanie Hughes-Weaver. 
Charlie's Angels is now playing in theaters.