The first two episodes of the BBC British drama Gold Digger have been released by Acorn TV, and boy did they bring us all the drama.
Here's what the series is about, in case you need a refresher:
Wealthy 60-year old Julia (Julia Ormond) falls in love with Benjamin (Ben Barnes), a man 26-years her junior. Julia may have finally found the happiness she's always deserved, but Benjamin, as suspected by her family, might be attracted more to her money than Julia herself.
Episode one opens on Julia standing in a wedding dress, and she has some noticeable spots of blood on her face as well as the dress.  She hastily removes her ring, packs a suitcase, hops into her car and speeds down the road with the wedding dress still on.
Immediately I was hooked and thought to myself "what the hell just happened?" and "whose blood is that?."
In 'Her Boy' episode one of Gold Digger, we are introduced to Benjamin.  It's Julia's 60th birthday and she is preparing to finalize her divorce after being married for 35 years.  She heads down to London from her quaint town of Devon, to spend what she thinks is going to be a nice birthday weekend with her three children.  As most things go, because her children are older, they are living their own lives and just don't seem to have the time for her.
Julia had planned to have dinner with all of her children, but they all bail on her so she cancels the reservation.  She then decides to head to a museum so she can make the most of her trip.  That's when she meets the handsome copywriter Benjamin Greene.
The moment Benjamin and Julia meet, he is taken by her. He's charming and persistent but Julia is wary of his intentions. Because she is much older than him, she doesn't understand what he sees in her. She even asks him "Why aren't you with someone your age, what's wrong with you?." Benjamin continues to assure her that he does not care about her age and he really wants to be with her.
While Julia is trying to focus on developing her relationship, she's also having flashbacks of her past which appears to be quite violent. In each of them, she is being abused in some way. Because the faces are not shown and the flashbacks are so quick, it's unclear who the abusers are. This could be another reason Julia has some trust issues.
Julia eventually decides to trust Benjamin because she is developing pretty strong feelings for him.  She introduces him to her kids and it does not go very well at all.  Her youngest son Leo, along with her oldest Patrick, give Benjamin the third degree, but he handles it like a pro and appears completely unshaken.  Julia's daughter Della, is a little less apprehensive.  She thinks it's good that their mom is seeing someone, but she believes the relationship is just a phase and will be over quickly.
That is not the case, as one year later we see Julia and Benjamin preparing for their wedding.
Episode one also gives us a deeper glimpse at Julia's oldest son Patrick.  Patrick is a lawyer with two young daughters and a wife who he constantly ignores.  He's miserable, to say the least, and is himself having flashbacks of a dark childhood.  It's clear he's witnessed his mom being abused and it has greatly affected him.
Patrick has this need to protect his mother, so the moment he meets Benjamin, he already hates him and believes he has ulterior motives. Julia is a woman of means, so Patrick thinks Benjamin is just dating her to get her money.  He makes it his mission to bring him down and prove to his mother that Benjamin is not the man he claims to be.
In 'Her Daughter,' episode two of Gold Digger, we learn more about Julia's daughter Della.  Della is a train-wreck, and that's putting it mildly.  She refers to herself as "The proverbial car cash" which if you ask me, is pretty messed up thinking.  She's a struggling comedian who does not have her shit together in the slightest.  The fact that her old girlfriend Emily is back in London only exacerbates her issues, because she can't get over her.  She's also dealing with flashbacks of her childhood like Patrick, is even though she told him she isn't.
While Della is trying to focus on her own issues, she gets sucked into Patrick's investigation of Benjamin.  The two go on a stakeout and find out he's actually living above a chicken restaurant and is about to be evicted.  That revelation adds fuel to the fire for Patrick, because it's just what he needs to prove to his mom that Benjamin is a deadbeat.
Della is not so easily swayed though. Because she herself knows what it's like to struggle, she sympathizes with Benjamin and tells Patrick all it proves is that he's struggling and nothing more. She knows how much Benjamin means to her mom and she just wants her to be happy.
As Patrick and Della are trying to gather dirt on Benjamin, Julia is doing some investigating of her own.  Several events have taken place that raised red flags for her.  She catches him on a phone call with someone and it seems like it's a pretty heated conversation because he is heard saying: "I'm telling you, I'm working on it." Just what is Benjamin working on? and who is he talking to?.
Julia asks to be introduced to some of Benjamin's friends so he takes her to meet Zac and Bianca, a couple he's good friends with. The meeting is a little awkward especially when Bianca shows Julia a photo of Benjamin's ex girlfriend. Bianca informs Julia that the relationship was pretty serious and they were almost married.
Julia, who is feeling insecure after this, asks Benjamin to take her back to his flat because she wants to see it.  He refuses and insists they go to a hotel because his place is a mess and he doesn't want her to see it that way.  This upsets Julia because she knows if they stay at a hotel, she will be the one who has to pay for it.  She and Benjamin get into a fight over money and his ability to pay his own way.  As she continues to insist they go back to his place, he once again says no.  Julia then accuses him of hiding another woman at his flat, which is probably why he won't take her there.  This pisses Benjamin off even more so he sends her off in a taxi and walks away.
Julia doesn't hear from Benjamin for days and it upsets her because in that moment she realizes she's falling harder than she thought she would. She makes attempts to call him but the number she has for him doesn't work. Patrick and Della are ready to give Julia the information they have found but when Julia reveals to them that she's in love with Benjamin, it changes things. They know once they reveal what they have found, it will be much more heartbreaking for her.
Benjamin and Julia track each other down and decide to reconcile because they care for one another.  Della, who was previously on team mom and Benjamin has started to grow suspicious of him.  This feeling grows even more when she and Patrick catch him with another woman in a restaurant.  Now, it's unclear who the woman is and what Benjamin's relationship is with her, but I'm sure it will become clear when the next two episodes arrive next week.
---
Other Thoughts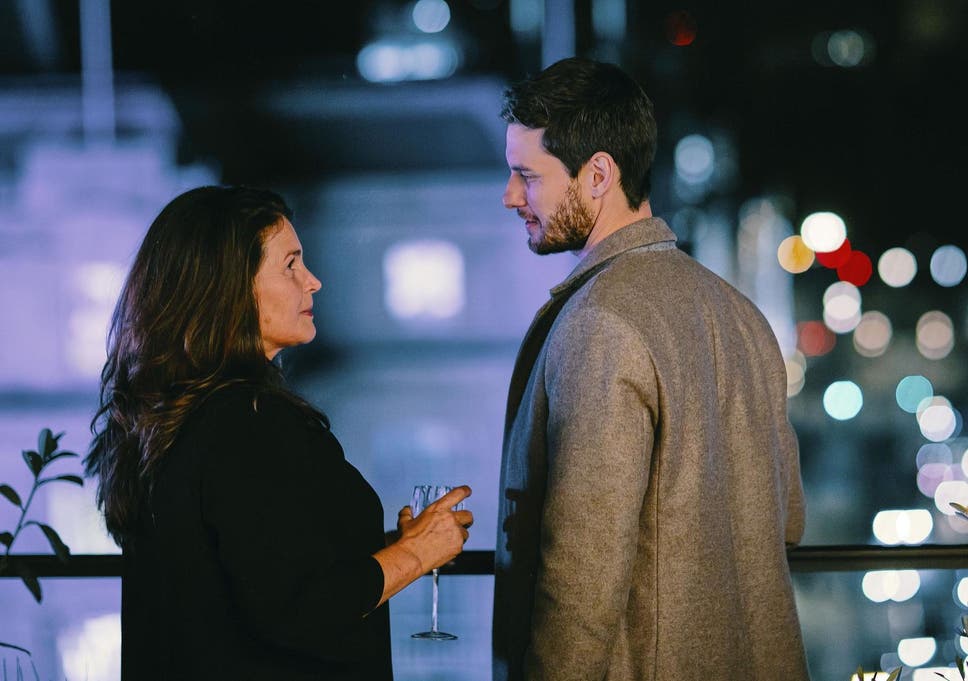 During the opening credits, there's a rose gold tint that passes over the screen and it makes me think of the phrase "Seeing through rose-colored glasses." It's fitting for Julia and Ben's relationship
Ben Barnes is so damn sexy in everything he's in. NO ARGUMENT.  HE IS.
Julia's son Leo is an ungrateful little shit.  Seriously, he couldn't even get her a 60th birthday present and when she walks through the door from her trip, the first thing he does is ask for pizza money and tell her he needs her to put a new light bulb up.
Can we make "Quiet Cars" on trains a thing in the US please?
Why the hell did Julia buy Benjamin a watch when they had only just met? Seriously, WHAT THE HELL JULIA???
Patrick says he doesn't want to be anything like his father, but he's failing miserably.  He has the hots for his secretary Heidi, he treats his wife Eimear like shit, and the fact that he doesn't support her wanting to go back to work is a dick move.
Eimear can work and still be a mother Patrick!
Della, all people who live in LA, are not "twats"
Who wrote the "I know you're having an affair." Note on the gift for Patrick?
Episodes 1 & 2 of Gold Digger are currently available to stream on Acorn TV. Episodes 3 & 4 will be available Monday May 11th.