Okay, this is going to sound unbelievable, but I have really, really enjoyed season 5 of Fringe so far. In fact, this might be my favorite season of the show ever, or at the very least, my favorite since season 2.
Yes, it's bleak as hell. Yes, they gave us Etta for exactly 0.2 seconds only to take her form us in the cruelest way possible. Yes, Peter has spent most of the season making dumb Walter-like choices, and Olivia looks like she's trying to hold onto water, because the men in this family that she found, the one she made out of the love she felt, well, they are super bright, and yet they really, really aren't.
And yet, despite the fact that it's all a mess, at least things are happening to these characters together. That's literally all I needed. A storyline that made sense, and characters who communicated with each other, and more importantly, who remained the people I'd invested in.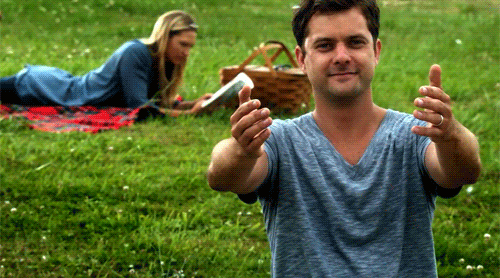 See how easy I am to please?
I liked Etta too, which helped. I understand why she was around for so long, though I would have liked this season 5 storyline to be, even a little bit, about Etta. It wasn't, though, it was about Olivia and Peter learning to cope, in better ways, together. It was about correcting the mistakes of the past.
Plus, about erasing everything. It 100% has to be about that.
Otherwise, they wouldn't have killed Etta. If Etta died it's because we're getting a reset of some sort, one that will allow these characters to have the happy endings that they have always deserved. I anticipate that happiness won't be complete, as I'm sure, because this is a JJ show and because they have been setting it up for centuries, that Walter will end up sacrificing himself for his son somehow, as a way of cosmically paying forward for his mistakes that messed up the world so much.
Just let him get his memories back before he does, please.
Even in that respect, I've been happy. Walter and Peter's relationship started rocky in season 4, and there was very little time dedicated to it in the first few episodes of season 5, but I've enjoyed what I have gotten the past few episodes, like the show is trying to show me that, despite Walter not having the memories of the previous timeline, these two managed to put their relationship back together, and make it something resembling what it was in the original timeline.
It wasn't what I wanted, and they did not dedicate enough time to it, but I've learned to take the good when I get it.
And boy, have I gotten some of it this season, not just with Walter and Peter, but with Polivia. Episode 5×08 might have, actually, featured my favorite scene of the two of them in like …ever. This is what I wanted from them, this vulnerability, this desire to grow together, this feeling that their love can, indeed, encompass the entire universe. The actors had always been game to see it, the story-line never allowed them to.
Ironic how, in the last few episodes, they're finally getting to be the couple I always wanted them to be.
Maybe I could use this time to complain about that, but I'm going to use it to rejoice. If I want to complain, I'll do it about the fact that they seem to use Astrid as a prop, someone for the others to talk to, instead of a character we are invested in, and we want to hear more about.
But that's always been a Fringe problem. In that regard, they haven't improved. In others, however, they really, really have.
Fringe is available to stream on IMDBTV.