Welcome to A-Z Movie Reviews. Every Sunday, for the next several months, I will be posting a review of a film in my home movie collection. How it works is, I will be reviewing movies in alphabetical order until I get to the letter Z (Yes, I do have a film that ends in Z). Now I realize there are many ways to alphabetize a film collection but this is mine so don't judge me. This is simply for fun.
---
For this week's installment we're talking about Buffy The Vampire Slayer.  Not the TV series with Sarah Michelle Gellar.  Let's be clear, I love the TV series but, we're talking about the movie starring the OG Buffy Kristy Swanson which came before the television series.  
What it's about:
Flighty teenage girl Buffy Summers learns that she is her generation's destined battler of vampires.
---
First off, let me just say that I got a nice little surprise watching the special features on my DVD. The old trailer was there so I checked it out and the release date was July 31, 1992. The reason I was surprised by this was because I just happened to be watching it 28 years later on the same day it was released. Trust me, this was a complete coincidence. Okay, now let's move on. Just had to share that little happy moment.
Buffy The Vampire Slayer will always be a classic movie and have a special place in my heart. The first time I watched this film was at my aunt's house when my parents went on a trip for the weekend. I was a kid maybe about 9 or 10 and I just remember really enjoying how fun it was. Seeing a girl who was a cheerleader turn out to be such a badass was so cool to me. I mean what girl doesn't want to see a film where another girl is the one who gets to be the hero?.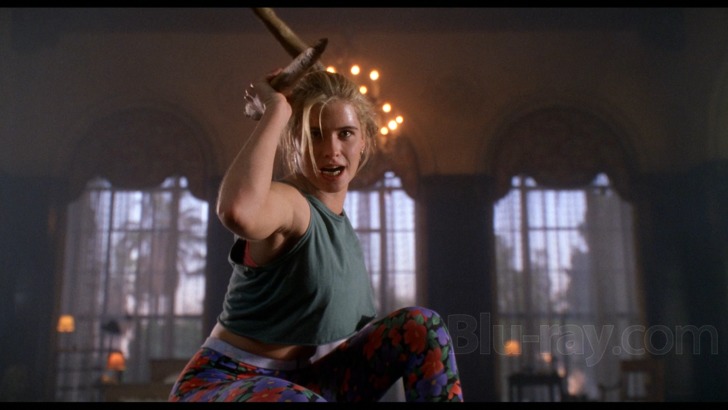 What is so great about Buffy (Swanson) is the character progression. I love that she started off as this self-centered girl and then developed into a young woman who learned what was really important in life. She became more focused on helping others and learned not to judge people like she had before.
The cast really brought something to all of their characters and they did a great job at it. Kristy was amazing as Buffy and I was really impressed at how well she did at transforming from a vapid teenage girl to a strong and powerful young woman. The late Luke Perry's character Pike was so endearing and I loved that in the films featurette, he referred to his character as the "damsel in distress." Buffy was doing all the saving and he wouldn't have lived without her.
Another favorite who we also lost was Rutger Hauer. It's so strange to realize that both of these men are no longer here. It was entertaining to watch Rutger bring Lothos to life. Lothos was a little silly at times but he was still menacing. He had some of the funniest one liners too.
aOne member of the cast that I was really surprised by was Paul Reubens. I remember watching him on TV when he played Pee-Wee Herman.  It took me several years before I realized it was him.  He did such a good job as his character Amilyn and it was so unexpected.  
Buffy The Vampire Slayer is bit campy but it's a lot of fun to watch. It will forever remain a favorite in my film collection.
Other Thoughts
Watching Buffy The Vampire Slayer was what made me fall in love with Luke Perry.
If your friend tells you a jacket you like is "so five minutes ago," to keep you from buying it, BUY IT!.
Kimberly was a huge bitch for talking Buffy out of buying the yellow jacket and then she showed up wearing it.
Kimberly was just a huge bitch all around through the entire movie.
If a stranger showed up telling me "I'm here to bring you your birthright, come with me to the graveyard," I would probably think they were crazy too.
The fact that Buffy's vampire alert system was cramps. BOOOO like, it's bad enough that they come during your actual period but, now you gotta have them whenever a vampire is around too?
As a kid, I always thought Kristy was doing all those flips and stunts because I didn't know about stunt doubles. In my mind I thought she was awesome to be able to do all of that. Gotta love that movie magic!
I was so glad when Buffy dropped Andy's ass in the hallway for grabbing her. HANDS OFF sir!
The basketball coach sucks.
Ben Affleck makes a brief appearance as a member of the opposing basketball team Buffy's school is playing against.
I still remember the "How funky is your chicken" cheer by heart.
Jeff was sooo cute but a dick for breaking up with Buffy via her answering machine. Then he showed up to the dance with her friend!
I still say Andy's line "Is somebody kidding?" when something crazy happens in my life.
Another great line from Andy while talking to the news reporter about the vampires was; "I think they were young Republicans." HILARIOUS.