As sad as it is to say, it isn't always easy to find positive relationships between two female characters on television. Hell, for some shows, finding any relationship between female characters can be near impossible (you know who you are). Which is why it's particularly refreshing when a show not only develops and explores a relationship between its female characters but does so in a way that is complex and nuanced, interesting and even challenging. Below, we have compiled our ten favorite female friendships of 2020.
Bridgerton
Penelope/Eloise
All of the female relationships in Bridgerton are interesting (if not always positive) in their own ways, but the friendship between Penelope and Eloise shines particularly bright. These two don't fit precisely into the molds cast for them at the time, and they don't always see eye-to-eye. But when the rest of the world may not understand them, they understand each other. It's hard to talk about what's so wonderful about Eloise and Penelope's friendship without spoilers, so you'll just have to trust us. It's definitely worth checking out.
Brooklyn 99
Amy/Rosa
Rosa was there for Amy a lot this season of Brooklyn 99, and vice-versa. Amy had Rosa's back when Rosa came out as bisexual, and Rosa believed Amy in the #MeToo episode. Their friendship also grew during the infertility storyline, culminating when she helped Amy deliver her baby. Their relationship has plenty of humor and heart – not to mention a number of "girl power working cases together" moments you won't want to miss.
Chicago Fire
Kidd/Brett
Stella Kidd and Sylvie Brett of Chicago Fire have been friends for a few years now, but this year they've been closer than ever. They lean on each other for support in a firehouse full of men. They depend on each other at work and in their personal lives. Kidd has given advice and listened to Brett about her feelings for Casey, and Brett has supported Kidd in getting the "Girls on Fire" program started. They may not agree all the time, but they're always there for each other.
The Good Place
Eleanor/Tahani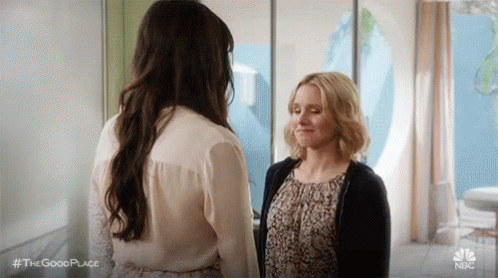 It's always sad to say goodbye to a show we love, but it's wonderful when a show goes out on a high note and doesn't drive itself into the ground. The Good Show wisely chose its moment to wrap up its story and gave fans a bittersweet ending that still brings tears to our eyes. Eleanor and Tahani may have started off as something resembling human train wrecks, but they found real friendship that we're going to miss seeing on our televisions for years to come.
Julie and the Phantoms
Julie/Flynn
It takes a certain kind of friend to stand by your side when you come to them with your "I just started a band with a bunch of dead boys." It takes a particularly good friend to stand by your friend when they develop feelings for one of the ghosts in question. In Julie and the Phantoms, Julie and Flynn have each other's backs through thick and thin, and we could all use a friend like that. Heck, they even have their own pop song celebrating their friendship. How many people can say that?
Lucifer
Chloe/Ella/Maze/Linda
Really, the friendships between all four women of Lucifer is fantastic, though the friendships between Chloe and Ella and between Maze and Linda were explored a bit more this year than in seasons past. The dynamic these women share is imperfect and occasionally messy, but they're exactly the kind of friends we all wish we had. And, okay, when they hang out, things sometimes get bloody. But when you have Maze in the group, what do you expect? In a show that does so much right, the relationships between these four women – each different and complex and flawed and absolutely wonderful – may be the thing they do best.
Motherland: Fort Salem
Raelle/Abigail/Tally
Raelle, Abigail, and Tally depend and respect each other on Motherland: Fort Salem. It might not be all the time and there might be bumps in the road, but the fact of the matter remains when things get ugly on this show they've got each other. And oh does it get ugly! But with besties like this, everything will be alright…eventually.
Roswell, New Mexico
Isobel/Rosa
Isobel and Rosa of Roswell, New Mexico were friends in high school because they both understood what it was like to feel like an outcast. They found comfort in supporting each other so it was amazing to see them reunite again when Rosa was brought back to life. Rosa was feeling extremely lost, especially having a new power she didn't expect. Isobel helps her channel her feelings and learn how to work through her emotions. She becomes an even bigger support system because she and Rosa share a common bond of having moments of feeling out of control. We know their friendship has not always been perfect, but what friendship is? What matters is Isobel and Rosa will always work to keep each other grounded and no matter what, they always have each other's backs.
Stargirl
Courtney/Yolanda
Courtney and Yolanda are the original friendship that spawned the JSA, so even though we loved how the four kids ended up coming together, we're going to focus on Courtney and Yolanda, and how they had each others back throughout the entire first season of Stargirl. Because the great thing about these two is that it wasn't just Stargirl and Wildcat who literally had each other's backs in battle, and literally saved each other's lives, it was Courtney and Yolanda too, who in each other found that one person who sees you and loves you – just as you are.
Zoey's Extraordinary Playlist
Zoey/Joan
True friendships come in all shapes and sizes. Sometimes our best friends are warm and comforting, empathetic and supportive. And sometimes they give us exactly the kick in the ass we need, just when we need it the most. The relationship between Zoey and Joan in Zoey's Extraordinary Playlist manages to perfectly reflect both sides of that coin. Joan isn't a warm and fuzzy person, and so it would have been so easy to make this dynamic two-dimensional, but the show broke the mold. As Zoey's boss, Joan was't afraid to call her on the carpet or to give her the push she needed to excel at work. But when Zoey's dad, Mitch, was dying, she was also a shoulder to lean on and a reminder to treasure moments with the ones we love while they last. It's unclear how much Lauren Graham will appear in the second season of the show (due to COVID-19 created scheduling conflicts), but this is one friendship we can't wait to see explored more.
Agree? Disagree? What were your favorite female friendships on TV this year? Share with us in the comments below!