We're doing something a little different this summer for #WayBackWednesday! I asked the Fangirlish staff to tell me their favorite summer flicks–films they associate with summer, be that a film set in the summer, a film that was released in the summer, or a movie they spent a summer watching. Each writer will tell you why they chose their movie and I'll be reviewing their film recommendations during June, July, and August. This is our Summer Vacation series! Pour yourself a glass of Kool-Aid, make some ramen, and find out how we spent our summer vacations each #WayBackWednesday. 
---
We've all heard the term, "summer blockbuster," but did you know Jaws (1975) is the first film to bear that title? It's not a summer vacation series without covering a true summer blockbuster. I'm quite glad that one of our newest Fangirlish staff writers, Justine recommended the one that started it all. Have you seen this Spielberg classic? Check out the trailer for Jaws and we'll find out why Justine picked it as her go-to summer vacation classic this #WayBackWednesday. 
Dealer's Choice
Here's why Justine thinks you should add Jaws to your must-see summer movie list.
"I remember hearing about Jaws for the first time when I was very young. So many of my peers had stories of parents who were permanently afraid to go near any bodies of water regardless if sharks actually inhabited them. My mom, who first saw this movie the summer it was released in 1975 was no exception.

Any time I had suggested watching it, she was always reluctant, although she managed to find time to visit and enjoy the Jaws attraction at Universal Studios. Finally, three summers ago, after years of lobbying, I managed to convince my mom to revisit this classic with me. We noted that the special effects are incredibly outdated now but were revolutionary for the film at the time. The film is a timeless commentary of human fears and anxiety and the various ways we respond. This becomes more clear to me on each rewatch. Now, it doesn't feel like summer unless I've revisited Jaws at least once during the season."
Synopsis
I would be very surprised if you were unfamiliar with the plot of Jaws, but just in case the only thing you know about Jaws is "giant shark," here's a quick rundown of the film's premise.
Jaws tells the story of a police chief, Brody (Roy Scheider), who is faced with a terrible situation. The tourist spot, Amity Island, in which he is sheriff, is a bustling tourist town during the summer months. When a shark attacks and kills a college girl in a particularly heinous manner, he is forced to shut down the beaches. Brody now has the ire and pressure from the mayor, city officials, and business owners because of this. A shark attack is no reason to stop tourism commerce! He brings in a shark expert, Hooper (Richard Dreyfuss), to help catch the shark, along with Quint (Robert Shaw), an older fisherman who knows it'll take more than just a few amateurs with guns and harpoons in a speedboat to stop the great white menace.
Jaws is directed by Steven Spielberg, based on the book of the same name by Peter Benchley.
Here are a few of the reasons I think Jaws is a great choice for a summer vacation flick.
Compelling Characters and Story
While the film Jaws bears only a passing resemblance to the book, if I'm given to understand correctly, I think the film's story is one that is poignant, especially in today's era of the worldwide COVID-19 pandemic crisis. The conundrum that Brody faces, close the beach until the shark is caught to protect the people, but suffer the economic fallout of the loss of vacationer business in a tourist town, OR keep everything business as usual, but risk the lives of not only the tourists but of the town residents, sounds awfully familiar. Jaws obviously has its own conclusion about the right thing to do. You'll have to check out the film for yourself. For more information on how the book and the film compare, The Retroist Podcast about Jaws offers a great primer on both.
Timeless Score
Long before I ever watched Jaws, I knew the music. I remember my sister and I playing a fishing game at my elementary school carnival when I was in maybe first or second grade. My sister would have been around age 3 or 4 at the time. My sister triggered a special prize, which was signified by the Jaws theme playing and a shark fin coming up behind the board that served as an oceanic backdrop. It scared her so much that she screamed and cried.
It is ironic that she was so scared. She had "caught the shark," and got to choose a bigger toy prize. She calmed down a bit once she realized what had happened, but that memory has stuck with me to this day. My sister had no context for Jaws; she only knew that the music was scary. I knew it was the theme from Jaws, but I never watched Jaws for myself until maybe 6 or 7 years ago. The ubiquity of the music really goes to show the importance and cultural impact Jaws continues to have, even on those who have never seen the film.
The score for Jaws is composed by legendary composer John Williams. According to IMDB, the first time he played the score for Steven Spielberg, Spielberg laughed and said, "That's funny, John, really; but what did you really have in mind for the theme of Jaws?" Spielberg would later say that Jaws would have only been half as successful without Williams' score. If you want to hear a timeless, suspenseful, and creepy score, I would definitely recommend that you give Jaws a watch, and even queue up the score on Spotify, making your drive to work a little more epic.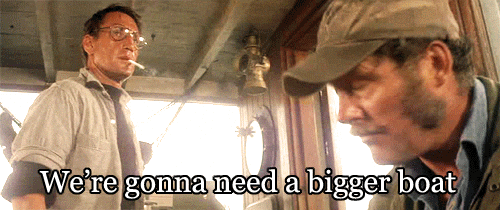 Cultural Impact
Jaws is one of those films that has staying power. It's a film you can reference, and even if someone has never seen the film. Most people know at minimum, that's a movie about a giant man-eating shark. The film is big enough that it had one of the longest-standing rides at Universal Studios in Orlando. I've only been to Universal Studios once, about 21 years ago, and I'm disappointed that I never got to ride Jaws, especially now that it's closed. However, if you missed out or want to relive the Jaws ride, you should definitely check out this video of the attraction at Universal.
The popularity of Jaws begat many sequels, so if you really want to dig into the Jaws cinematic universe, you've got Jaws 2, Jaws 3-D, and Jaws: The Revenge. I personally have never seen any of the Jaws sequels (I hear they decline in quality). If you've seen them, leave me a comment with your thoughts. However, I really enjoy the idea of what Spielberg originally wanted to do for Jaws 2. According to this article on LRMOnline, Spielberg actually wanted to do a prequel about Quint, learning more about why he was so obsessed with sharks. I say we do this right like the Halloween and Candyman franchises are doing and let Spielberg have a shot at a Jaws prequel. Prequels, sequels, and reboots are the way of media these days. What's one more? Especially with Spielberg at the helm, I'd watch that movie.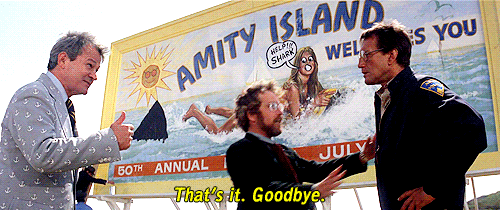 Final Thoughts
Even if you're not a horror fan, Jaws is a solid film choice, especially for summer viewing. Despite the subject matter, I really want to hit the beach now that I've watched it again.
Thanks very much to Justine for recommending Jaws to me for this week's Summer Vacation edition of #WayBackWednesday. Justine is brand new to Fangirlish, but I think her take on why Sony SHOULDN'T release a trailer for Spider-man: No Way Home is great. I'm going to be following her author page closely for more of her hot takes!
We've got one more week of Summer Vacation left! And just like when I was a kid, I'm not quite ready for summer to end.
Jaws is streaming now on Amazon Prime and for free with ads on Tubi.