Thanksgiving is one of our favorite times of the year. Why? Because of all of the amazing television specials. The holiday tends to get overlooked by Christmas (and we do love a good Christmas movie), but there's something so special about Thanksgiving episodes of our favorite shows. We've rounded up some of our favorites to share with you all.
Friends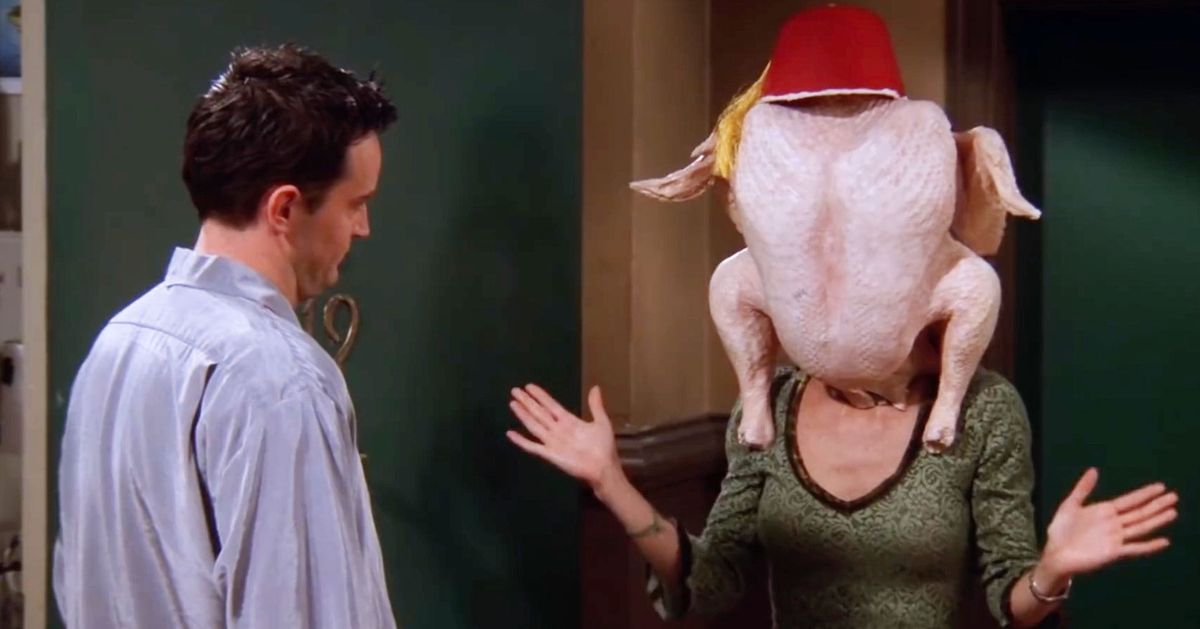 We can't have a list of "Favorite Thanksgiving Episodes" without Friends. This show has some of the best holiday episodes ever in its 10 year run, and we just can't choose a favorite. We love the football game and the intense rivalry between Monica and Ross in season three's "The One with the Football" and when Monica puts the turkey on her head and Chandler tells her he loves her in "The One with All the Thanksgivings." We also can't forget Brad Pitt's guest appearance in "The One with the Rumor." We cracked up when Joey put on Rachel's maternity pants so he could finish the food that everyone else wasn't going to eat. There's also the episode where Chandler ends up in a box to prove that he values Joey's friendship. We highly recommend watching every single one Friends' Thanksgiving episodes.
The Middle
Like Friends, The Middle excelled at holiday episodes. The show even made it easy to remember which ones they are since they are titled "Thanksgiving," "Thanksgiving II," "Thanksgiving III" etc. Nine Thanksgiving episodes with the Hecks, and as usual, things never go as planned. Between Sue, Axl, and Brick plus Mike and Frankie's relatives, there's always something funny to entertain viewers. And it make us appreciate our own families a little more because as chaotic as our Thanksgiving meals are, they probably aren't as wild as the Hecks' family dinners.
The West Wing
The West Wing had two special Thanksgiving episodes with "Indians in the Lobby" and "Shibboleth", but we're partial to "Shibboleth". CJ having to choose which turkey President Bartlett should pardon and then getting attached to both of them was one of the funniest things to happen on the show. We also enjoyed Charlie's journey in trying to help President Bartlett pick a knife to carve the turkey. We won't spoil it for you if you haven't watched it so we'll just say it has a very touching ending. You can watch both of these episodes (along with every episode of The West Wing) on Netflix.
ER
ER actually did air a few Thanksgiving episodes on the night of Thanksgiving which was a treat. Our favorite Thanksgiving special is "Great Expectations" where Carol Hathaway becomes a mom, and Elizabeth gets to host Thanksgiving dinner with Mark's moody teenage daughter and father. There's also "ER Confidential" from the first season where Dr. Benton invites Carter to have Thanksgiving with his family. It turns out the surgeon does have a soft side. One of the few Thanksgiving episodes we recommend skipping is season nine's "Freefall." If you're familiar with ER, you know about Romano and his history with helicopters. If not, just trust us. Watch one of the other episodes instead on Hulu instead.
Gilmore Girls
"A Deep Fried Korean Thanksgiving" is one of our absolute favorite episodes of Gilmore Girls. In the 9th episode of season three, Lorelai and Rory end up having Thanksgiving meals with Lorelai's parents, Sookie, Lane, and Luke. Yes, four separate Thanksgiving dinners. It was so fun watching our Gilmore Girls interact with all of our favorite Stars Hollow characters before heading off to Richard and Emily's. This was such a feel good episode of TV. The early seasons of Gilmore Girls were the best, and you definitely don't want to miss this Thanksgiving special. You can find it on Netflix.
This Is Us
This is Us has a habit of making us cry, and their Thanksgiving episodes are no exception. "Pilgrim Rick," "Six Thanksgivings" and "So Long, Marianne" are all tearjerkers so have the tissues ready. But we love spending Thanksgiving with the Pearsons and seeing what has changed and what has stayed the same from their childhoods. And even though all three of these episodes are amazing, we're partial to "Pilgrim Rick." There is just something so special about the first season of This is Us.
Bob's Burgers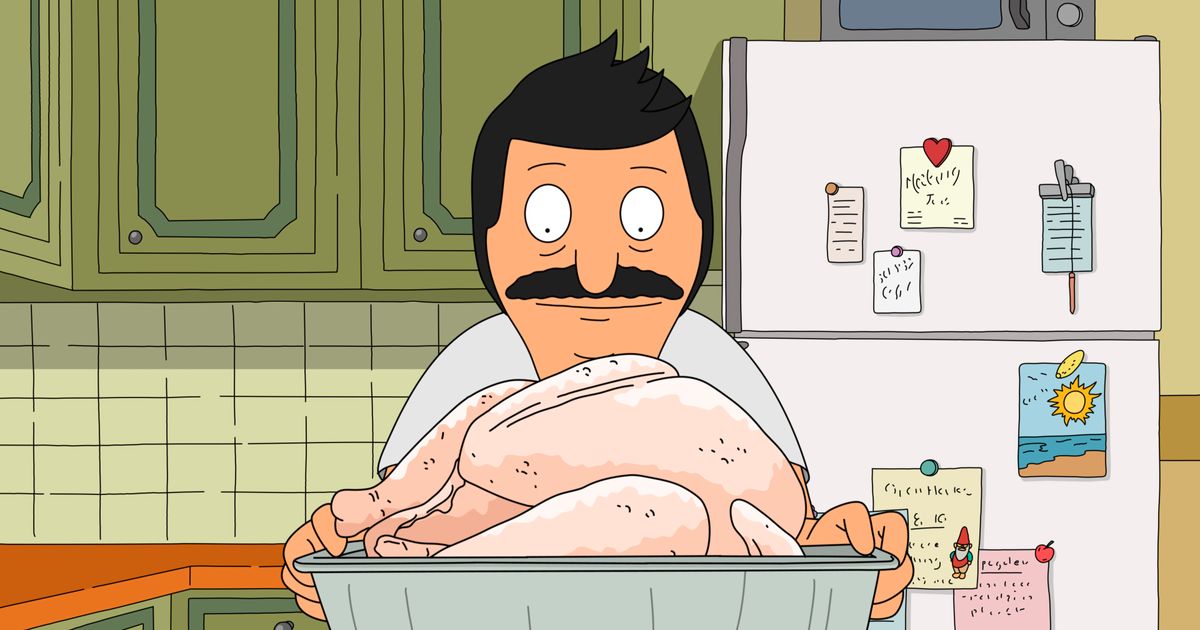 As a burger chef working in a struggling restaurant, Thanksgiving is the one time of year Bob gets to go all out with cooking. At Bob's apartment, things are always crazy on Thanksgiving. People are always fighting and something is always broken. One year Bob's rich landlord wants to borrow his family to woo an old flame and another time there's an entire story about a turkey being pardoned by the mayor. The best part though is Bob having deep conversations with every one of his special turkeys and they bond before he cooks them. There are nine Thanksgiving episodes on Hulu. Our favorites are "Dawn of the Peck" and "Gayle Making Bob Sled." This year's Thanksgiving episode, "Stuck in the Kitchen With You" airs on November 21.
Boy Meets World
Boy Meets World always focused on the importance of friends and family. In "Two Turkeys" Shawn and Cory decide that their families should have Thanksgiving together. Cory's parents aren't thrilled about being at the trailer park, and Shawn's parents don't love that Shawn invited them. While the adults fight, Cory, Eric, and Morgan sit down to share dinner with Shawn and Frankie. Soon after the adults join them. Shawn and Cory showed their parents that they shouldn't let something like difference of class keep them from enjoying a meal. We like when adults can learn something from their kids.
Brooklyn Nine-Nine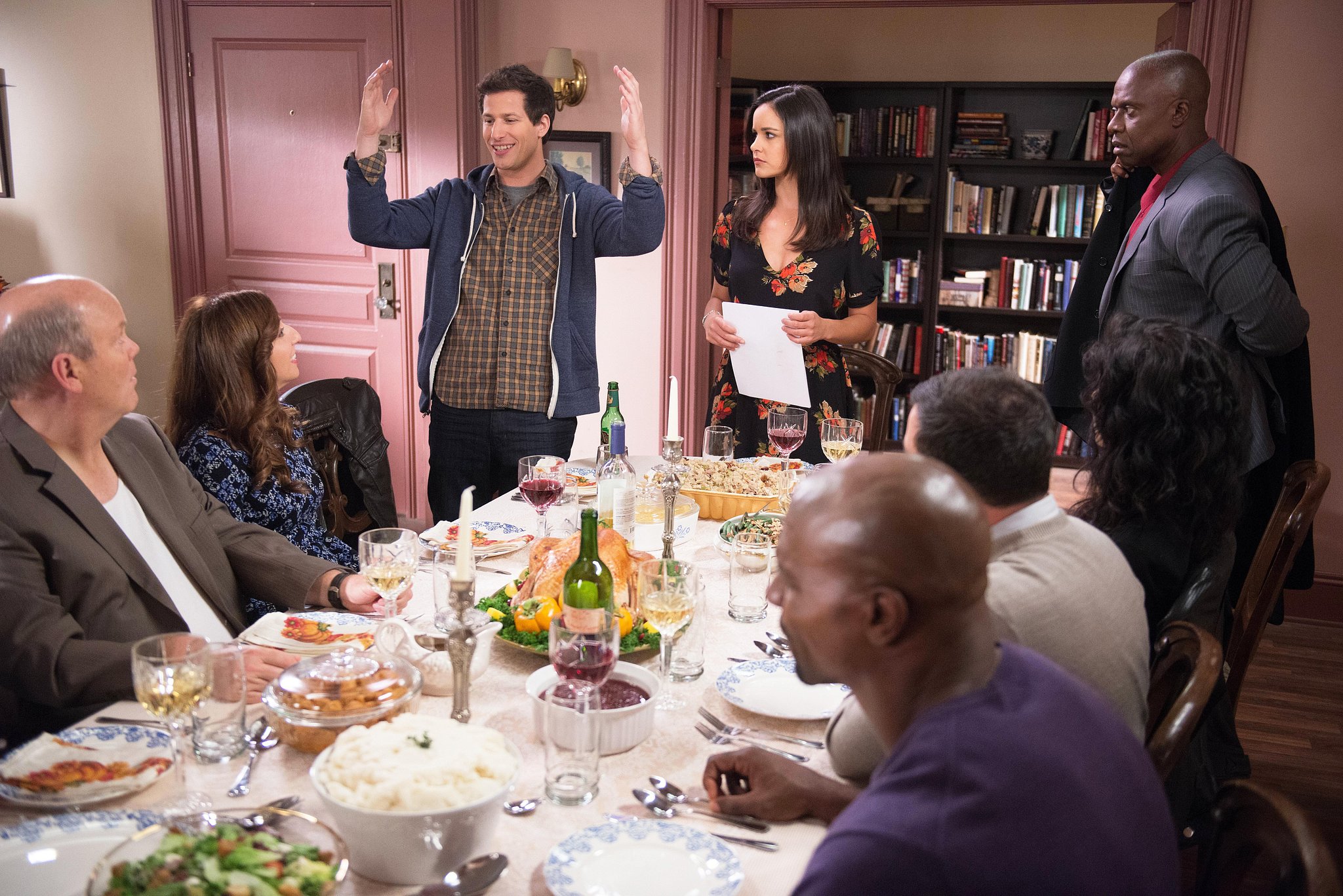 While Brooklyn Nine-Nine is known for their amazing Halloween episodes, the writers also know how to write a good Thanksgiving show. In season four's "Mr. Santiago," Jake meets Amy's dad, played by Jimmy Smits, and in season five's "Two Turkeys," Jake and Amy introduce their families to each other. We love the guest stars in these episodes (we'll never say no to Bradley Whitford on TV), and we love Jake and Amy. Brooklyn Nine-Nine also has "Thanksgiving" in season one (simple name. We approve.) And "Lockdown" in season two where Jake is in charge. What could go wrong? Be sure to catch these four episodes on Hulu. You won't regret it.
Other Favorites
Obviously there are way more Thanksgiving specials than the ones listed here. A few other Thanksgiving episodes worth watching are:
The Simpsons "Bart vs Thanksgiving."
New Girl "Thanksgiving," "Thanksgiving III," "Thanksgiving IV," and "Parents."
American Housewife "The Blow Up" and "Family Secrets."
"Turkey's Away" from WKRP in Cincinnati. This one was new to us, but it's a good one.
All of Modern Family's Thanksgiving episodes. There are 7 of them and all available to watch on Hulu.
What are some of your favorite Thanksgiving episodes? Did we include them? Do you have any others to add? We'd love to discuss them!