Star Trek: Lower Decks is BACK, baby! …but we're "Grounded." Captain Freeman is on trial, the crew of the Cerritos is getting some downtime on earth, but it's not all fun and games. We've got to save Captain Freeman, steal the Cerritos, and get up to some space shenanigans. Come on with us on this "magic carpet ride" and let's chat Star Trek: Lower Decks episode 3×01, "Grounded."
First Contact, Deep Space Nine, and Picard Love
Lower Decks comes out swinging this season with lots of nods to arguably the most popular Star Trek film, Star Trek: First Contact, and the show that's been a bit undersung in recent Trek, Star Trek: Deep Space Nine. We've also got a little nod to Star Trek: Picard. I enjoy all of the above on the whole and the nods we get are hysterical! Let me break it down for you by show/film.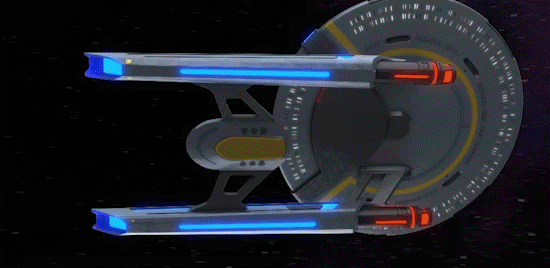 Deep Space Nine Nods
First off, I find it hilarious that everyone's civilian clothes are basically raided from Jake Sisko's closet. The asymmetrical designs and the patterns that look like they are made from leftover bus seat fabric (you be the judge), all crack me up. I love that Rutherford and Tendi (were they on a DATE?!) were at "Sisko's Creole Kitchen." And best of all, there's a bottle of "Ketracel-White Hot Sauce" on the table. I am a big hot sauce fan and I've got a fairly high spice tolerance. "Ketracel-White Hot Sauce" would push my limits.
It's at 17,000,000 SHU, which ranks it nearly 15,000,000 more SHU above the hottest pepper on the planet, which is the Carolina Reaper, made just down the road from me in South Carolina. At that rate, we will unlikely get full-strength Ketracel-White hot sauce, but I wouldn't be surprised if we get some sort of Star Trek: Lower Decks-themed hot sauce, just like we've gotten Chateau Picard wine.
Chateau Picard and Boimler Vineyards
Speaking of Chateau Picard, apparently the Boimlers own a vineyard. Makes sense since Boimler mentioned being born in Modesto. However, it's not grapes that they grow, it's raisins, the snack no one really wants and hates to find in their cookies when they were expecting chocolate chips. This is so on brand for Boimler that I laughed the entire way through the scene where Mariner pays him a visit. The fact that they make everything look so much like the glimpses we get of Chateau Picard, especially in the Picard season 2 opener, makes me extremely happy. None of this is even to mention the hilarity at all these ladies working at the vineyard throwing themselves at Boimler. He is either completely oblivious or completely unimpressed with them. Either way, their absurd double-entendres towards him had me in stitches the entire time. Well done!
First Contact
Finally, the crux of "Grounded" centers on the homage to Star Trek: First Contact. Tendi and Rutherford having a full-on fangirl/fanboy freak out at their visit to historic Bozeman, the site of first contact with the Vulcans, is delightfully adorable. The reconstructed bar with the jukebox that only plays one song, the Vulcan ship made into a children's playground, and best of all, the "Flight of the Phoenix" ride, which actually takes passengers into space on the same trajectory as Zefram Cochrane's first warp flight. It's the delightful tourist trap that I didn't know that I needed.
I LOVE that we get to see James Cromwell reprise his role as Zefram Cochrane, even if he's only in hologram form. The number of legacy character cameos that we are able to get in Lower Decks and the fact that they always seem able to convince their original actors to reprise their roles makes me extremely happy. Also, the fact that the ride plays "Magic Carpet Ride" by Steppenwolf makes me smile. Come on, that's like the catchiest tune in the world. It's the icing on the cake for an already fun time.
Final Thoughts
As much fun as I had with "Grounded," I do have some critiques of it. Something doesn't sit right with me about the refrain of "Trust the system." Maybe it's my inherent distrust of all politicians and people in power, but I don't think we're done with this idea of "trust the system." Sure, it worked in Captain Freeman's favor this time, but I would have definitely done the same as Mariner.
I know Starfleet has high ideals. We are living in a largely utopian future in Star Trek, but with all these Deep Space Nine nods, it makes me wonder if we're being set up for some kind of fall. Deep Space Nine shows us that the Federation doesn't always make the best decisions. The idea of Section 31, the Federation's secret black ops division, was introduced in that series. Section 31 showed us that there is some questionable at best, unethical at worst stuff going on behind the scenes. I'm going to remain skeptical for now, though I will be happy to be proven wrong.
That being said, the fact that Tuvok of Star Trek: Voyager fame shows up to help clear Captain Freeman's name makes me extremely happy as a Voyager fan. Here's hoping that they can get Tim Russ to reprise the role again later this season. I also loved that Tendi, Rutherford, and Boimler refused to allow Mariner to go it alone, even if it would have meant serious trouble for all of them. Those are the kinds of friends I want to have and want to be.
What did you think about "Grounded"? Leave me a comment and let's talk Trek.
The next episode of Star Trek: Lower Decks will air on September 1, 2022, on Paramount+.