In an effort to build a space for queer people like myself, every Sunday (or when I'm feeling spicy) I'll be posting interviews, opinion pieces, listicles, reviews, and more focused on the LGBT community from a Latina perspective. Welcome to Queerly Not Straight! Enjoy and leave a comment below if you have a suggestion for what I should cover next.
P.S. I, Lyra Hale, do not give any site permission to copy or repost my work in any form. If you are reading this on any site besides Fangirlish, it has been stolen.
---
HBO Max's Velma is the worst Scooby Doo cartoon ever created. It ignores what we love about the Scooby Gang in exchange for a show that tries so hard to be different and edgy that it just ends up being bizarre. And when they try and deliver on what we've been waiting for, aka Velma/Daphne, it's overshadowed by its clear lack of direction and poor writing. This unfortunately results in a reboot/prequel that people shouldn't even waste their time in hate watching it.
1. It's trying to be hip like this Steve Buscemi gif.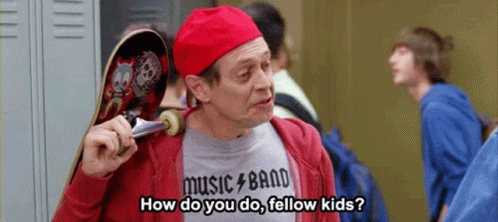 No shade to Buscemi, but this gif is the only thing that I could think about while watching Velma. Every single moment was trying to prove how "edgy" they were. And I get it, putting a fresh twist on beloved properties sell. But you do that by reminding people why they loved the OG property in the first place while toeing the line into new territory.
Velma didn't care for where it came from. All it cared about was showing that it knew what the "youths" or grown-up fans wanted. What they ended up with instead was a poorly written and structured show that dumped information by the bucket load to get the plot moving, leaned on "edgy" stereotypes, and felt like one cookie-cutter punch line after another.
2. Velma and Fred? Daphne and Fred? Or Velma and Daphne?
As a queer person, I've been waiting for Velma and Daphne to kiss on Velma. I knew it from the very first moment I saw Velma identify Daphne by her moans. And I've been waiting for years for creators to honor her and the lesbian that she's based on. But Velma didn't deliver. In one episode she's head over heels for Fred and giving him life advice in an alley. And the next she's ignoring Fred and blushing when Daphne looks at her.
As a fellow bisexual, I'm down if they're bisexual. But it has been made clear that Velma is a lesbian by Tony Cervone, the co-creator of Scooby-Doo! Mystery Incorporated. Also, other cartoons like Trick or Treat Scooby-Doo! have made it clear too. So this back and forth on Velma makes it seem like the show wants to appease queer fans while playing it safe with homophobes who don't want that for Velma. And what we're left with is a set of relationships that feel disingenuous from the start.
3. It offends the very people it's trying to sell this show to.
As a general rule, if you're trying to attract a certain type of viewer to watch your show, then maybe you shouldn't insult them at every turn. Yeah, a little joke here and there feels relatable. And it's good to relax and be able to laugh about some of the things you do in life. But Velma continuously made fun of the viewer to the point it pulled you out of the show. It also made fun of the characters in a way that felt mocking to the OG content.
And it went even further by making fun of the kind of people who watch cartoons as adults aka the people you want to watch this show. And I can laugh at myself, sure. But there was no balance in Velma when it came to actual storytelling and appreciation of the characters or the viewers who love Scooby Doo and grew up with it. Instead, it looked down on the viewer, ultimately making Velma a painfully dull watch with no heart.
4. There is nothing of the Scooby Gang in these characters.
Personally, I'm convinced that the people behind Velma have never watched an episode of Scooby Doo. Because these characters right here, not one of them, have a shred of the actual spirit of the Scooby Gang. The only things this cartoon and the other Scooby Doo cartoons have in common are the clothes and names (except Shaggy). That's it.
Velma is "not like other girls" while trying to be. Daphne is vapid and selling drugs for reasons. Velma and Daphne are enemies for reasons too. Norville aka Shaggy is a basic beta male. And this show has an obsession with making Fred the object of many people's affections while making him rude, helpless as a baby, and making jokes about his privates being small. There's no shred of Velma's brains, Daphne's loyalty, Fred's leadership, or Shaggy's endearing nature.
It's just random characters with Scooby Doo names and outfits.
5. The jokes are next-level bad.
Because Velma is trying to be so "edgy" it goes from punchline to punchline with no buildup or payoff. And it ends up sounding like someone put a bunch of jokes in a hat, mixed it up, pulled them out, laid them out, and then made a script. Even worse, it sounds like jokes that are meant for the viewer by someone who knows nothing about the viewers but thinks this is what they want. For example, the Me Too joke made by Velma in the bathroom where she said, "I spit truth without a filter, like every comedian before hashtag "MeToo." Instead of being funny, she comes off as someone who is trying hard to fit in by going against the grain. And even an "adult cartoon" version of Velma wouldn't stand for garbage like that.
Then there's the joke made by Velma's dad where he says that they won't hire him to even defend a gymnastics coach, referring to the Larry Nassar sex abuse scandal. Some might see it as dark humor and find it funny. But personally, I've got a line. And that line is the destruction of a young person's sense of self and safety by evil men like Nassar. Top that off with the continued joke about Fred's privates and that opening scene with a 15-year-old Daphne in the shower, naked, and with her other friends, and you've got a show that makes you wonder what the target audience was. Because it sure as hell wasn't Scooby Doo fans. We want hijinks, jokes, and finding the bad guy episode after episode. We don't want this.
Overall, Velma ends up being the joke, and one where we're glad it's over when the screen goes black.
What did you think of Velma? Let us know in the comments section below!
---
Queerly Not Straight posts every Sunday with opinion pieces, listicals, reviews, and more focused on the LGBT community (and occasionally about the Latinx community since I am Latinx.)