Our survivors have finally hopped off the boat and are treading land in Fear the Walking Dead's "Sicut Cervus." As usual everything's not as it seems almost immediately. (Did we really expect anything else?) Parishioners have been killed by the local ranch hand who believes that the dead are still family. And Victor has reunited with his bae, Thomas. Crying emojis should be inserted every time his name comes up. It won't be long until our survivors are back on the Abigail.
Let's talk about it!
It's Too Late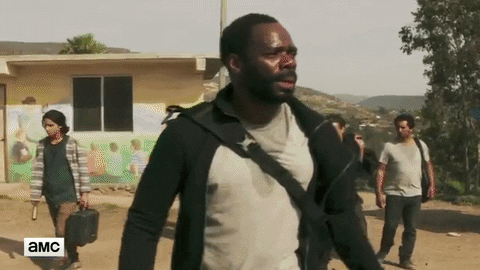 Victor's desperation to see Thomas breaks through as soon as he sees his truck. That calm and collected exterior he wears so often is forgotten the entire episode because he's back where he belongs. Unfortunately by the time he arrives to Thomas he learns that the man he loves and found so hard to get back to, has been bitten.
What follows are scenes of comfort, loss, and heartbreak between two people who have found each other against the odds. Victor wants to soak up every single moment he can with Thomas. He feels guilt for leaving the man and running like he's always done. Every touch, every word is an apology to Thomas. It's painful to watch as these two men share their last moments together. Especially with how tight Victor holds Thomas when he says he doesn't want to go just yet. (This is when the tears began on this side of the TV.)
Strand changes the scope of things when he proposes to go with Thomas. There's nothing left for him in this world. He's stuck with a group of people that distrust him half the time. And he's in a home that was never his. Why stay? Why not go to the great beyond with the man in his arms? As much as I love Strand, a part of me was okay with him leaving this existence behind for Thomas.
After all of us are done crying ugly tears over their emotional goodbye and Thomas has passed, he shoots him in the head,  preventing him from returning as the dead. It doesn't matter to Victor that the crazy lady of the house will be livid she can't add to her collection of walkers in the house next door. This is a decision that they made together. They weren't blind to the reality of the situation. Walkers are not people anymore. The things we loved about them are gone as soon as they snarl and try to take a bite out of you.
Ultimately, I don't think Victor is going to follow through with his promise. He loves Thomas, still present tense because that feeling is never going to go away. But I think at the end of the day, the most important person in his life is himself. This assertion doesn't take away from the love that he held for Thomas, not one bit. It's just a realistic perspective.
Life doesn't end because our loved ones have passed. And Victor might be hurting right now, more than he has ever been hurt, but he'll get through it all. He'll find purpose again and fight to survive the death all around him. I'm telling you, he'll outlive them all!
Finally Seeing the Real Strand
Madison's eyes are opened in "Sicut Cervus." Two people that have been around her this entire journey are not what they seem. Let's start off with Victor Strand first and save Chris for later.
She's always had this specific view of him. He was a man who could not be trusted because he was always out for himself. A man who would drop them off at the first coast if he could and never look back. A man who would never put his neck out for someone else.
Seeing Victor with Thomas changes the way that Madison looks at him completely. It humanizes him. Victor is just a man who has been fighting himself and the people around him to get back to Thomas, the person he loves. He has just as much to lose as Madison does and right now that person is fading away in his arms. It puts both of them on equal ground in this post apocalyptic world.
When Celia, their generous hostess who's gone all Hershel pre farm burning, finds out that Victor shot Thomas, Madison will protect him. Crazy right? After all the circling around each other like petulant children, Madison will side with Victor? Of course she will. He's just like her and she knows she would do the same thing in his shoes. So bring it Celia! While he's broken and mourning the loss of Thomas, bring your worst. Victor has people on his side that will support him and surprise you.
Chris Going Shane
Chris is clearly confused about what's going on around him and inside his mind. Let's clarify that first. He's lost his mom, killed someone to spare them pain, and then killed another to prevent him from hurting his family and friends. Throw on top of that teenage hormones and trying to understand the dead and you've got a deadly combination. That being said, Chris is coming off as a creeper who's going the way of Shane.
Madison can see that there's something wrong with him from the start of the previous episode. And things quickly escape in this one when Alicia notices the same thing. He almost let Madison get bitten, threatened Alicia, and then appeared in their room with a knife. He's spiraling and there's nothing that Madison can do besides watch out for her own and warn Chris off.
As much as she wants to help the boy, it's not her job. Travis needs to step it up and believe Madison's words. She's not telling him these things because she wants to hurt him, they've got no time for that. It's about stopping this spiral that Chris has hopped on. He needs the gentle yet firm hand of someone who has decided what they want from this world and who they want to be.
Madison has decided and it's helped Alicia and Nick find their way. Now Travis has to decide for Chris' benefit before he goes full Shane. We can't have another standing over the bed, hovering like a psychopath, with a knife in his hands that he doesn't know how it got there.
MVP of Sicut Cervus: Alicia Clark
Alicia Clark saving her mom while Chris just stood there and watched. You better watch out Chris. Our girl Alicia knows how to handle herself.
Do you think Shane…I mean Chris is losing his mind? Will Victor keep his promise? Will Madison side with him? Leave us your comments below!
Next on Fear the Walking Dead 2×07 'Shiva':
Fear the Walking Dead airs Sundays @ 9/8c on AMC.