Easter. A time of rebirth, spring clothes, egg hunts, and sharing your holiday with a whole bunch of Jesus'. 13 in fact. That is the reality of the God of Easter on Starz's new series American Gods.
We got a chance to speak with Easter herself, actress Kristin Chenoweth, about her upcoming role in the Neil Gaiman adaptation and why this is the God to watch out for. From the start she equated Easter to being the most relatable God to the viewer. According to Chenoweth, Easter seems, "happy, welcoming, tolerant, politically correct," but at the snap of her fingers and with the right push she could be, "really, horribly mad."
In many respects all of these descriptions are perfectly human. Except, of course, for the fact that she's a powerful God who has just been reminded of who she used to be by the arrival of Mr. Wednesday, one of the main protagonists recruiting Gods (the Old ones) to unite against the New Gods who threaten their existence. Like all other Gods, the amount of power she holds depends on the worship and belief we mortals put into her. Fortunately Easter has learned to "adapt, like us" and now shares measly scraps with 13 other Jesus' "from all walks of life."
Being reminded that you've been shelved, dusted off, and been made to share with your successors is a shocker to Easter and would be to anyone in her shoes.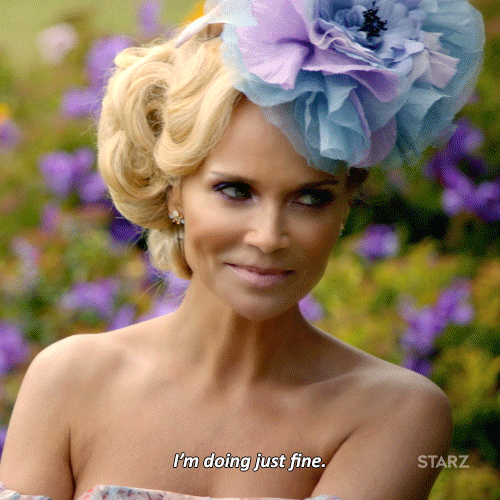 "Once you have a taste of the way things used to be, you want to go back, and she wants to go back. She enjoys it. She forgot how much she enjoys it," Chenoweth explained, "And sometimes, with women, we're told to be embarrassed by that. But we shouldn't be. We should embrace our strengths and our authenticity more. And we're going in the right direction with shows and characters this strong."
Chenoweth has played many characters throughout her career. She played, "a drunk has-been, a smart lady in the White House, the good Christian bitch, and a waitress who can't get a job and is in love with a guy who's in love with a dead girl." One of her biggest concerns when contemplating this role was the kind of woman Easter was in the books, so much so that her first reaction to the role was surprise and, "No, no, no. Easter?"
It took the blessing of the author Neil Gaiman and assurances by executive producer Bryan Fuller that Chenoweth's Easter wouldn't be exactly like the book; weathered, but still at it, a floater who was always full of wisdom. She would be playing the spirit of Easter, a strong presence of rebirth amongst all this disarray with the New Gods, a Switzerland of sorts. Chenoweth loved it.
There lies the strength of American Gods, the female prominence. "The key with the women here is – they take anybody on and without apology." Chenoweth, the women of American Gods, the executive producers, and Neil Gaiman aren't afraid to show the ugly, broken, and ultimately complex aspects of women that represent (prepare to shocked) how women truly are!
"It's such a relief. We're allowed!" Chenoweth exclaimed in excitement.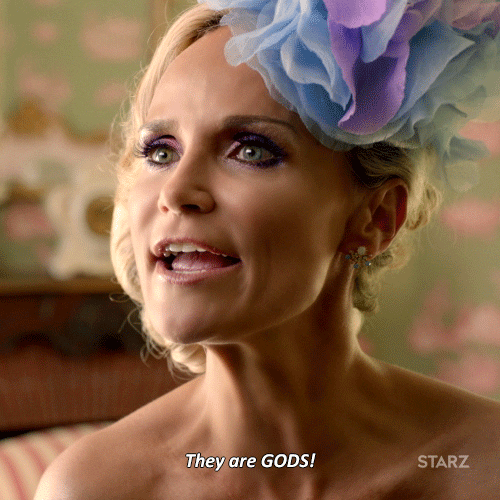 The women of American Gods have choices on how they're going to survive the world, what strengths they pick for themselves, and are not afraid of taking anyone on. Chenoweth feels like Easter, and the other women of the show, have had such beautiful expansions to their stories, in comparison to the book, because of executive producer Bryan Fuller, who she's previously worked with on Pushing Daisies.
"Bryan is so aware of the strength of women – in general. He has very strong women in the piece and I'm glad he's chosen to keep that."
One of those other strong women, is a key antagonist on American Gods and just so happens to be Easter's BFF, Media, played by Gillian Anderson. One wouldn't expect these two Gods to be friends because of the fact that one is Old and adaptable and the other is New and stronger than ever. But remember, Easter is Switzerland. So she'll try to "out nice her" while Media tries to "out media" her, to no avail.
And let's just say that when Media finds out that Easter is contemplating siding with Mr. Wednesday and his whole ploy to get back the power they once had, she's going to be mad. The friendship will be tested, things will get complicated, and we'll get a peek at how powerful Easter truly is.
Chenoweth teased, "What ensues after that…it's so good. It's juicy."
We can't wait.
American Gods premieres Sunday, April 30 at 9/8c on Starz.