Anansi. Old God. Trickster. Con-man. Immigrant. Snazzy dresser.
We got a chance to speak with Anansi himself, actor Orlando Jones, about his upcoming role as the Trickster God on Starz American Gods, his unique entrance into the series, and his ever growing life in fandom.
American Gods wasn't his first encounter with Anansi. Long before the book or TV show he was aware of the tales of this God. "Anansi' been a part of my family's history. My great-grandfather and great-grandmother talked about Anansi and Dr. Buzzard and all of these characters that exist in African American diaspora. I grew up with it, I don't really know anything else. I'm from the Southern United States. For me, Anansi wasn't a discovery."
Jones came to Anansi based on a life of tradition. And when he encountered Neil Gaiman's book, it's no surprise that his first reaction was, "Ohhh this white boy is writing about Anansi, oh shit!" That led to a spiral into Neil Gaiman's works and an appreciation for seeing his family's traditions treated with such care and admiration.
Unlike other Gods that the main protagonist Mr. Wednesday is recruiting for his war against the New Gods, Anansi is a wild card. He's all about self preservation and half the time you don't know if he'll flip on you because of that.
"That's what a trickster God does. It's a con, at all times."
His 'Coming to America' story is unlike any of the other Gods and helps explain why he is this way. He didn't come here willingly in the minds of his immigrants. He came to America in the slave ships of the Middle Passage, a trade system where Africans were transported across the Atlantic to the West Indies. So, these weren't immigrants. They were captives who feared what they didn't know.
"You're on this ship, you're shackled, you don't know where you're going, you don't know who these men are, you have no clue what the future holds, and in some ways it's more frightening…not knowing is more frightening than knowing. So, the introduction of the character, I think speaks very much to that." Anansi is a survivor and he will do anything in his power to make sure he comes out on top. His introduction to America was shaped in fear and it gave birth to this instinct to be the one who survives to tell the stories of those who died as he weaves himself into the fabric of America.
"I feel like that's a really interesting way to enter into the diaspora of a country, into the fabric of a country. And it takes Anansi and puts him in a very precarious position. Is he trying to help you? Or is he not?"
Jones was also very mindful about the way he spoke while playing Anansi. He wanted to keep his accent broad while still honoring African culture. He didn't want to just slip into several African words because there are so many different African languages and he was concerned about doing them all justice.
"He drifts out of lilts that are specifically African, or African American, that I think, at least to my mind, speak to the sort of travel of the Middle Passage and where those dialects come from."
Anansi' voice is also meant to ease you into what he wants you to do. After all, he is a God, desperately seeking out ways to make you worship him and believe in him as a means to increase his power. Yelling isn't going to do the trick. He's got to ease you into it.
"Anansi' voice, everything, is intended to bring you into the conversation, get you to relax, have a good time so he can talk you into what he wants to talk you into. But that's what a con-man does. That's what the con is, it's the use of that particular tool for whatever purposes he wishes to use it for."
The way Anansi spoke wasn't the only thing Jones and executive producers paid great attention to. They wanted to make sure that Anansi had a certain look that embodied where Anansi came from. He credits the costume department for the amazing job they did and really only takes credit for asking for the color purple to be incorporated into his costume.
"The purple was all I really wanted because it's a color of royalty. And the African print was sort of important to me because Anansi doesn't just hail from just anywhere, he's Ghanaian, he comes from the Shanti people. Their colors needed to be represented in his presentation because they are the creators or Anansi."
For those who've never encountered Orlando Jones before American Gods, there's one thing you should know about him, he's a fangirl. Yes, I said fangirl. He's not afraid to throw it down and talk about his feels while squealing about shipping. In his own words, "I'm not visiting fandom, I live in fandom."
It's no different for American Gods. He has his ship, is ready to try to make it possible for fans to be able to make fanfiction using these characters in real time, and says that he's never experienced a show where even the executive producers were down with the creative world of fanfiction.
"I'm excited about this show though because never have I ever been on a show where the creators knew what fanfiction was and really embraced it. Bryan is so in! Neil is so in. Michael is so in. I've never seen this before."
Jones is ready and can't wait for fans to experience Jinn and Salim, two Muslim men who have a romantic encounter in one of Neil Gaiman's vignettes describing the 'Coming to America' story of an immigrant and a God.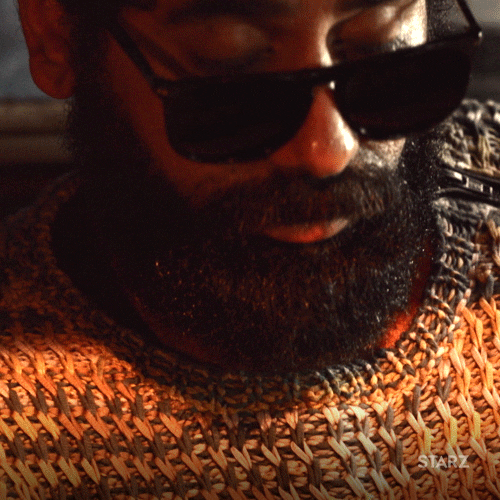 "That's the ship. That's why I like the ship 'slash' in particular because those voices are often diminished and they're already there or love is always put into some fucking box. It's weird."
It's a beautiful and touching vignette and Jones is not here for anyone's judgement or prejudice. He understands that some people might feel "quite perturbed" with it, especially with the two men originating from a place where homosexuality is such a taboo subject, but love is love. And if you really want equality or equal rights for yourself, then don't you want people like these two men to have it as well?
"That to me (Jinn and Salim), it's powerful because it's so beautiful. And I'm a straight dude. I might not be interested in having sex with a man but that doesn't mean I can't appreciate it when it's beautiful," Jones explained, "That's my ship. Without question. I'm going hard for that ship. You don't even know how hard I'm going for it. You can't."
His shipping isn't even restricted to the show and it's characters. It's for the actors on the show, other things they've worked on, and some things he's become obsessed with because he's become friends with the actors and admires their work.
"I got a Gillovny ship problem to deal with. Like you read about, I'm Captain of that ship. And Gillian (Anderson) and David (Duchovny) are not gonna be together for whatever reason…so they think. I'm still trying to make that happen while I deal with Olicity and Westallen and very important other ships that are happening right now. Shoutout to Destiel."
When April 30th comes around, expect Orlando Jones to be on Twitter supporting American Gods, shipping the hell out of this show and it's characters, and interacting with fans that are just as excited about the show as he is.
"We gonna get it cracking. Hit me up. We got plans."
American Gods premieres Sunday, April 30th at 9/8c on Starz.