Goonona plays around in Wynonna's body, discovers a huge secret, and then is forced back into Waverly's body because of the faith this sister has in the other in Wynonna Earp's "Let's Pretend We're Strangers". It was an episode that showed you the varying strengths of the characters of this show and how far they're willing to go to save one another. And while I can go on and on about how the scenes that made me laugh, barf, and jump up in shock, I'm gonna save it all and gift you with 5 WTF Moments from Wynonna Earp's "Let's Pretend We're Strangers"!
Wynonna is Pregnant
I appreciate the fact that the actress that plays Wynonna Earp was actually pregnant during the second season. It takes a lot of work and a lot of balls. (Which I think Melanie has plenty of because moms who work are badass.)That being said, what the fuck!? Or more commonly known as WTF!
Pregnancy on a show usually ends up being very trope like and they end up covering the belly most of the time as if women on TV never get pregnant or they don't have the time to fit it in the storyline. From what I know from Wynonna and from what I've seen in the last two seasons, they're not going to hide this. Wynonna is pregnant and if it's a girl it will have the same curse that all firstborns of the Earp line have. And if anything, this is going to make Wynonna fight harder to prevent her child from having this future.
Is Wynonna happy that she's pregnant? No. I don't think this was ever what she expected. And will she make an informed decision with the absolute knowledge that she has options to bring this pregnancy to fruition or end it? Yes. She's now surrounded by people that care and love her. She's not alone in this. And if there's anyone I've got faith in it's Wynonna Earp!
Wynonna Makes a Rat Smoothie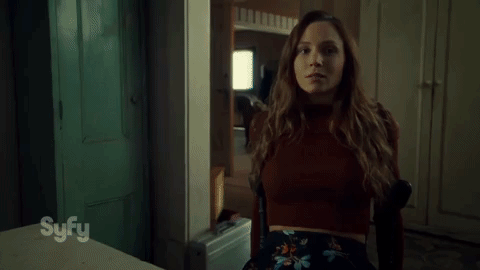 At a certain point you become desensitized from the things that you see on TV and horrifying scenes no longer upset you. For some reason the rat smoothie freaked me out. Maybe it was wynona's casual manner or her obvious delight and hunger for this rat. Or maybe it was the fact that she left the tail hanging out of the blender as she made it. Either way it was absolutely disgusting and I can't stop thinking about those chunks pouring out of the blender.
And if we really sit down and think about how easy it was for that demon to make that smoothie, it wasn't the first time it made it. That really there is more disgusting than anything I've seen on those Saw movies combined. No thank you Goononna!
Black Badge is G-O-N-E
After all the grief that Black Badge has given Wynonna and her friends I expected them to be the big bad for the season. I mean, you don't sign something with your blood if it isn't going to be something pertinent to the season. But they're not. For some reason they have disappeared and left Purgatory on its own. And for all we know they might have been missing longer. Lucado did mention how she wasn't able to get any support or any of her calls answered by black badge. They could have been gone from the moment that Lucado arrived in Purgatory.
Whether they're hiding or they vacated the premises forever, there's going to be a vacuum of power and a lot of people out to cause trouble now that there are no enforcers in the area. This will probably force Wynonna to expand the territory that she protects and for Dolls to take command in Purgatory once more unto the great relief of Wynonna. This probably isn't the way that she wanted things to go, but the disappearance of Black Badge means that Nicole is going to be accepted back into the ranks that Dolls put her in before he was kidnapped in season 1.
Lucado's Head Exploded!
Just as I was realizing how much of a badass Lucado is, I'm talking about that fight with Dolls, her head literally exploded. It was as if her mind couldn't handle the immense presence and power of the demon they were fighting. Like Rachel Skarsten's character Eliza, she was killed off way too soon and I wish we'd have learned more about her background with Black Badge. I'd give her points though for the way that she fought, the loneliness that we saw before she touched the goo, and how much do she got everywhere when she exploded! Top notch.
The way that Lucado's head pop like a cork also gave me a better appreciation of Waverly. That girl has an innocence and strength in her that makes her more powerful than 75% of the people on the show. She's strong, capable, and most importantly she knows people's strengths. She knew that Wynonna would be the one to save her because she trusts her sister and in her abilities. Now I'd just like her to work a little bit on trusting herself and that her sister would never leave her even if she wasn't an Earp.
Juan Carlos Appears and Disappears Faster Than the Flash
I know we're supposed to be worrying about those ladies with the fancy hand jewelry, but I think we should be more worried about Juan Carlos. I'm not sure if I missed something or his character just appeared out of nowhere. I'm leaning towards the latter and want to know more about him and his magical vehicle.
He can't just walk around throwing sage advice at Wynonna & Co. Well he technically can but that's just boring. I need to know what he's up to, what he represents, and what that means for the monsters of Purgatory. Right now I can't throw the ball into the good guy area. My spider-bullshit senses are tingling and they're telling me not to trust that guy.
Favorite Moment from Let's Pretend We're Strangers:
There's nothing I love more than an epic moment ruined by a small mistake like forgetting what day of the week it is.
Check out the trailer of next week's Wynonna Earp:
Wynonna Earp airs Fridays at 10/11c on Syfy.