YES! This isn't a simulation, Blindspotters! BLINDSPOT HAS BEEN RENEWED FOR SEASON 4! Everyone scream: YEAHHH! HAPPY DANCE!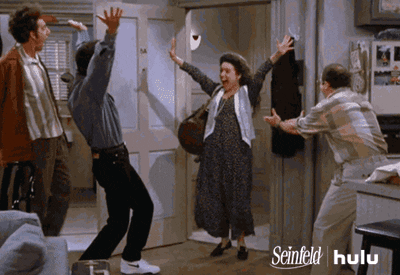 Once my emotions have calmed down a bit, it's time to confess why I'm so happy. I firmly believed that this series deserved a new season so that it would captivate us every week with its stories. I was hooked from the first moment and I devoured all available episodes since I discovered it. This show has the perfect mix between romance, action, emotion, mystery and tension. I think many series should drink from the good balance that Blindspot has.
It's never easy to have that balance and to entertain and please all types of audiences. Because, yes, the audience in a show is always varied – and that's awesome! Some may be interested in the set, some are more interested in romance – what would a show be without ships? – to others it's the action…a show must have resources so that all the spectators are happy. Few series get it as Blindspot.
The show managed to captivate me not only the mystery but the complexity of the characters, they are never flat. The wealth of writing is noticeable when neither the good ones are so good nor the bad ones so bad. There are always two sides of a coin, that's why we fall in love with theoretically evil characters like Roman. Because they have so many edges that we can identify with some part of them, we can understand them, we can love them.
This show never presents flat characters and shows us that they are human, sometimes they make wrong decisions, sometimes they frustrate us, they make us angry and sometimes they melt us. We will never get bored with them, they will never stop telling stories.
Of course, Jeller is one of the reasons why I love this series. They are pure magic on screen, I think there is no other way to describe it. Magic can't be explained only… it feels. And we all feel it with this couple.
In addition, this series has given me much more than hours of entertainment, I have entered into a wonderful fandom thanks to this show. A fandom that has been tireless fighting for #RenewBlindspot and we deserved this, we deserved one more year to enjoy this wonderful show. I'm also happy for us! We made it, fam!
Now that there is a confirmed new season, let's talk about what I expect to happen:
MORE PATTERSON AND TASHA
I hope the S4 of much more play with Patterson. Maybe she has been a bit wasted and her storylines could have been juicier. I always need to see more of her. Also, fingers crossed so that her friendship with Tasha is repaired completely. Zapata has made many mistakes but is beginning to realize them and we all deserve a second chance. A part of that, hopefully Patterson's father and his visit will better that in this season that ends.
PS: We need to know Patterson's first name!
ROMAN
Please pray for Roman to stay alive and redeem himself from all his bad deeds – to be able to be next to Blake – during season 4. My baby deserves to finally have a real family that loves him without any condition or intention hidden. Despite everything he has done, I want him to have what he has always wanted and has never achieved.
NO MORE "WALKING DEAD", THANK YOU
I think that reviving dead characters is not a resource that precisely shines in the series. And it doesn't do it because it is complicated to make it credible and avoiding that what has meant that death for the characters is nothing. One of the blunders of Blindspot this season – although there have not been too many – has been reviving Borden, for several reasons: it wasn't credible at all and had no more continuity in the show, in fact, its only consequence was the breakdown of friendship between Tasha and Patterson.
For that reason, I hope that in season 4 we will not have a dead person who miraculously returns to life.
RAPATA
I want these two to stop spinning around each other and be a couple! With that I say everything.
MUCH MORE JELLER AND WELLER FAMILY
I will always want more Jeller scenes! And much more now that Avery has been added to the equation. I also hope to see Bethanie a lot more and so let's see the whole Weller family united. We need more family scenes! Are you agree?
After the reconciliation they have left Jeller a bit too far apart and I cross my fingers to be a central part throughout Season 4.
MORE RITCH DOTCOM
He's the best! So there.
Are you happy with the news of a new season for Blindspot? Do you agree with the "wish list" for season 4? Don't hesitate to share your opinion with us in the comments below!
Blindspot airs Fridays at 8 / 7c on NBC.