Who run the world? Girls! That was so, like five years ago, but it still resonates today. 18th century healers, 21st century doctors, scientists, generals aliens and the list goes on! Damn- women truly kicked ass on television and on the big screen.  Here are just some of our favorite fictional females from this year.
Okoye
The General of the Dora Milaje- the all female armed forces of the Black Panther himself- Okoye is the boss. She wields a spear with ease and despises poor manners. Beautiful, dutiful, and loyal to her king, this warrior stood her ground on the battlefield against Kilmonger and the mighty Thanos. We can't wait to see her back in action in Black Panther 2!
Shuri
Since we already have Wakanda on the brain, we might as well talk about our girl Shuri.  The baby sister of King T'Challa and the resident scientist/doctor/engineer of the country, this smarty is a force to be reckoned with. Brains and wit to match, this future Black Panther will have us all cheering "Wakanda Forever" all over again in a few years.
Her super suits kept the king safe and his feet fly- who could forget her line, "What are those?" Charged with saving the life of Agent Ross and come to find out the life of the Winter Soldier A.K.A. Bucky Barnes, Shuri is an integral part of the Marvel universe.
Dr. Claire Fraser
Though Claire has a soft spot for her timeless love Jamie, she's no cream puff. Strong willed and principled, she has ruffled more than a few feathers on her many journeys. Having the nerve to practice medicine as a woman, to speak against slavery, and to have her own mind at all, Claire embraces her womanhood and her independence in their entirety; she's pretty scrappy and handy with a weapon too. Not to mention that she's never been afraid to walk through the unknown for the sake of true love.  Who wouldn't if they had even the slightest chance of meeting a Jamie Fraser on the other side of those enchanted rocks?
Dr. Claire Brown
Another Claire! This young resident is always bumping heads with the powers that be. Advocating for her patients and standing up for herself aren't always easy for Dr. Browne, but  since she has started, turning back is a no no. Recommending experimental but life-saving procedures against the wishes of her superiors has earned their ire, but also their respect. Refusing to let her empathy be used against her, Dr. Browne's sweet bedside manner is what endears her to patients and helps to gain their trust. We have a feeling this nice girl won't finish last.
Laurie Strode
Whoa Nelly! Watching Laurie Strode battle her nemesis Michael Myers was pure delight. Though the serial killer had caused long standing anxiety, Strode was able to put it aside and come out swinging. This silver haired gun-slinger gave us a show down for the ages! Boobie traps, cross bows, and did we mention the stash of guns she had? No longer the prey, Laurie Strode was now the hunter; and she was more than ready to take Myers down for the last time- well at least we think so.
Felicity Smoak
Somewhat setting aside the Overwatch persona, Felicity has had to survive without Oliver by her side. And boy has she done just that. Fighting, hiding, and  having to say good-bye to her stepson- she has been through her share of heartbreaks but remained strong through it all. The hardships she faced have forged her into a stronger version of herself and someone not to be trifled with. She can really do some damage with household items! Just ask Diaz.
Iris West-Allen
Iris West-Allen is the glue of The Flash family. She is the one who gives the pep talks and the back rubs, but make no mistake, she will pull the big guns if she has to. This beautiful blogger has more than proven her "badassery" as Cisco put it. Nothing says "I'm a bad ass" like jumping off a building to save the man you love with the full confidence that he will save you. Go off Mrs. West-Allen!
Karen Page
A dogged reporter out for justice, Karen Page is always on the job. Forming a partnership with Matt Murdock, Page keeps her nose to the grind and outs the dirty elements of Hell's Kitchen through the front pages of the news. Seemingly a good girl, Karen has an tragic past that explains her draw to Daredevil and her ability to kill if she has to. Though she has some elements of darkness within her, this feisty investigator is reaching for the light and fighting alongside the Devil to find it.
Anissa Pierce/Thunder
Fierce and fine- Anissa Pierce is more than a bad ass. Thunder is that and then some. She is super smart and loyal to her people- so much so that she went on a robbing spree and gave the money to church folks. If that wasn't enough to make you love her, she is a loving and protective big sister. She can be tough as nails with her baby sis, but her arms are always open for a big hug and a heart to heart if the time arises. Bullet proof and a heart of gold- there is no better combination!
The Thirteeth Doctor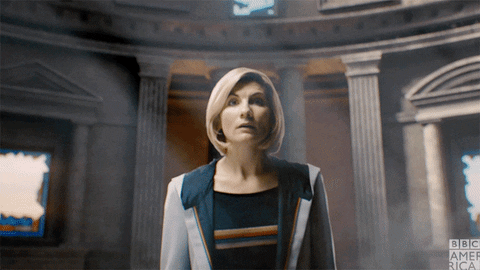 This first ever female version of Dr. Who has been a wonder on the small screen. Ripping and running through space and time, this Time Lord is always ready to fight the forces of evil in the universe. Armed with her changing spaceship and her crew, this extraterrestrial is always on the go. Let's hope she stays put for seasons to come.
There were so many dynamic and kick ass females that made television and movie magic this year that it would be impossible to give even a fraction of them their due.
Agree? Disagree? Let us know in the c<omments below!