If there's anything that American Gods "Moon Shadow" left us with it's a desperate need to see more of the characters we have fallen in love with over two seasons. In the season two finale Shadow Moon and Laura Moon seemed to have settled their past and started on a different journey moving on forward. For Shadow his journey has to do with being left behind, again. And Laura, well, she chooses the leprechaun who she's afraid to admit has stolen her dead heart.
On a more Godly front, Mr. Wednesday has bounced and let Shadow deal with the shit storm created by New Media. The Old God can try to excuse his actions by saying that Shadow is capable of taking care of himself til he's blue in the face, but I don't believe him. He's a spineless Old God who will leave everyone behind if it means he'll end up on top. Unluckily for him, New Media is the one on top. She always will be in a world where we consume media like we breathe air.
So, without further ado, let's dive into the good, the bad, and the ugly of American Gods "Moon Shadow"!
The Good – Laura Moon Moving On
Before we dive into the way that Laura Moon is looking at Mad Sweeney in this gif, let's talk about the scene between her and Shadow in the graveyard. It felt like a goodbye, an explanation, and acceptance that they are moving on from each other. Laura will always have his back, but the days of her calling Shadow puppy and acting like nothing heartbreaking happened to get them here are over. And Shadow, he drew his line in the sand and that choice doesn't included Laura. Which, I'm proud of him, but my mind just keeps going back to Laura in this choice.
I love Laura Moon to the moon and back and I'm so proud of her for finding Shadow, growing while on that journey to get to his side, and actually listening when he basically told her it was over for good this time. I'm also really proud of her for saying that she is not the sum of her mistakes. Laura fucked up. She's been doing that for ages; fucking up left and right. And "Moon Shadow" acted as the pinnacle of new and uncharted territory now that she has acknowledged her mistakes and that they have no power over her. Laura chooses who she is.
And in that choice comes Mad Sweeney.
You don't look at someone like Laura Moon looks at Mad Sweeney and not feel love for the person. Hell, even before when Shadow told her that he was dead, the way that she turned away like she couldn't look at Shadow without breaking down because she's never felt like this before. That was love. That was pain. That was loss. Mad Sweeney might be an asshole but so is she. And they've made a hell of a team the entirety of these two past seasons. And this, this was a mark of a changing tide.
It's not selfish of Laura to choose the god king after telling Shadow she will always have his back. It's healthy and the first steps to her admitting how much she feels for this tall asshole. Sweeney makes her feel safe, seen, and like she can accomplish anything in this world. And she took him away from the mortuary because she needed him as much as he needed her and because she loves him, even if she doesn't know it yet.
I expect and hope to see more of these two in season 3 of American Gods. Laura Moon and Mad Sweeney are the unexpected ship that I would gladly invest in, no matter what forces are coming their way. They got this!
P.S. More Laura Moon mourning Sweeney that you might need in your life is available HERE.
The Bad – Shadow Being Abandoned by Wednesday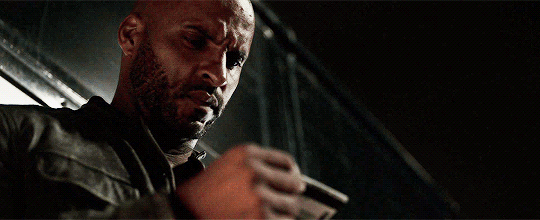 I know what it feels like when someone you considered your friend, companion, or possibly family walks away or sneaks off into the night without a word. I know this abandonment. And that's what I see when I look at Shadow Moon, particularly in this gif of the final moments of "Moon Shadow." Mr. Wednesday abandoned Shadow, left him to figure this god shit all on his own (again), and I'm so sick and tired of it. Shadow deserves better even though he has ignored logic time and time again and just kept at Wednesday's side even though the one eyed fucker didn't deserve it.
Honestly, I thought by this point Shadow would stop blindly following Mr. Wednesday, but the twisted faith that he has in the God is what keeps him going. Sure, Shadow went for answers at one time or another that made it seem like he was going to walk out if Wednesday didn't give it to him, but here we STILL are. I also think that Shadow sticks around despite Wednesday's bullshit because he has no where else to go. Shadow doesn't have a mom, a home, a wife, or even a place of his own to rest his head.
All Shadow has is Wednesday and the twisted connection that is still strong and living between them. And it's all sorts of fucked up that I still understand it. Sometimes you hate the thing you love. You can even loathe, with the power of a thousand suns, the thing you love. That's why love is so damn complicated and never the same from person to person. It's unique and one of the most magical things out there. It's also one of the deadliest things out there. And if Shadow doesn't open his eyes and stop remaining ignorant out of convenience and companionship, he's gonna end up in an even bigger shit storm in American Gods season 3!
The Ugly – New Media Fucking Up Everyone's Shit
I think since her transformation to New Media, people and Gods alike have doubted her. Tech Boy doubted her and look where that left him. And Wednesday doubted her and look how close to being captured he and Shadow were and how fucked they are now because there faces are everywhere. Because this Media, the brand spanking new one with a love for color and pop to everything she does, is extraordinary. And I love her!
If anything, American Gods did us "dirty" by not giving us ENOUGH of New Media. This god is a force of nature chock full of power, mischief, and knowledge of how technology and media has changed our world. She knows how to wield this power and if Mr. World isn't careful or respectful of the power New Media holds, well…he'll go down too! Because this god right here represents the color, flash, and pizazz that we thirst for when we go online.
Next season of American Gods we need to see what makes New Media tick, what she loves, what she hates, and what she really thinks about everything that's going on independent of Mr. World or Mr. Wednesday. We saw before what Media thought of this takeover by Mr. World. But she's a whole new being, new creation, with her own thoughts at what is happening in this world and what could happen as she continues to get more powerful. Because that right there is the only guarantee American Gods can give us.
New Media will always hold the power and no matter what happens to the rest of the gods or the belief that humans have for the Old or New Gods, New Media lives on and will continue amassing power. After all, who doesn't love a bit of social media, controversy, anything outlandish and scandalous that pops up on our screens? We all do. Even the ones who say they don't.
Favorite Moment from "Moon Shadow":
This softness, this unabashed tenderness, it makes me feel things for the Jinn and Salim. We don't get to see this as often as we would like when it comes to queer couples. It's usually drama on top of coming out drama where not even a moment is giving to be gentle and kind. I see that gentleness and kindness when I look at the Jinn and Salim. And it makes me feel like I can have it too, no matter what shit storm hits my life along the way. That's why these two matter and why we need more of them in season 3 of American Gods!
American Gods has been renewed for season 3 on Starz.