You've heard a lot about my favorite horror films to watch this time of year, both classic and modern. I wanted to ask the question of our writing staff–what is your favorite horror film to watch at Halloween time? Pop some popcorn, grab a drink, and your favorite Halloween treats, and enjoy our Halloween horror favorites.
Ashley
Alien (1979) 
Alien is my all time favorite film. What is often described as one of the most terrifying films of all time served as a bridge to bring me over to the horror genre. It did so by hiding a haunted house in a spaceship. Alien hits all the right cues for me–monster in shadow, incredible cinematography, and a tough-as-nails leading lady (Sigourney Weaver) donning a pair of Chuck Taylor high tops, wielding a flame thrower, and toting a kitty cat sidekick. I can't imagine a more "Ashley" film than Alien. Even when I didn't like horror movies, I loved Alien. The science fiction elements took the edge off the scare factor, even if I still jump practically every time the Xenomorph appears. This one is worth your time, and should be suitable for your friends that don't always enjoy a good spookfest. If you'd like to hear me gush more about Alien, check out this installment of Mythgard Movie Club. 
Lyra
A Quiet Place (2018)
A Quiet Place is one of the only horror/monster movies that I bawled my eyes out in. Now that I think about it, I change my mind. It is the only horror movie where I bawled my eyes out. Emily Blunt gave one of her most powerful performances to date and John Krasinski blew me away with that finale. At the end of the day this horror flick is about family and the lengths that you'd go to protect it. Not to mention, every steal was stunningly shot and I can't wait to see more of this world when its sequel comes out!
Gillian
Crimson Peak (2015)
I wrote a post about how much I do not like being scared, but I do have a couple of horror movies that I enjoy (to watch in daylight at home with the doors locked). One of these is Crimson Peak, a criminally underrated Guillermo del Toro film. I think it was advertised poorly, as most people were expecting outright horror and more scares than what we got. What we got is an excellent gothic horror film with a heartbreaking love story. Gothic horror is a favorite genre of mine and del Toro knows the right way to balance the two. The house is perfectly creepy and there are some decent jump scares, but that's not why I love it. It's the whole environment and the acting from Tom Hiddleston, Mia Wasikowska, and Jessica Chastain as the three of them go through the story. We definitely need more gothic horror movies nowadays.
McKenzie 
The Conjuring (2013)
I came into liking horror films late. When I was around ten, I watched It, Pet Sematary, Child's Play and more and they absolutely scarred me. I loathed anything to do with horror films and would refuse to watch any.  In college, I got over my fears and began to appreciate them. I have quite a few favorites, but I had to pick the one that made me like the genre again, that was The Conjuring. I remember seeing it in the theater and being absolutely terrified but it also has very suspenseful moments.  To me, the storytelling was fantastic and I was always on the edge of my seat wondering how it was going to end. I don't find myself in the position a lot with horror films.  So it was a refreshing experience. I still remember scenes from the film and when I hear clapping I can't help but think of their clapping game and get a little freaked out. 
Julie
Nightmare on Elm Street (1984)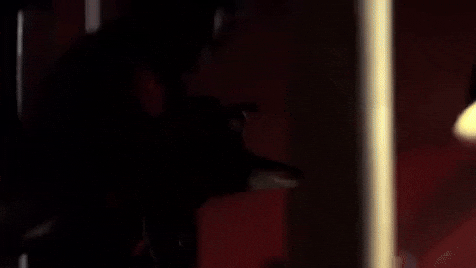 This was a tough category to pick one film in, because I love scary movies! I almost went with Halloween, because that is a must-watch this time of year, of course. But Nightmare on Elm Street is my go-to scary movie when I'm feeling nostalgic. This movie terrified me as a kid. It preys on an insecurity about the one time you are the most vulnerable and have no control over  your situation – when you sleep. Honestly, I couldn't sleep well for months after my sister and I snuck into the living room to watch that movie one night. My parents were beside themselves. To me, though, that's the sign of a good horror film – something that terrifies you long after the credits roll. Watching it now that I'm older, I can see so many other themes. There is that feeling you get when you're a teenager, but the adults still keep information from you because they don't think you can handle it. There's the idea that you never really know someone, since these kids' mild-mannered parents straight-up did some vigilante justice on Freddy Krueger. And there is the feeling of helplessness when you feel like no one is listening to you – because Nancy legit tries to tell everyone the whole movie what is happening and no one believes her. These points would still be relevant today if they remade the film…only the special effects would need to be updated (that tongue through the telephone did not hold up well).
Jasmine
Scream (1996)
Neve Campbell is one of the original 90s scream queens in my opinion.  It is not Halloween until I see Scream.  I love the setting of the film and it gives me such fall/Halloween vibes when I watch it.  This has always been one of my favorite films since the first time I watched it. That opening scene with Drew Barrymore is still by far one of the most intense moments I have ever watched in a horror film.  I still get jumpy when I watch this movie by myself. I have watched every single movie in the Scream series and this is the only one I will ever truly accept.  I honestly don't think we even needed sequels. One of my favorite parts will always be when Randy recites "The rules" of horror films because it is so true. What I loved even more was the irony of him reciting the rules while they were all basically living in their own horror film and breaking all the rules!    
What's your go-to horror film this time of year? Leave a comment and join the discussion. Halloween is just a couple weeks away! Stay tuned to Fangirlish for more Halloween horror fun all month!