2019 is quickly coming to a close, and this year gave us many great films. We stepped back into the Marvel Universe with Avengers: Endgame, we fell in love and had our hearts shattered watching After, Us taught us that we literally can be our own worst enemy, and we got the final chapter of the Skywalker Saga with Star Wars: The Rise of Skywalker.
With so many amazing films keeping us busy throughout 2019, we're hopeful that 2020 will be just as eventful. Here are the movies we're looking forward to in 2020.
Bad Boys For Life
Synopsis: Marcus Burnett (Martin Lawrence) is now a police inspector and Mike Lowery (Will Smith) is in a midlife crisis. They unite again when an Albanian mercenary, whose brother they killed, promises them an important bonus.
Why We're Excited: Our favorite buddy cops are back, and getting into some more wild adventures. Will Smith and Martin Lawrence are a great comedic duo onscreen, and they give us some amazing moments. The Bad Boys films provide the right amount of action and laughs to keep us entertained. I don't know about you, but that seems like a great way to start off film watching in 2020.
Release Date: January 17, 2020.
The Gentlemen
Synopsis: A British drug lord tries to sell off his highly profitable empire to a dynasty of Oklahoma billionaires.
Why We're Excited: Michelle Dockery, Charlie Hunam, Matthew McConaughey, Colin Farrell, and Henry Golding, need I say more?
Release Date: January 24, 2020.
Birds of Prey (and the Fantabulous Emancipation of One Harley Quinn)
Synopsis: After splitting with the Joker, Harley Quinn joins superheroes Black Canary, Huntress and Renee Montoya to save a young girl from an evil crime lord.
Why We're Excited: I have been a fan of Harley Quinn since I was a kid watching Batman cartoons. Margot Robie is the perfect Harley Quinn, and her performance in Suicide Squad was one of my favorites. I'm so glad to see Harley getting her own story because she is so much more than The Jokers ex-girlfriend. I am so ready to see how Margot brings her back to life onscreen in this one.
Release Date: February 7, 2020.
Synopsis: Following the events at home, the Abbott family now face the terrors of the outside world. Forced to venture into the unknown, they realize that the creatures that hunt by sound are not the only threats that lurk beyond the sand path.
Why We're Excited: A Quiet Place was such a great film, because it was unlike anything we had ever seen. I couldn't even imagine living in a world where even the slightest sounds could lead to death. In the first film we tragically lost Lee Abbott (John Krasinski) to the monsters, and now in the sequel, his wife Evelyn, played by the outstanding Emily Blunt, must venture on with their children. We got a brief teaser that didn't give too much away, except for the fact that things haven't gotten any better. The full trailer is set to release New Years day, and we cannot wait.
Release Date: March 20, 2020.
Synopsis: A young Chinese maiden disguises herself as a male warrior in order to save her father. A live-action feature film based on Disney's Mulan.
Why We're Excited: It's looking like 2020 will once again be the year of the badass female, and Mulan is definitely a badass female. Making the choice not to conform to what society tells you to do can often be tough, but the results are what matters. Even more so when your motivation is helping your family.
Release Date: March 27, 2020.
Synopsis: Hardin will always be… Hardin. But is he really the deep, thoughtful guy Tessa fell madly in love with— or has he been a stranger all along? She wishes she could walk away. It's just not that easy. Not with the memory of the passionate nights they spent together. Still, Tessa's not sure she can endure one more broken promise. She's focused on her studies and just starting an exciting new internship at Vance Publishing. She's also being pursued by Trevor, a handsome new co-worker who is exactly the kind of guy she should be with. Hardin knows he made a mistake, possibly the biggest one of his life. He wants to right his wrongs and overcome his demons. He's not going to lose Tessa without a fight. But can he change? Will he change… for love? AFTER WE COLLIDED… Life will never be the same. – Voltage Pictures
Why We're Excited: Here at Fangirlish we love Anna Todd's After series. After We Collided is actually my favorite book in the series, so I cannot wait to watch it when it hits the big screen next year. What we're most excited about with this film is that we get to see more of Hardin's (Hero Fiennes Tiffin) backstory, and the lengths he's willing to go to in order to prove to Tessa (Josephine Langford) that he loves her. We also get to watch all the drama unfold with Hardin and new guy Trevor (Dylan Sprouse), who is also vying for Tessa's affection.
Release Date: Unknown
Synopsis: Artemis Fowl II (Ferdia Shaw), a young Irish criminal mastermind, kidnaps the fairy LEPrecon officer Captain Holly Short (Lara McDonnell) for ransom to fund the search for his missing father in order to restore the family fortune. – Imdb.com
Why We're Excited: This film based on the series of the same name by Eoin Colfer, is one we have been waiting for. Originally set to be released in August of this year by Walt Disney Studios Motion Pictures, the release was pushed to May 2020. We're not too sure why the release date was pushed back, but we can't wait to see this one. The teaser trailer looks awesome, and the effects are going to be incredible. The look of the film almost makes me think about The Matrix and Ferdia Shaw who plays the title character gives me Agent Smith vibes.
Release Date: May 29, 2020
Synopsis: In this sequel, we fast forward to the 1980s where Wonder Woman will face two new enemies: Max Lord and The Cheetah.
Why We're Excited: We love Gal Gadot so much and she was amazing in the first Wonder Woman film so we can't wait to see her be the badass she is once again on screen. We're really looking forward to seeing more of Diana's journey and it doesn't hurt that Chris Pine is back as Steve Trevor either.
Release Date: June 5, 2020
Synopsis: A feature version of the Broadway musical, in which a bodega owner has mixed feelings about closing his store and retiring to the Dominican Republic after inheriting his grandmother's fortune.
Why We're Excited: We are beyond excited for this film, based on the musical by Lin Manuel Miranda. I actually had a chance to see the musical back in 2018 when the Lewis Family Playhouse performed it, and I loved every minute. The trailer for this film looks incredible, and the diversity of the cast is exceptional. With this being a Lin Manuel production, I know the songs are going to be amazing as well.
Release Date: June 26, 2020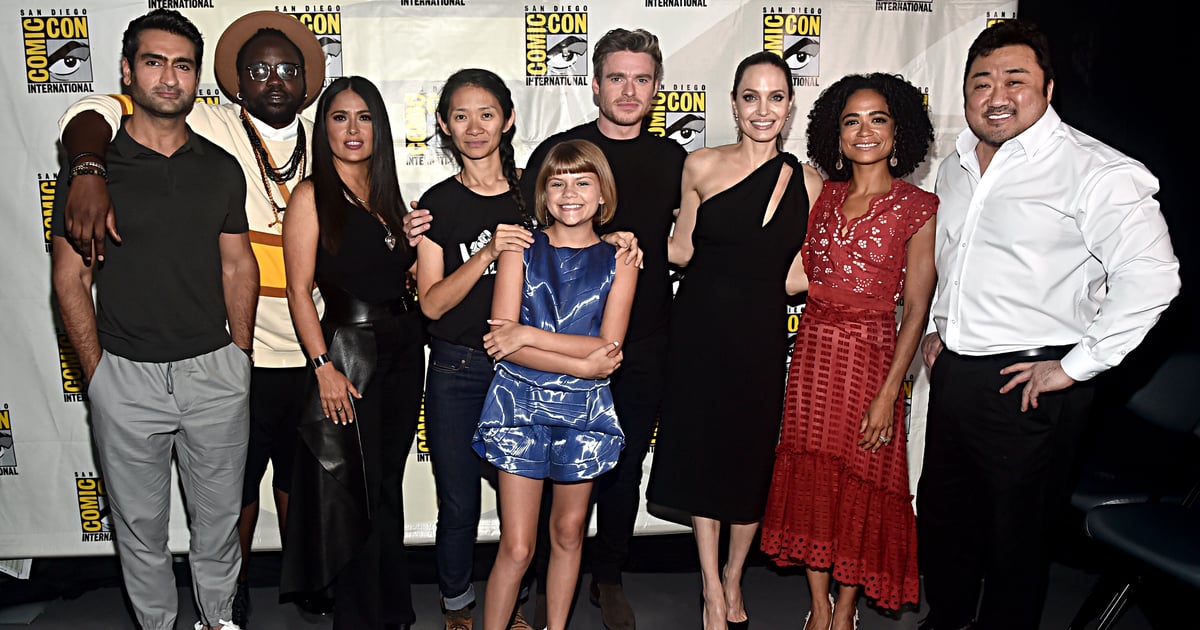 Synopsis: Based on the Marvel Comics of the same name, The Eternals, follows a race of immortal aliens sent to earth by the Celestials to protect mankind from the Deviants.
Why We're Excited: Although we don't know too much about this film, we are already extremely excited. Back in July, during Comic Con, the cast made an appearance and it was epic. The cast list includes; Angelina Jolie, Richard Madden, Kit Harrington (can we same Game of Thrones reunion?), Brian Tyree Henry, Kumail Nanjiani, Salma Hayek, and more. The diversity of this casting is unreal and we are definitely here for it.
Release Date: November 6, 2020
By the looks of this list, it seems we will all be spending quite a bit of time at the movies in 2020.
Which of these films are you excited to see?