Welcome to A-Z Movie Reviews. Every Sunday, for the next several months, I will be posting a review of a film in my home movie collection. How it works is, I will be reviewing movies in alphabetical order until I get to the letter Z (Yes, I do have a film that ends in Z). Now I realize there are many ways to alphabetize a film collection but this is mine so don't judge me. This is simply for fun.
---
Okay folks, last week I gave you a heads up that my reviews were going to be a bit on the sad side. Well, this one is even sadder than last week because today I'm talking about Anthropoid.
What it's about:
Based on the extraordinary true story of Operation Anthropoid, the WWII mission to assassinate SS General Reinhard Heydrich, the main architect behind the Final Solution and the Reich's third in command after Hitler and Himmler.
ow, we all know any war movie that has to do with Hitler and anyone working for him is not going to be a happy film. Jamie Dornan (Fifty Shades Of Grey), and Cillian Murphy (Peaky Blinders) star as Jan Kubiš, and Josef Gabčík the two Czechoslovakian parachutists tasked with carrying out mission Anthropoid. Both of them give phenomenal performances and if there was any doubt in anyone's mind that Jamie could only be Christian Grey, this film will rip that thought to shreds.
I have to say I have only watched Anthropoid one time and it was in the theatre when it first came out.  I bought the DVD because obviously I love Jamie Dornan and Cillian Murphy.  This is another one of those films you don't just pop on anytime because it's just so damn sad.  There is literally as my sister always likes to say, no hope in this movie.
From the moment the movie starts, there's tension and Jan and Josef basically cannot trust anyone they come in contact with. Prague is a different and dark place because the Germans have taken over so there is no peace to be had. Jan and Josef have come to Prague from London to carry out their mission and they are determined not to let anyone stop them.
Although the two soldiers know what their mission is, Jan does have fears like anyone would. He is afraid to die and his anxiety often gets the best of him. Josef on the other hand, is ready to roll and is willing to die if he has to because for him, nothing is more important than their mission.
The two along with other resistance fighters led by "Uncle" Hajsky (Toby Jones) meet up and devise a plan to take down Reinhard Heydrich. Over the course of a few months, the two along with the rest of the resistance fighters, observe Heydrich's activities in preparation of the attack. They also enlist the help of two young women Marie Kovárníková (Charlotte Le Bon) and Lenka Fafková (Anna Geislerova) in getting their intel.
The plan is to ambush Heydrich in his car while he is on his way to his headquarters. After Jan and Josef learn that Heydrich will be transferred to France, the plan is moved up for fear this will be their only opportunity. With the assistance of the resistance fighters and other Czech soldiers that were parachuted in, the plan is carried out.
Unfortunately, it does not go as planned.
As Josef prepares to shoot Heydrich, his sten submachine gun jams and the mission is almost botched until Jan throws a grenade that shatters Heydrich's limousine leaving him seriously injured. Jan and Josef who believe the mission has failed because Heydrich is still alive, go into hiding. They end up staying underground at Saints Cyril and Methodius Cathedral with the other five Czech soldiers that took part in the mission. Eventually they find out that Heydrich has died but this adds even more consequences for the residents of Prague. SS security forces have been brutally murdering innocent Czechoslovakians as they try to find those responsible.
After the family and the other resistance fighters who aided Jan and Josef are attacked and tortured, their location is given to the Nazis. The Nazi soldiers storm the Cathedral where a 6 hour battle ensues. All seven of the soldiers die.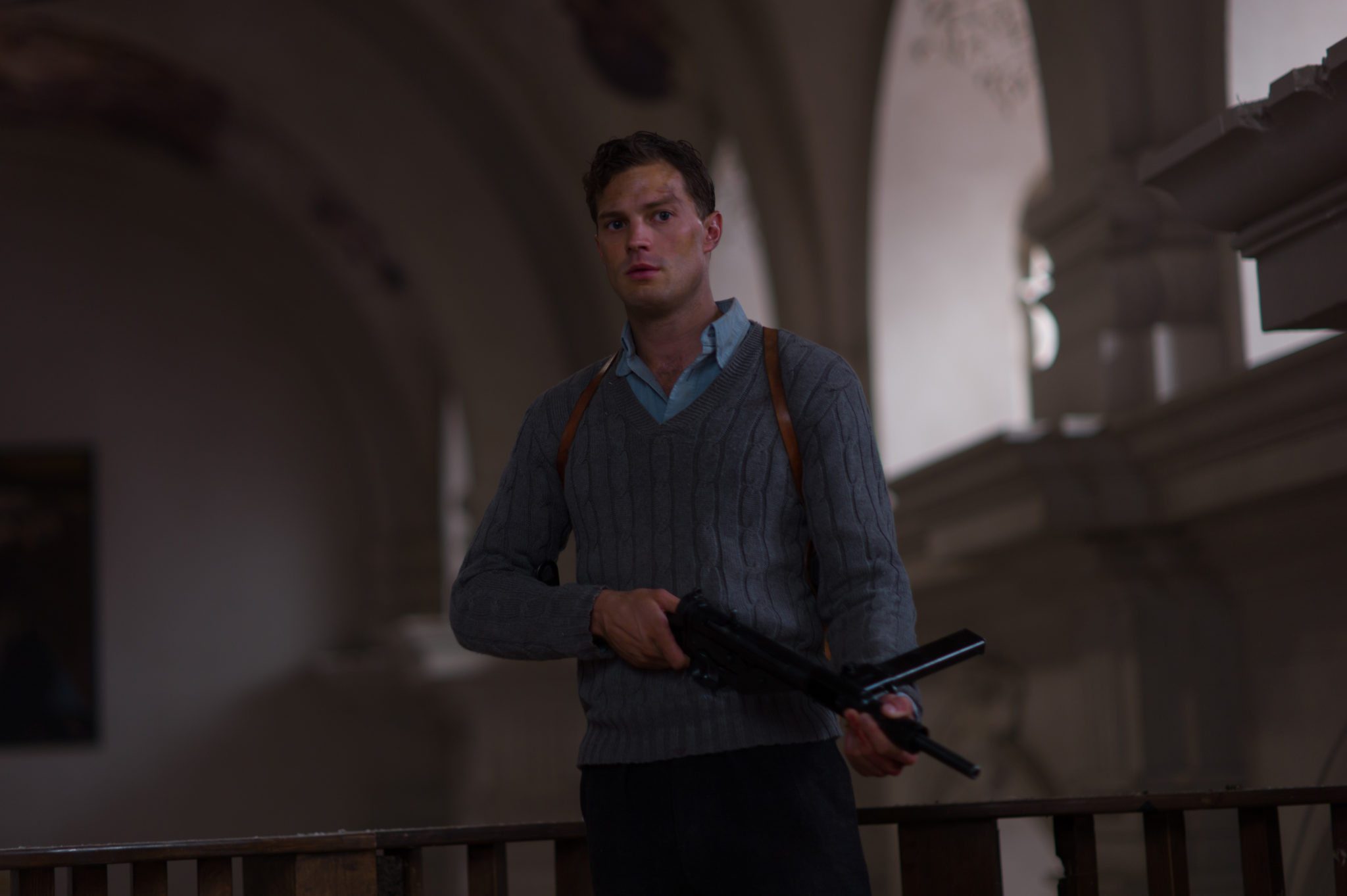 As I said earlier, this was going to be a sad movie review. There was no happy ending in this story at all. After I finished the movie I really thought about what other outcome their could have been but I found none.
Whether or not Jan and Josefs mission had been successfully carried out (Josefs Sten gun doesn't jam), the outcome would have probably remained the same. Thousands of Czechoslovakians would have still been murdered because that is just how evil and dark things were at that time. Nothing would go without punishment even if it involved innocent lives. Would the Czech soldiers have gotten away? I honestly don't know. In the film, Jan and Josef ask if there is any mention of London getting them out of Prague once the mission is complete. Because the directive came from them, that is the assumption. However, there is none. This in my opinion based on the magnitude of what their mission entailed, indicated they knew it would most likely end in death.
Anthropoid is a sad film but a story that needed to be told. It's important to know the history of the world and all of the sacrifices others have made. Jan, Josef and the rest of the soldiers along with the other people who risked their lives, deserve recognition. They knew going into the mission that it would be life or death but they wanted to get their countries freedom back.
Overall, Anthropoid is a story about courage and the lengths we are willing to go to in order to stand for something we believe.
Anthropoid is available to stream on Amazon Prime Video and Hulu.