This is really, really not what I signed up for. In fact, I don't even have words to explain how much I wouldn't have signed up for this had I know this was on the cards for me, Fringe. I'm very much Sharpay singing "This is not what I want, this is not what I planned, and I just have to say I do not understand…something is really wrong, and we gotta get things back where they belong."
See, that's how upset I am, I literally just transcribed High School Musical lyrics. And I've only gotten to Fringe 4×12.
The last seven episodes have been pure torture. It seems like I'm about to get out of this long, dark night, and I appreciate that, which is why I stopped right here so I could properly complain about the last few episodes I've watched.
First, there's the breakdown of the Peter/Walter relationship, which y'all promised me was the center of this show. Why do they have to work to build it back up again? They've been working at it for THREE WHOLE SEASONS. Threeeeee. I don't want to get back to the beginning, even if this is a flipped beginning, with Peter trying and Walter not.
Like, I get it, it's sometimes cool to explore what-ifs. But I promise, that's only cool if it lasts like, a couple of episodes, not 3/4 of a season, AT BEST. I put too much time, and frankly, affection, into the people these characters have become, so to idea of starting from scratch is infuriating, to say the least.
I also didn't really care for whatever was supposedly going on between Lincoln and Octavia, because that's just …adding some pain for the sake of pain, for Lincoln, who's one of my favorite characters, and I assume for Olivia too, because we know she likes to take everything onto herself.
Plus, we all knew this Olivia was going to end up with Peter. Why even pretend otherwise?
My precious unicorn Lincoln, however, has been one of the bright spots of this stretch of episodes, which just makes me sad as I would have really liked to see him actually work with the people I, you know, invested in, not these weird-ass versions of themselves. I'm not one for AU fanfiction – which is probably why I don't like this season, the ultimate AU fanfiction – but I wouldn't mind a version of the Fringe world where we get to see that happen.
As for the alternate universe, and the new versions of the characters there ….well, shocker of all shocks, I now like them. It sucks that the show had to basically erase everything they did last season for me to get there, but it's actually kinda cool to have two versions you appreciate of a character you love.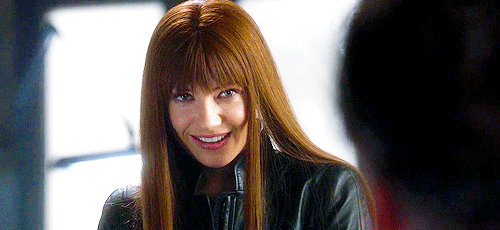 With a little less love for making us suffer from the writers we could have been there much earlier.
I assume the light at the end of this tunnel is coming soon, because that's the Fringe way, just as I assume the light isn't really going to be light as much as it's going to be a little sunlight that'll go away before the characters can even get warmed up, much less develop any sort of a tan. But, like the rest of the people who have watched Fringe before, I guess I'm at the point where I've gotten used to it.
At least give me that. I need something.
Please.
Fringe is available to stream on IMDBTV.