In an effort to build a space for queer people like myself, every Tuesday I'll be posting interviews, opinion pieces, listicals, reviews, and more focused on the LGBT community (and occasionally about the Latinx/WOC community since I am Latinx.) Welcome to Queerly Not Straight! Enjoy and leave a comment below if you have a suggestion for what I should cover next.
---
Lifetime needs a wakeup call if they think that this tweet is a positive representation of what we as queer people want in the media we consume. Newsflash, it isn't what we want. We'll never want this. We want better stories for queer people that don't put conversion therapy, suicide, and murder stories front and center. And we're tired of Lifetime thinking they can pat each other on the back for how brave they are for posting this.
You're not brave.
You're garbage.
And I regret nothing.
How about instead of patting yourselves on the back for a "job well done" why don't you give your viewers what they want aka queer stories with happy endings. Because believe it or not, we want happy endings and all the heart stopping moments that come with it. If I've blown your mind, just you wait. There's more! A TV network has a responsibility to write for the consumer. And some of those consumers just so happen to be queer.
I know, I know. You can't fathom the thought of a queer person watching Kate and Ken fall in love at the bakery that they opened together or after solving the latest murder based on a scrappy young woman putting all the clues together. But we're here, we're queer, and we're down for every ridiculously cheesy moment that straight folks get on Lifetime.
That's not to say that Lifetime movies are good. They're kind of garbage. Correction: fun garbage. And if representation is what Lifetime wants to do/conquer/take on, then they need to write for the queer consumer who is just waiting for a cheesy rom com where people that look and love like them actually get a lovely ending.
Sure, you might lose some followers/viewers. But times are changing and if you don't change with them then you'll be left behind, a shadow of a network that no one will remember. Plus, do you really want to align yourself with fear mongering homophobes who don't think Love is Love? The answer should be no. And just in case you're still not convinced LIfetime, here's a clear cut reason why you should put LGBTQ+ stories front and center.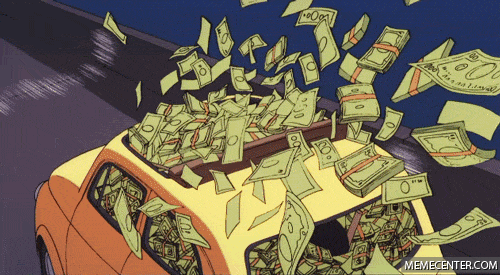 WE MAKE BANK.
I know it's all about money nowadays and I can promise you that queer people are ready and willing to put their time, energy, and money where they feel comfortable, loved, and accepted. That could be you Lifetime, but you playing games and thinking you're doing us a favor with your horrifyingly out of date views when it comes to queer stories.
We deserve better and here we are asking for better.
Here's hoping you listen and do better than empty promises.
---
Queerly Not Straight posts every Tuesday with opinion pieces, listicals, reviews, and more focused on the LGBT community (and occasionally about the Latinx community since I am Latinx.)
Don't miss out on posts like this! SUBSCRIBE to our monthly newsletter HERE!