Ships. In entertainment, and especially, in fandom, we live and die by them. Which is why every Friday, we'll be focusing on a couple, analyzing why we ship them, and overall, just proclaiming our eternal love for those couples that make us say:
I will go down with this ship.
Lucy and Wyatt are one of my all-time favorite ships, and they somehow make this article harder, because I (and others here at Fangirlish) have written about them many, many times. And yet, there was no way to write a column called "I Will Go Down With This Ship" and leave them out, so allow me to, once again, wax poetic about my Timeless couple: Lyatt.
M'AM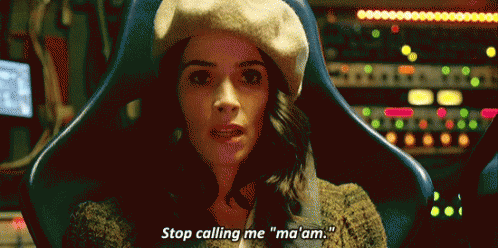 It all started with a mission, and with two very different people who would, nonetheless, go on to find common ground. Maybe they wouldn't have met without Agent Christopher, and without Flynn stealing a time machine, but the universe conspired to bring them together, not because they be good for each other (which they are), no, but because they'd be good together.
And they were. If the world was saved again and again, if time was preserved, it was because Lucy and Wyatt learned to work together (and work with Rufus), learned to trust each other, to rely on each other, and most importantly, learned to care for each other.
Learned, yes. Because learning to care for others isn't a bad thing. A journey doesn't make your love any less "pure." It just means you put in the work, and we all know everything is better when you put in the work, right?
RECKLESS HOTHEAD
Which doesn't mean Lucy and Wyatt changed as soon as they met each other. He was still, very much so, a reckless hothead for as long as we had these characters with us. And yes, that's more often than not a character flaw. But his motivations changed. The reasons why he did what he did, those changed.
Even more importantly, for Wyatt, he found in Lucy, and in the team, that love, that support, that family that he'd always been craving, the one he once tricked himself into thinking he had. The one who would bring out the best of himself, and allow him to give the best in return.
BOSSY KNOW-IT-ALL
Lucy wanted family too, even though, in so many ways, she had much more of it than Wyatt ever did. But that's the thing with love, once you know it, once you get used to it, it's very, very hard to live without it. Once you know the feeling of a loving family, then you just want that again.
And no, Lucy never got her sister back, and that's a wound that will never heal. But she got another type of family in the team, in Jiya and Rufus, Agent Christopher and Connor, and yes …in Wyatt, the father of her kids, her partner not just in time-traveling adventures, but in life. That might not be all she ever dreamed of (no Amy), but that doesn't mean it's not damn good.
I NEED YOU
It didn't start with need, not in the traditional sense. It started with trust. Because when Lucy begged Wyatt to come back with her in the Alamo episodes, when she uttered the words "I need you," she wasn't talking about wanting to jump his bones (that would come later *wink wink*), she was talking about needing her teammate.
And her friend. Because before Lucy and Wyatt were ever anything romantic, they were partners, they were friends, they confided in each other and trusted each other. Isn't that how the best romantic relationships start? With two people who cultivate a relationship, cultivate the spark and then come together, not because they have to, but because they've made a choice?
I WANT YOU
And in "Hollywoodland," they made a choice. One that was obvious since the very end of season 1, that became just a matter of time after Rufus and Wyatt rescued Lucy during the first episode of season 2. They chose to take their relationship to the next level, to commit to each other. To make the choice to be happy, together.
That's an important choice, because Lucy and Wyatt, despite everything that was going on, weren't miserable apart. They still had each other, they had Rufus, and it was safe. But it wasn't true happiness, because they'd already realized their feelings, had them confirmed a thousand times over during their long separation. So at this point, the only true happiness was taking the next step into a relationship with someone you loved, and who you knew loved you back.
SOME DUMBASSERY, BECAUSE OF COURSE
Because this is TV, an obstacle had to be thrown their way, and what an obstacle it was. Jessica, Wyatt's dead ex-wife was brought back to life by Rittenhouse, because they knew how to hit the Time Team hard, how to fracture them. And yet, something happened that they didn't expect. Yes, Wyatt felt obligated to go back to Jessica, and yes, Lucy didn't ask him to do anything different, because that's who they both were, but …despite what Rittenhouse thought, this didn't break the Time Team. Even though they had a spy in the midst, this also didn't mean Jessica became part of the family, not even when she came up with that whole fake baby thing.
Family, after all, this kind of family, isn't something that just happens. It's something you earn. And Jessica hadn't earned anyone's trust, and more importantly, despite her presence, the team was, though on shakier ground, still a team. That's the thing with love, as I said before, it isn't that easy to tear apart …no matter how many obstacles you throw its way.
BACK TO EACH OTHER
And yes, these two found their way back to each other. And yes, it was messy, and I wish it had been resolved any other way than…but despite that mess, despite all our expectations, and their expectations, the important thing is that they were able to rebuild their love, their trust, their partnership out of the ashes of their own mistakes.
That takes a lot of love, and a lot of trust. And though we will forever wish Wyatt had followed his heart and not made bonehead decision after bonehead decision, and that Lucy had followed hers and at least managed to express her feelings out loud when they would have made a difference, that doesn't mean we can't appreciate where these two ended up.
I LOVE YOU
Together. In love. Able to say those words, and take the time and work to build back what they once had, and make it even stronger, because their issues were now out in the open, and they could confront them. And no, we will never be happy for the pain or the bad decisions – pain isn't and should never be the goal – we can still celebrate the love that these people managed to build, the life they managed to live, together, putting aside all the bad moments, and choosing each other, at last.
That is the story of Lucy and Wyatt. This is what makes them the stuff OTP dreams are made of. And these are just some of the many reasons that make us say: We will go down with this ship.