Chloe Decker doesn't always get the respect she deserves. That's very typical of female characters, in general, we've all grown up in a very male-oriented society, and even the best of us sometimes fall into the trap of holding women – fictional or otherwise – to different standards than men. But lately, I've been thinking about how little credit she gets in general …not just for whom she is, but what she brings to the show.
Yes, the show is called Lucifer and this show is about, well …Lucifer. I've said it before, despite the fact that this is typically a very balanced show that respects all characters, this isn't an ensemble show. The show is about Lucifer, his journey, his growth. It just so happens that the female lead – the woman that inspires him to grow, in so many ways, is Lauren German's Chloe Decker.
That puts her in the awkward position of being, sometimes, the ideal, the object of desire, and the love interest. In a lesser show, that would have condemned her to one-dimensional status. With a lesser actress, she never would have been able to break out of that, to become more. To make us see her.
But Lucifer has both amazing writing and an actress who took Chloe from foil, to partner, to real person with feelings, to the one woman who could keep up with Lucifer, and finally, to the one who can love him for who he is. Not the one he loves – though that's also true – but to the one who loves him.
The shift is important, because it proves one thing: we see Chloe now, as much as we have ever seen Lucifer. Our gaze is not just focused on him. They're a couple now, yes, and we are seeing this world, this show, through their shared perspective.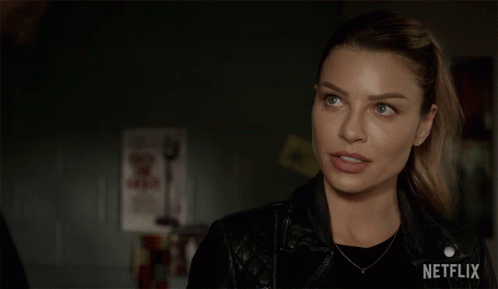 Does the shift work? If you had any doubt as to the answer to that, I will point you to Lucifer Season 5 episode 2, "Lucifer! Lucifer! Lucifer" an hour that, ironically, barely features, you know …Lucifer. Instead we're left to follow Chloe as she opens her hear to who she thinks is Lucifer, as she figures him out, makes a plan, follows through and basically kicks Michael's celestial ass out of Lucifer's penthouse and his life.
Typically doing an entire episode without your main character – evil twin notwithstanding – is a very risky proposition. We're here for Lucifer, after all, and we ain't fooled by Michael. So would the show be able to hold or interest in the story they're trying to tell without the main character around?
Yes, and it's all because of Chloe.
Somewhere in season 4, Chloe became more than the audience self-insert, she became the one character we could count on to act like, you know …we would. This has been particularly difficult in a show that, for three seasons, had exactly one character who wasn't, you know, angel or demon, in on the secret: Linda. Especially if we consider that Linda has never been the audience self-insert in that Linda typically understands Lucifer, and what's going on, better than he – or we – do.
Linda is the writers' self-insert, and so she couldn't continue to be our only eyes into this world. Chloe had to be. And she had to do so by going through the journey she took in season 4, one of fear, one of doubts, one of finding the truth within herself and within the man she learned to love.
If season 4 was about Chloe's personal growth, then, and the first three seasons had been about Lucifer's (poor dear clearly needed a lot more growth than she did), season 5 is then about the two of them growing together, as a unit. That we care for that growth is a testament to what the show has done with Chloe, and how much we've come to care for her.
Yes, we can love a couple when we only love one half of the OTP, but we can never love a couple like that as much as we can love one where we absolutely feel for both parts of the pairing.
We've always loved Lucifer. We love Chloe now too, just the way we were meant to, because we see her.
And that makes the push and pull moments, the times where they're having pointed conversations about who they are and what they want together, even more important. That makes them coming together, their intimacy, even more exciting. And it makes this show better.
So, as you watch season 5, as you enjoy the moments this couple – arguably one of the best OTPS on TV – is giving you, take a moment to appreciate what that means for Lauren German's Chloe Decker, and give her some of the credit she deserves. Tom Ellis' Lucifer didn't build Deckerstar by himself, he couldn't have.
That's not how good OTPs work.
All hail Chloe Decker, queen of our – and Lucifer's – heart(s).
Lucifer Season 5 is available to stream on Netflix.