After watching "That Hope is You, Part 2," the finale of season three of Star Trek: Discovery, I knew I had to go back and check out my review of the season opener, "That Hope is You, Part 1." One thing that I've had to repeat in every single review of Star Trek: Discovery this season is that the theme of hope has been present in every episode. Even when things have been grim, the courage to keep fighting, to keep trying to do what's right, has always been present. Hope has been present, but I would also propose that faith and love are the driving force behind this hope. They have been the entire season, but this finale has really brought them to light. Here are a few of my thoughts on episode 3×13 of Star Trek: Discovery, "That Hope is You, Part 2."
Faith
In my review of 3×01, "That Hope is You, Part 1," I noted that while Star Trek has often avoided or skirted the idea of religion in its stories, save for in Star Trek: Deep Space Nine, I speculated that the idea of faith might be explored this season. And while I would say that faith in an organized religion or a denomination was not what we explored, what we did get was a faith in something greater than ourselves. The entirety of this season was spent rebuilding the faith of the Federation. The Federation was a shell of its former self because of The Burn and it seemed like the ideals of peace, justice, and unity that it once represented were all but a memory. The Discovery's appearance through time was the shock to the system that the Federation needed, not to mention the capabilities of its spore drive.
The theme of faith in the idea that was we can be better if we try is interesting when paralleled with the ideals of Osyraa and The Emerald Chain. Osyraa doesn't believe there is anyone better than her and she knows that she's only out to serve her own needs, to take, use, or destroy life as it meets her own ends. She wants the credibility of the Federation, but cannot earn it because of her refusal to submit to something greater than herself. The faith in the ideals of the Federation won out. Michael's words to Osyraa, echoing Captain Kirk, "I don't believe in no win scenarios," and "I don't quit," demonstrate this faith.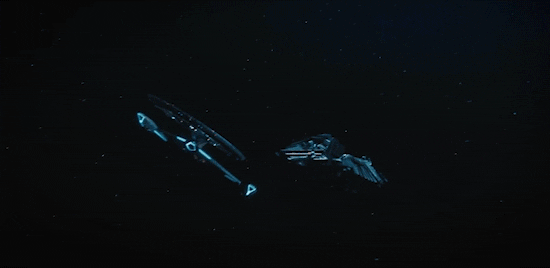 Hope
Similar to the idea of faith in the Federation, this faith begets hope that we can be better if we try. Star Trek: Discovery has demonstrated this idea in every single episode this season, as I've highlighted in my reviews. It's this hope that drives every action in this finale. Tilly and the bridge crew have hope that they can retake the ship, even against insurmountable odds and the potential suicide mission to save Discovery, nay, the Federation from Osyraa's clutches. This hope drives Saru in the way he reaches out to Su'Kal, drawing him out in a gentle, fatherly sort of way. That same hope pushes Adira to arrive in the eleventh hour with medicine to save Saru and Culber, buying them time in the hope that they can rescue Su'Kal from the dilithium planet.
This hope exhibited in every episode has given me such courage. That courage makes me want to be hopeful too, despite the atrocities currently happening in our world. We could all use a good shot of that hope, now more than ever, and I am so thankful that Star Trek: Discovery set their focus on this idea this season.
Love
Towards the end of the episode, we heard a lot about connection. In the season opener, Michael and Book meet one person, Aditya Sahil, who still hopes for the Federation. Sahil has faith. He has love, but he does not have connection. "That Hope is You, Part 2" points towards the love and connection Sahil has desired for many years.
Throughout the entire season, the Discovery crew has been a fish out of water. They're 930 years in the future. All the people they once loved and cherished back home are nearly a millennium gone. They only have each other and this new, more cynical Federation, and a universe that has lost its spark. And yet, Michael loves her crew so deeply that she never stops looking for them, even when after a year, it seems like she may never find them again. Owo presses onward towards the mission to blow a nacelle, even if it means her death because of her love for her friends. Michael and the Discovery crew (in a classic Star Trek move) eject the warp core and blow the Viridian out of space on a gamble that they can escape with their lives and the ship intact to go save Saru, Culber, Adira, and Su'Kal on the dilithium planet. We can't leave the ones we love, not when we have the chance to save them.
The love and found family dynamics are what make this story work. They are hope and faith in action. Hope and faith are the theme, but love is the fuel. Love is what makes Paul and Hugh adopt Adira and now Gray into their family. Love is what makes Saru take on the role of father figure to Su'Kal, teaching him how to live in the world outside the holographic programing he has known for the majority of his life. These are but a few examples of how love drives this story. This is the kind of thing I want to see on my screen all the time. Hope and faith cannot exist without love.
To Boldly Go…
One thing that I said to my husband after we finished "That Hope is You, Part 2," is, "WOW! I can't believe they managed to wrap all that up!", which was a concern I had about the finale. I needed that closure. Production on season four of Star Trek: Discovery began in November of 2020 and is set to finish in June of this year. With the protective measures in place to prevent the transmission of COVID-19, I am hopeful that they will be able to successfully and safely film and produce the fourth season. In the meantime, I've been given several things to think about until then. Here are a few of the open-ended things that I'm going to need explored next season.
First, I can understand Paul's anger towards Michael, but I also understand Michael was making the hard call in that situation, sending him off in an escape pod and away from the fray. How will they resolve their differences? I think Hugh will need to play mediator in this discussion.
Second, We now know that Gray is not just a manifestation of Adira's imagination or a biological response to a human taking on a Trill symbiote. How will Hugh figure out how to make Gray something more than just what Adira can see?
Third, we know that Book's real name is Tareckx. However, he makes the comment that Cleveland Booker was his mentor and that he tries every day to live up to the name. I want to learn more about the OG Cleveland Booker and why Book took on his name. Is this a Dread Pirate Roberts situation or did Book take on the name out of a desire to honor his mentor? Book's joined the crew officially now, and it will be fascinating to see what role he plays. Will he trade off with Paul in navigating the spore drive? Will he take on another role in the ship? These are the things I want to know!
And finally, we now have Michael taking on the role of Captain. I wasn't entirely surprised by this, as her development and the experiences she's faced have pushed her towards this role since the beginning. However, this is the first time we have a black female in the Captain's chair as the lead of a Star Trek show. I could not be happier for this development! Is Tilly her first officer? Is this a temporary placement for Michael until Saru returns from Kaminar or will he be taking over another ship? I can't wait to see where we boldly go in season four of Star Trek: Discovery.
All seasons of Star Trek: Discovery are streaming now on CBS All Access.