Wow! Let's all take a deep breath as we recover from Star Trek: Picard episode 3×04 "No Win Scenario." This is an emotionally devastating episode. And yet, you know they're getting out of it. Surely the good folks at Paramount+ aren't going to give us 4 episodes and "they all died in a gravity well. The End." Right? RIGHT? Well, even so, I fully admit to holding my breath a couple of times during episode 3×04. Let's dig into my thoughts on Star Trek: Picard episode 3×04 "No Win Scenario."
A Loaded Title
"No Win Scenario" is a title that carries much emotional weight in the Star Trek universe. Captain Kirk famously did not believe in "no win scenarios." Captain Michael Burnham has said as much in Star Trek: Discovery. Despite the infamous Kobayashi Maru test, all the Starfleet Captains we see in every Star Trek series tend to throw caution to the wind when faced with an impossible situation. And yet, here we are again in a situation that seems truly to be "no win." More so than before. Maybe it's because most of these scenarios call for quick action, not a "we're dead in the water" situation. Even so, watching our crew figure out this no win scenario is brilliant. Very clever.
Of course, the good Doctor Crusher recognizes "contractions." Parenthood is an overarching theme in this season, so it makes sense that we find our crew in a birth, and effectively, a rebirth scenario. Not just Picard and the Crushers, but I'd argue that Riker is a changed man by the end of the episode too. Even Shaw, perhaps. I'm still withholding judgment on that dipshit from Chicago. Speaking of Shaw…
Shaw's Origin Story
I'm not prepared to call Shaw a villain and say that this is his "villain origin story," but he's definitely an antagonist. Knowing that Shaw was there during the battle of Wolf 359 certainly lets the viewer in on his trauma. You get where Shaw's coming from and why he's got anger toward the Borg, particularly Picard. But you know what? He's still a dick. All bigots have their reasons. It doesn't make them right, even when you understand how they arrived at their conclusion. Shaw says, "Forgive me. At some point asshole became a substitute for charm." Well, at least you're aware of it. And by episode's end, it seems he and Seven have a bit of an understanding. We better hear him call her Commander Seven the rest of season. This is a strong dramatic performance from Todd Stashwick. I hope we get more performances like that out of him the rest of the season. If you want more insight into Shaw, you'll definitely want to check out this week's episode of The Ready Room where Wil Wheaton interviews Todd Stashwick.
Flying Blind
There are lots of wonderful parallels in "No Win Scenario." I enjoy the parallel of Picard and Jack ultimately "meeting" for the first time in 10 Forward, which is where Jack tried to meet him 5 years earlier. And of courses, the parallel of Jack Crusher II and Picard flying blind together is rather poetic. It is also particularly satisfying to watch Riker use the tractor beam to toss an asteroid at the Shrike, especially after watching her throw the Eleos at the Titan just a few episodes prior. All of these parallels are a mark of good writing. Well done to the writers room at Star Trek: Picard for this "No Win Scenario."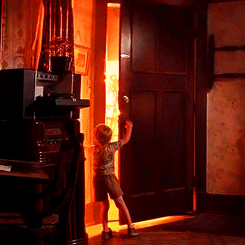 Final Thoughts
I exhaled a sigh of relief as our crew escaped the gravity well in "No Win Scenario." But about as soon as I exhaled, I was shocked by what happened next. What are these visions Jack is having? Being the lover of classic science fiction and all things that homage classic science fiction that I am, I couldn't help but draw some parallels between Close Encounters of the Third Kind with the red door. But here's another layer–that same scene is homaged in season 2 of Stranger Things. But there's one more layer on top of that with the red…vines or whatever they are that Jack sees growing on the walls and the scary red sky. Plus he's staring in the bathroom mirror and having these visions, just like Will does in the finale of Stranger Things season one. Is the Mindflayer behind that door? Is it Vecna? Are we going to the Upside Down? Something's not right. It's never good when you hear voices say, "Find me. We'll be together soon. Find me." This particular thread is one I'm eager to follow.
Finally, we have another significant look from Picard to Jack in the finale of this episode. I think Picard had that recognition that he had met Jack before, and unintentionally rejected him. That's a look of deep regret like there. And it stings. It's Jack wondering if his father will reject him again. It's Picard wondering if he can ever make amends for that one moment. I hope they talk about it. They need to.
A Parting Thought
One more thing before I wrap today–is this the last we've seen of Amanda Plummer as Captain Vadic? I really hope not. Also, SHE'S A CHANGELING?! Who would've thought that changelings could slice off an appendage and use it as Space Facetime? Though I suppose this is Space Handtime. *rim shot* Alright, alright, I'll see myself to the brig for that joke.
What did you think of Star Trek: Picard episode 3×04 "No Win Scenario"? Leave me a comment and let's talk Trek.
The next episode of Star Trek: Picard will air on March 16, 2023, on Paramount+.