Yesterday marked the end of a yet another amazing Comic Con a San Diego. The con delivered it's purpose – it managed to gather fans from all over the world at one place and provided them with joy and happiness. Oh, and not to forget, a bucket load of surprises. The biggest surprise in store was delivered in Hall H on 21st July where fans had gathered to view the Fantastic Beasts and Where To Find Them panel. With the date of release of the second film of this franchise nearing, the fans were all set to experience a new trailer release and meet their beloved cast.
What they didn't count on was to see the controversial actor, Johnny Depp on stage.
Dressed in his character Grindelwald's costume with his hair dyed blonde, Johnny Depp took the audience in Hall H by surprise and delivered a monologue. The three-time Oscar nominee has been facing the hate after being accused of domestic abuse by his ex-wife Amber Heard, who coincidentally was backstage along with the cast of Aquaman, waiting to go on stage next.
When announced that Depp would be part of the franchise, the Harry Potter fans broke into an outrage. For fans of J.K. Rowling's Harry Potter universe, any hint that Depp had been physically abusive was enough to disqualify him for a role in the "Fantastic Beasts" movies. To them, his casting undermines Rowling's world view, which champions protagonists who stand up to evil and to those who abuse others. JK Rowling tried but failed to defend Johnny Depp after issuing a statement on December. She said she understood people's concerns, confusion and anger but said –
"Harry Potter fans had legitimate questions and concerns about our choice to continue with Johnny Depp in the role. As David Yates, long-time Potter director, has already said, we naturally considered the possibility of recasting. I understand why some have been confused and angry about why that didn't happen.






The huge, mutually supportive community that has grown up around Harry Potter is one of the greatest joys of my life. For me personally, the inability to speak openly to fans about this issue has been difficult, frustrating and at times painful. However, the agreements that have been put in place to protect the privacy of two people, both of whom have expressed a desire to get on with their lives, must be respected. Based on our understanding of the circumstances, the filmmakers and I are not only comfortable sticking with our original casting, but genuinely happy to have Johnny playing a major character in the movies."
The Warner Bros. Comic-Con preview was the first major appearance for Depp since the release of a widely read Rolling Stone profile that painted a detailed portrait of a troubled star. He reportedly skipped the panel discussion, where panelists answered audience questions, and instead showed up at the end of the presentation performed in Hall H to deliver his monologue.
Delivering the monologue in his character's English accent, he said "The great gift of your applause is not for me but for yourselves. Magic blooms only in rare souls. It is granted to those who live for higher purposes. What a world we would make for all of humanity. We, who live for freedom, for truth — the moment has come to rise up and take our rightful place in the world."
At the end of the speech, the lights flickered and then turned off, with Depp disappearing in the darkness, and the presentation was over. Star Eddie Redmayne (who plays Newt Scamander) and the new addition to the cast, Jude Law (Young Dumbledore) were also present at the preview.
Johnny Depp surprisingly received a good applause from the audience who cheered him as he spoke. But the cheers too had hints of booing throughout.
Twitter burst in hate, obviously not happy with the surprise. Angry tweets were made and the protest began all over again. "Johnny Depp is here. Gross," tweeted Jacob Hall, managing editor at Slashfilm.com.
Okay, so the attempt of the PR team of the film to portray Depp in a new light might have failed, but there is a chance that he would get accepted in the Harry Potter universe eventually. But the franchise had a lot more to offer to the audience that immediately got the audience over their emotions (frustration, surprise, shock – whatever you want to call it.)
The promised launch of a new trailer had kept the audience on their toes and more anxious for 16th November to come sooner (the day the film comes out – but you knew this already since it has a big circle on your calendar, right? Right?) The latest trailer gives a better glimpse inside the magical school, opening with a scene where Dumbledore is teaching a Defense Against the Dark Arts class with a young Newt Scamander tackling his boggart, an office desk. The trailer showed off several new characters and monsters, including the immortal Nicolas Flamel who looks very old, pale and frail in the trailer. The rest of the spot sees the professor recruiting his former student to try and take down Grindelwald, with the villain asking, "Do you think Dumbledore will mourn for you?"
A sequel darker than the first film is expected after witnessing the new trailer along with a recently released image of the film. Eddie Redmayne recently told Entertainment Weekly that the film has "cryptic elements".
"When I read [the script] it had these cryptic elements to it and it played like a thriller that made it a page-turner," Redmayne said.
Redmayne also revealed some new details about the film, including that he's recruited by Dumbledore to track an escaped Grindelwald whose beliefs will remind Harry Potter fans more than a little of the villain Voldemort.
"What's happened is Grindelwald's belief that purebloods should reign over all non-magical beings is a political thing," Redmayne said. "He's rallying more and more people and it causes divisions across families. He's pretty hypnotic."
Another surprise in store, a much more pleasant one, was Ezra Miller who showed up cosplaying as Toadette from Super Mario Bros. on the panel.
The impeachment of President Donald Trump was in major demand among the cast as they answered what kind of spell they would like to have on hand in real life. "Impeachius Maximus", cried out Dan Fogler. Meanwhile Miller said he would appreciate a spell that would "destroy the patriarchy."
In addition to the trailer, cast Q&A and Depp's performance, a new poster of the film was released by Warner Bros.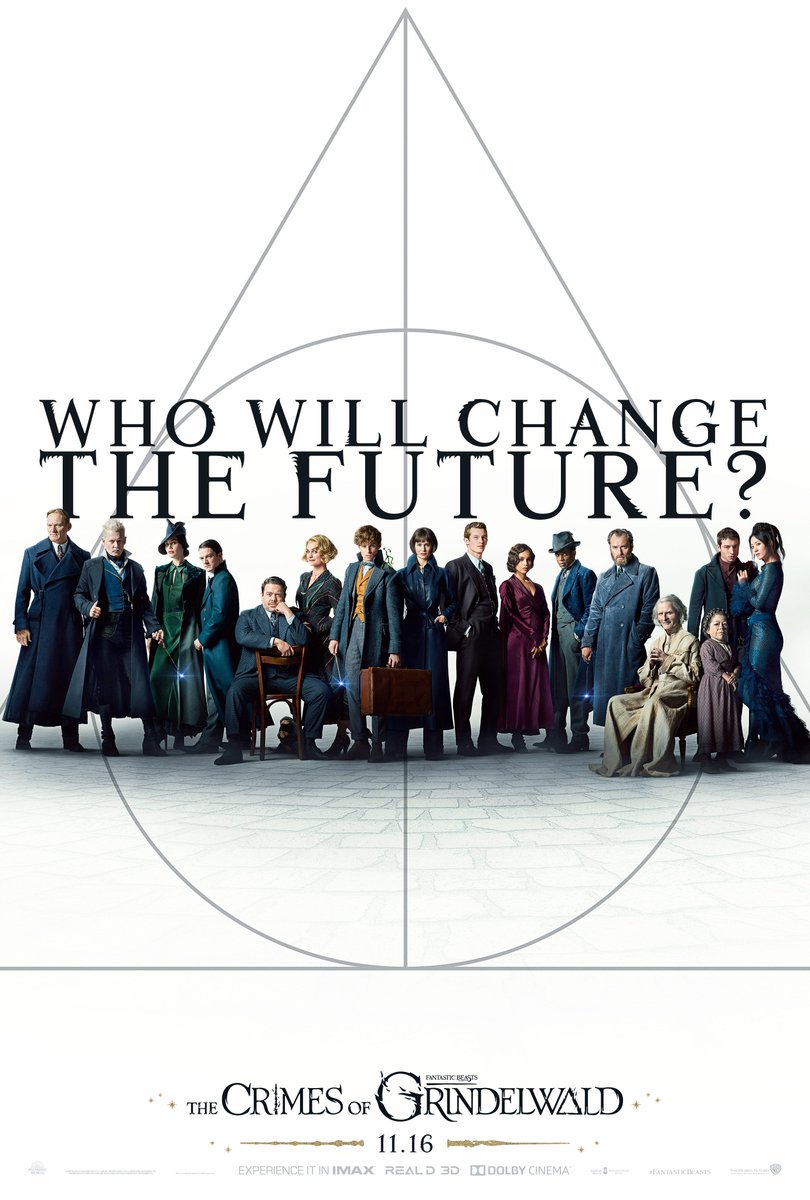 See the newest trailer below –
Note to our readers: Johnny Deep has been accused by ex-wife Amber Heard, Depp's former representatives and a former friend of the couple of verbal and physical abuse against Heard.


<!– MadadsMedia.com Private Marketplace Tag For FanGirlish.com —>