As a fan of all these DC television shows, I understand the hype and thrill that comes with these annual crossovers. Bringing together prominent figures in DC Comics for these epic battles pulled right from the comics. Allowing these characters to interact in a way that feels epic beyond belief.
But there's also a fundamental problem with these crossover events that perhaps reared its ugly head in the most obvious way in Elseworlds.
These writers don't understand these characters.
And I don't know why I'm surprised. These aren't the typical show writers. They might think they know these characters on the surface, but they really don't understand all of the growth and maturation they've gone through, how they've changed. Not to mention this storyline is already in place, already planned, and they basically write the characters in as they need them to operate. A storyline shouldn't dictate a story. The characters always should.
Again, it's nothing new, not really. The only thing these crossover events care about are big storylines, big fights, big names, and big numbers. That's it. Never mind the cast of characters that define certain shows and the certain title heroes that lead this crossover. Never mind undermining the maturation and journey of a hero from darkness to light because it's the easy thing to do. Never mind disrespecting two prominent female characters for reasons that are purely idiotic and the result of a severely bruised male ego.
Every part of this crossover has managed to disrespect one or more characters. In The Flash's hour, it was Iris West-Allen. In Arrow's hour, it was Felicity Smoak-Queen. In Flash, Arrow, and Supergirl, it was Oliver Queen.
I understand that a crossover event is a reason to go bigger than ever before. To introduce new layers, new characters, and new heroes. But it doesn't need to do it at the expense of its preexisting characters. It's blatantly obvious that the writers of the crossover don't watch these shows regularly. If they do, they really don't pay attention. Because they don't understand these characters at all. (Well, at least in Elseworlds Part 3 they understood the importance of Kara and Alex's relationship.)
It sucks because I really do look forward to these crossover events, and I did enjoy a good portion of this year's. But it's always the disrespecting or underutilization or ignoring completely of important characters that manages to take a little something away from it.
So as we already look ahead to next year's crossover event, Crisis on Infinite Earths, my first reaction was:
My second reaction was: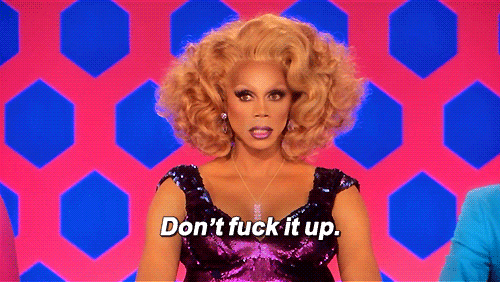 For the love of God, don't screw it up. Oh, and make sure you give Felicity and Iris substantial screen time. Both of their absences were severely missed.
Let's break down the conclusion to Elseworlds, including how this crossover event has failed Oliver Queen, the importance of the Danvers sisters bond on any Earth, Superman and Lois Lane, and the importance of heroes that don't wear masks.
---
Elseworlds, You Have Failed Oliver Queen
If there was one thing that was consistent about this Elseworlds crossover it was that all three parts found some way to disrespect Oliver Queen. But perhaps none more so than the finale, which managed to weave Oliver as a man that isn't recognized as a hero and spews filth from his mouth relating to others inspiring hope and being better than him.
"You don't have to channel your darkness. You can be better. Maybe that's the whole point?"
Can we stop with recycled speeches? Because the original was better when Felicity delivered it on numerous occasions. This storyline isn't accurate with what's going on with Oliver's journey on Arrow right now. This is a path he's already traveled, already bested.
Can we stop with this whole "Oliver is darkness" shit? While that was certainly true in seasons 1-5, that couldn't be further from the truth. Oliver has already found a way to stop channeling his darkness, to embrace his humanity, and find a better way to execute as the Green Arrow.
Oliver's already been on this journey, and if the writers had watched Arrow seasons 1-7, they'd recognize that. Instead, they took actual Oliver Queen out of reality and replaced him with an older version of himself because it fit their narrative. Another example of how these writers don't put characters first. They use them as they like. But given who wrote this story, it's no surprise, really.
Don't get me started on Oliver talking about Kara and Barry being the only heroes that inspire hope. That they're the best of humanity.
Come the fuck on. These writers are messed up. Oliver Queen does not deserve this level of disrespect. Why are Kara and Barry the best of humanity? Because they didn't go through literal hell on Earth? Because they're the lighthearted ones? Heroes sacrifice. Heroes fight. Heroes protect. And whatever happened to them in the past doesn't define them. So excuse me if I don't believe for one second that Oliver Queen isn't a hero that inspires hope or a hero that represents the good in humanity.
I'll be the first to admit that Oliver is far from perfect. He can be selfish, careless, overbearing, and frankly make some downright stupid decisions. But that doesn't take away from the fact that he's spent these past seven seasons sacrificing his own happiness to save people. That he's sacrificed relationships, lost countless loved ones, and all for a city that when it learned he was the Green Arrow locked him up for it. But here he is again, released from prison, still fighting to save them. Now tell me that's not a fucking hero right there.
"I'm not as good as you think I am, but because of you I think I will get there someday."
I'm sorry, when did Barry Allen become the one that harnesses the light inside of Oliver? When did Oliver himself believe that? What the hell is wrong with these writers?
Let's just completely ignore Felicity Smoak-Queen, his wife, who single handedly has saved him from the brink of himself several times over. Felicity, who is the light that guides his way. Felicity, the one where "love" is too small a word to describe how Oliver feels about her.
Perhaps the one thing this crossover got right about Oliver — besides his undying love for his wife — was that he once again helped save the day. For all this talk about Kara and Barry being the ones that inspire hope, Oliver sure as hell did, too.
---
Sisters On Any Earth
Easily the strongest element of this third hour was the dynamic between Kara and Earth-1 Alex Danvers. Then again, any storyline involving Melissa Benoist and Chyler Leigh is instantaneously better than most. And also, the Danvers sisters will always be connected no matter what Earth.
As Deegan continued to change reality, it was Kara's turn to be surprised by the turn of this false reality. She was imprisoned in the pipeline at Star Labs as Deegan, posing as Superman, told her that he was stepping into her shoes. But more shocking than a fake Superman was the initial icy reception from Earth-1 Alex, who had no idea who Kara was.
But much like Iris did with Barry and Felicity did with Oliver, Alex eventually recognized Kara's soul and understood that — even if not on this Earth — Kara was her sister. Kara knew this Alex so well — how she values protecting others, how she's a hero minus the powers, how she's afraid to be herself, how she stands up for what she believes in, how she's a badass in every reality — that Alex believed it.
My favorite relationship on Supergirl is Kara and Alex's sisterhood. It's so beautiful and so pure and so heartwarming that it really grounds the show and those two characters in a unique way. While I definitely believe that Kara should be allowed to have her great love — much like Oliver and Barry have found theirs — perhaps right now Alex is Kara's great love. And that's more than enough.
---
Can We Keep Superman and Lois Lane?
Much like the second part of the crossover event felt like it was setting up a potential Batwoman show, I couldn't help but feel like the third part was doing the same for a potential Superman show. At this point, The CW might as well rename its network to The DCW.
While Part 1 of Elseworlds introduced us to Lois Lane and reintroduced us to Superman, it was really Supergirl's hour of the crossover where they really shined. Naturally.
We got to see more of that vibrant and organic connection between Supes and Lois, which had me grinning like a schoolgirl, especially when he caught her. Just like he said he would. Now, there wasn't a huge focus on the famous pairing, but the ending of the episode did a lot to convince me that maybe The CW is headed in a Superman show direction. DC seems more open to including characters that will appear in film on the small screen, and Superman would be the biggest to date, if he were to get his own show.
With Clark and Lois headed to Argo (with Lois pregnant and the couple newly engaged!) it felt like this is something that could be revisited either next television season or even the one after that. It feels like they've got it in their back pocket. Just in case. And I'd more than happily take a Superman show with Tyler Hoechlin, who just exudes so much charm that I melt every time.
---
What Did Oliver Sacrifice?
I swear to God if this show kills Oliver off during Crisis on Infinite Earths just because they can. Because, honestly, I feel like this is where things are going. Oliver made a sacrifice to save Barry and Kara, and I wouldn't doubt for a second that he sacrificed himself to save them. Especially after the way he was talking them up to the Monitor.
I wouldn't doubt this is the direction that crossover goes. It actually foreshadowed it during Elseworlds with the whole Oliver is "willing and prepared to die." But then again, why is that only Oliver's MO? Aren't all heroes, when they're putting themselves on the line to save people, willing and prepared to die? They leave every time really not knowing if they're going to come back. So why is it that Oliver has to be the one that is "willing and prepared to die?"
Now, the only thing that makes sense is that Arrow will surely be coming to an end soon. Next year, it'll be entering its eighth season, which is Stephen Amell's final year on his contract. So season 8 might be Arrow's last. But even if it is, that doesn't mean that this universe has to kill off Oliver Queen. Why not try sending him off into the sunset (again and for good with Felicity) that he deserves? Wait, that doesn't quite fit with this grim future Arrow is setting up. Ugh. Someone fix this mess.
---
Arrow, The Flash, and Supergirl all return in January 2019 with new episodes.