Ships. We live and die by them. Ships are amazing and teach us so much about relationships. They teach us about love and life.
Our ships of the decade, are mostly – well all around television. We love so many different ships – but when I make everyone narrow it down to one – sure, it's a little difficult. But what in life isn't?
---
KLAROLINE
Erin: Klaroline and let me tell you why. Klaroline was the ship that you didn't see coming but it was the ship that hit you so hard that you were like where did that come from. It didn't feel like any ship that was – it felt different and brand new. With Klaus and Caroline it was somewhat that you could forget that they were vampires and you just felt like you were rooting for two people to be together, because it felt as though it was organic the way that they needed each other. Only they didn't know that they did. Klaroline was a ship that you felt comfortable with – you wanted them to work and even if they didn't, you'd be okay. Because you were okay and would remain okay with your love for them. And in the moments you would doubt that love would exist in life, because you can remember the ways that he looked at her and you just know – you are worthy of that love in your own life and don't settle.
DENSI
Lizzie: This isn't even close, for me. The top ship of the decade is one ship that has grown, together, while STAYING together, one that went from partners, to friends, to boyfriend/girlfriend, then to being engaged, and finally, to husband and wife, while still working together, communicating at every turn, and never falling for the cliche plotlines of keeping secrets from each other or cutting the other person out of your life to protect them. I'm talking, of course, of NCIS:LA's Densi. Hell, Kensi had a freaking plane fall on her, was sidelined for ¾ of a season, went through rehab, and Deeks never blinked. He was her port in a storm, just as she is his. That's OTP, baby. OTP.
OLICITY
Lyra: Despite how it ultimately let me down, the show and not the ship, Olicity is my ship of the decade. It has brought me so much good in my life. It's how I started writing again, how I met my best friend, and what led me to the career I'm at now. For that, I will always be grateful to the bond that Arrow cultivated in Oliver and Felicity from Arrow.
Julie: I'm going to go with Olicity from Arrow, also known as Oliver Queen and Felicity Smoak for those who haven't been paying attention. Not only did the fandom win MTV's Ship of the Year award two years in a row, the pairing has more than 12,000 fanfics dedicated to them on Ao3 (and counting). What makes this ship more amazing is that Emily Bett Rickards was only supposed to be in one episode, but the palpable chemistry between her and Stephen Amell and her charm as Felicity Smoak led to her becoming a series regular. You could cut the sexual tension between Olicity with a knife in Season 2, and who didn't love her double entendres? Felicity became an integral part of the show, and to Oliver Queen's life. She was the light that he desperately needed to be the hero he was meant to become. While there were some bumps along the way, Olicty fans got to see their OTP married and have a baby – and now a future version of that baby will have a spin-off series of her own. It truly was the ship of dreams.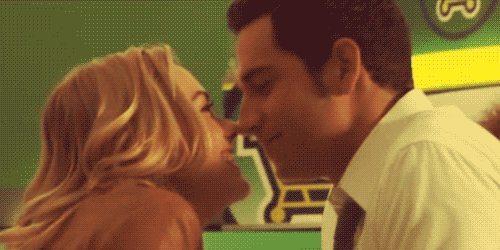 CHARAH
Lacey: Hands down the hardest decision on this list. As an avid fangirl, I have a lot, A LOT, of ships so narrowing it down to just one was almost impossible. Some of my honorable mentions are Fitz-Simmons from Agents of S.H.I.E.L.D, Stiles and Lydia from Teen Wolf and Kara and Mon-El from Supergirl. But the one ship I could go on and on about will always be my Chuck and Sarah from Chuck. Even though the pilot of Chuck aired in 2007, the beloved series ended in 2012. Charah will always be a ship that I hold close to my heart. Watching my favorite nerd and badass spy fall in love was some of the best TV I ever watched. I'm still waiting for "Chuck vs. The Movie" because I'll never get enough of that amazing couple or cast.

DELENA
Jasmine: Delena- The Vampire Diaries. I was most certainly on the Stelena train when the show first started but when Damon stepped in, something changed. I know Damon wasn't the nicest guy in the beginning but he had such amazing character development and the way he changed made me want him with Elena so bad. They went through some challenges in their relationship, no doubt about it but they're love was so strong that they withstood it all.
STELENA
Naomi: So, Jasmine I hate to come right behind you and say this, but I have to go with Stelena. I was really late getting into this series, and had NO idea about the warring fandoms, but boy when I found out I was more than shocked at the deep feelings people held about these ships.
I respect Delena, and after feeling let down and a second watch I agree with all the reasons Elena and Stefan weren't a good match after she became a vampire.
Nevertheless, I didn't know I could root for a couple so much until Stefan and Elena's first kiss. It was so innocent and borne out of their need to connect with someone that made them feel alive again. And their first time, my heart just melted. It was the purest, sexiest thing I had ever seen. Elena telling Stefan not to hide from her and him wanting her but not wanting to hurt her- my heart is melting now just thinking about it. Yeah- I kinda sorta love them.
LYATT
McKenzie: Um, I feel like this is a fairly obvious one. Lyatt from Timeless. Yes, Wyatt was a complete ass and an idiot. But aren't all men? Lucy was kind enough to forgive him and they moved on. Together. They grew. Together. They established such a strong foundation and it was beautiful.
NALEY
Grace: Nathan and Haley are the OTP of OTPs, always and forever. I honestly can't go that long talking about Naley from One Tree Hill without getting emotional. They were the constant rock of a show that was quite messy at times. And, hey, their relationship got real messy at times too. But they continued to work through their issues to better their relationship. For two teens that got married before they were seniors in high school, they really proved everyone wrong and became one of the greatest tv love stories.
DARVEY
Shana: Let's all pretend to be shocked when I say Darvey.
Who Is Your Favorite Ship Of The Decade?