The late great Bernie Mac once coined a joke about all the ways the word "mutherfucka" could be used; among its uses, it could be a term of endearment in addition to just straight out negative name calling.  I'd like to humbly extend that thought process to "what the fuck". While it usually means something surprising that we aren't so psyched about, let's play with that a little. Let's use it to describe some of the entertainment moments this year that were surprising, but in different ways. Maybe they were "what the fuck- I loved it" moments or the classic" what the fuck were y'all thinking when you wrote this shit" moments. Here's our take (in no particular order) on some WTF moments of 2019….
Game of Thrones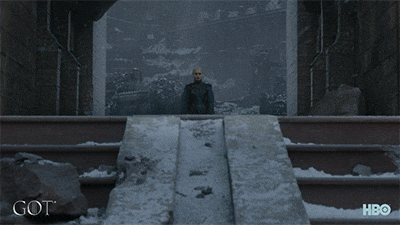 Daenerys Targaryen was a tragic figure; of course we could all see it, but boy did she get screwed out of a better developed fall from grace and decent into utter disregard for humanity. She went from years of being one who wanted to free people from tyranny to the two-minute tyrannical ruler who murdered innocent men, women, and most wretched of all, children.
There is definitely the case to be made that this was her fate all along, and it would have been much better received if the end of the series didn't feel so sloppy-so rushed. Hell, if you're leaving Starbucks cups and water bottles in final edits, one is only left to ask: what the fuck was going through their minds as they wrapped this epic tale? Whew, I could go on and on, but I won't.
Succession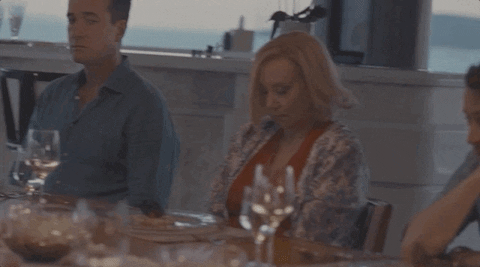 Many things about Succession are very hard to watch. The screaming, the hitting, the betrayal- watching all of it feels very intrusive. Entertaining but still very intrusive. Nothing felt more uncomfortable than watching Gerri and Roman engage in their dirty phone sex moments.  Ewww! You never see it coming- at least I didn't. And so when it happened, I was left with questions. What did I just see? Why did I just see it?
All of the Roy children are extremely damaged so that explains why Roman seeks this out, but why does Gerri participate? Their relationship dynamic turned into a classic, glaring WTF? Please, no more.
Fleabag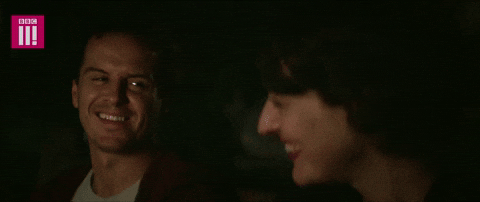 Fleabag turned out to have one of the WTF moments that surprised me in the best way. The entire premise of the series is hilarious- we love those occasions when she connects with her audience with that knowing look. But when The Priest notices her drift off to join us for a moment, we realize right along with her that he really is "the one". WTF-my heart!! We love it when characters find just what they have been searching for!
HBO's WATCHMEN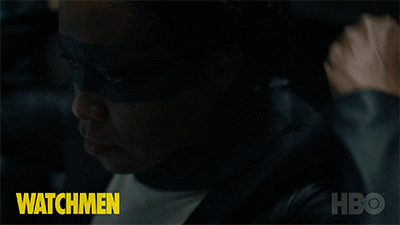 There isn't really one moment that stands out on this show; it's the show itself that manages to earn the awestruck WTF question. From the gravity of subject matter, to the care they took with it, to weaving it seamlessly into a superhero tale, and the casting of Regina "The Queen" King as Angela Abar, Watchmen was a bold television leap. We think it paid off nicely.
Witnessing Regina King kick ass, be the love interest of a supreme being, and then most likely be given his all knowing powers was a gift! What could be more WTF and a big smile than that?
Power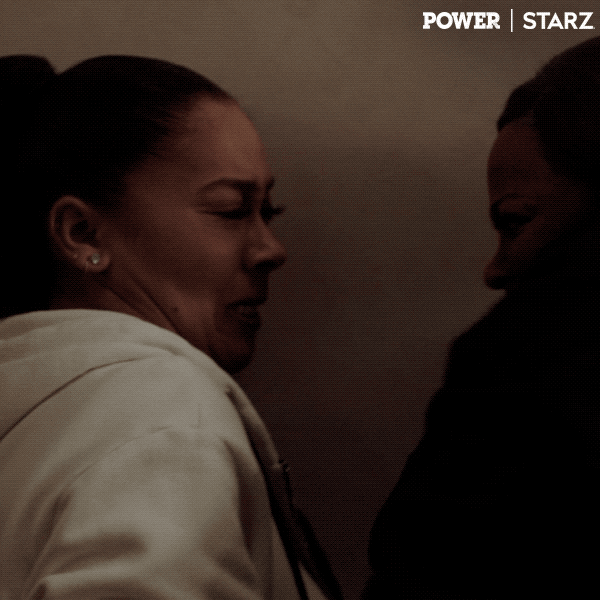 Power is one of my favorite shows. It constantly has you on the edge of your seat screaming at the t.v., but talk about being tired of folks. Lakeisha's character played by La La Anthony was one of THE most annoying characters on that show. And for a series that has no problem offing people, I was left wondering "Why haven't they killed her yet?" That is until this fateful scene where her best friend Tasha does the deed. Talk about D.I.R.T.Y.  WTF Tasha?
The Flash
Sigh. The Nora West-Allen story line had so much promise. I was so excited for it, but by the time it was over, I was constantly asking why the fuck did they write her like this? She was an adult who grew up with her mom, her uncle Wally, and at least her Grandpa Joe, so why was she such a fucking brat?
It was so hard to watch her berate Iris and suck up to Barry. Nora continued to do this even after learning some great things about her mom. Let's not even mention her lying to her parents about working with The Reverse Flash, knowing how much her dad hated him and learning that he killed her grandma. Whew, let me let this flub go as the new year approaches.
When They See Us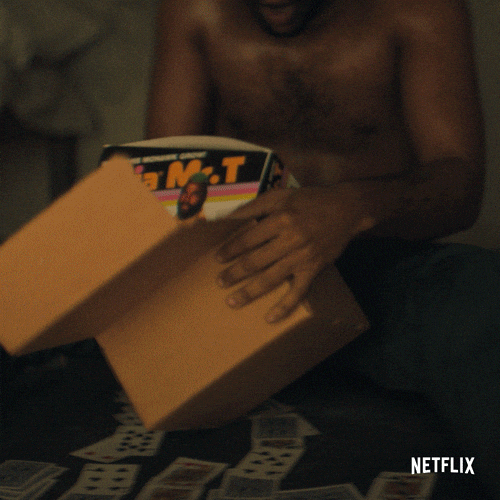 When They See Us is a breathtaking series that chronicles the story of the Exonerated Five through their arrests, imprisonment and ultimately their release. Even if you know something about the cases, it's extremely hard not to watch and hope for a different outcome. All of it was heartbreaking and made me feel emotions that ranged from rage to relief- it also left me asking how did this happen? WTF happened to justice, as if this case had just been decided.
Most haunting of all was the portray of Korey Wise by Jharrel Jerome. Not even a suspect but just being a good friend, he was given the harshest sentence of all. Jerome brought beauty and humanity to a person who had been vilified by many. Jerome won an Emmy for this performance. WTF happened to the Golden Globe nod?
Homecoming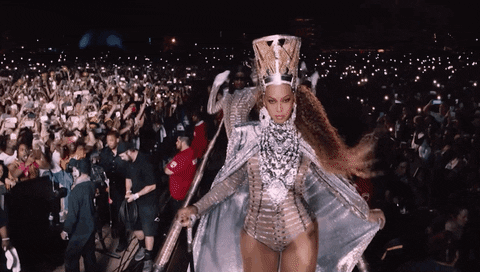 The other queen on this list is none other than Queen Bey. If you're like me, you couldn't afford to go to Coachella, probably wouldn't cuz of the people all up on you phobia, and didn't stay up long enough to see it air live. Nevertheless, in 2019 we were given Homecoming- a total spectacle of jaw dropping, WTF greatness! The costumes, the drumline, the dancing- we got all of Bey in her greatness from the comfort of our homes and a flick of the Netflix wrist.
Modern Love
I love, love, love Anne Hathaway, and her performance in this year's Modern Love only added to that. She sang, danced, laughed hysterically, cried, and seemed to fall in love at first sight in this haunting tale of what it can be like to live with bipolar disorder in secret. Once it was over, I had to ask, WTF did I just witness? In that short amount of time, Hathaway's character shed so much light on what that struggle might be like-how crippling, how sometimes euphoric, and how devastatingly lonely. Even though it was extremely sad at times, her honesty and hope by the end was comforting.
The Trump Presidency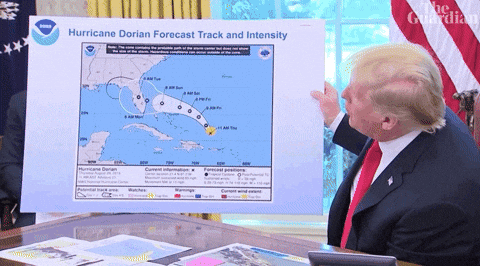 Love him or hate him, this presidency is absolutely a television show. In a White House video, President Trump appears to have a poster board that shows the track of Hurricane Dorian. Sounds benign enough right? If you look closely at the map, you'll see that there's just something little off. It appears that "someone" added the black circle around Alabama to the official weather map. You see, the president had tweeted that Alabama was in danger of the hurricane and the NWS issued a quick series of tweets to rebut that information.
Now, no one knows who used a sharpie to manipulate the map so they wouldn't have to admit they were wrong and when asked if someone did the president said, "I don't know, I don't know." Nevertheless, what the fuck is going on at the White House?
A Few Other Traditional "Da Fuck" Moments in Entertainment This Year
The Movie Us. Yeah, I know it was supposed to be the second coming of Get Out, but it was just weird and confusing.
Taking Spider-man out of the MCU for five minutes and giving everyone a damn heart attack, including Tom Holland.
Avengers Endgame and their time travel mess. If you have to go on a press tour to explain, it kinda didn't go as planned. What an unforced error.
Basically all of GOT season eight- sorry.
The obsession with live action remakes of everything. It's really okay to let some things stay animated- really, it is.
Cancelling things we love when surely there are SEVERAL shows that could take a seat.
Lizzo being called out for her weight while Adele is being lauded for her weight loss. Are we really still going there?
Continuing to ask curmudgeons what they think about Marvel movies and thinking people give a fuck what they have to say. 
As we close 2019, we'd like to ask you what moments made you sit up, take notice and ask WTF? Make sure to hit us up in the comments. Happy holidays!