Chloe and Lucifer, Lucifer
For a man who never lied, it's ironically how much changed once Chloe finally believed Lucifer was truly who he always said he was. But things changed. And they hurt. But ultimately, like always, it just brought Chloe and Lucifer even closer together. Let us never forget these two went from reluctanct partners, to friends, to each other's person, and we can't wait for Lucifer to come back for season 5 to see how the writers are going to wrap their amazing love story, not that no secrets are left and all cards are on the table. They love each other, after all. Now it's time for the happy ending.
Claire and Jamie, Outlander
Talk about a couple that has been through everything, and is still going strong – if possible, stronger than ever, now that they finally get to live more or less drama free, and with their daugther and grandchild! But we don't love Claire and Jamie because of the bad moments, or even because of the way no matter what life throws at them, they always, always find a way back to each other. We love them because they share the kind of love that makes it impossible to live away from each other, the kind that means you are forever part of the other person. And that comes through not just in their actions, but in the way they look at each other. Always.
Felicity and Oliver, Arrow
Whoever Oliver and Felicity could have been had their paths never met, we'll never know, and we don't really care to find out anyway. Since the moment Oliver walked in to talk to that IT girl holding the red pen, both their lives changed. And it wasn't just because they fell in love, though their love has literally spanned universes, it was because they, as cliche as it sounds, completed each other, they made each other better. Together, they were a family long before William and Mia came along. And with Arrow nearing its end in 2020, we can't but hope these two get the happy ending they, and we deserve.
Jake and Amy, Brooklyn 99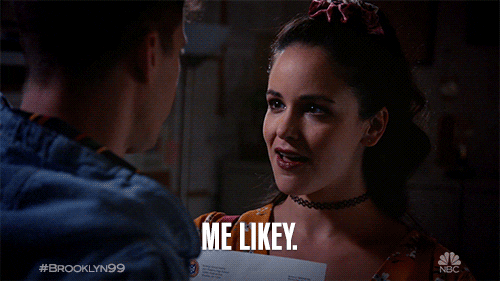 We can't imagine a world without Jake and Amy. And thanks to NBC we don't have to think about a cancellation anytime soon. 2019 was a year full of ups and downs for these two. Ups consisted of having each other's backs when stuff gets weird and hard. Downs consisted of giving spouses ultimatums that didn't land in the writers room or on set. But through it all, they respected each other's space, company, and dreams. They're the MVP's when it comes to great ships and we're not sorry! – Lyra
David and Patrick, Schitt's Creek
It's been an absolute pleasure watching these two talented, compassionate, and funny people fall in love. And yes, I called David compassionate. He's not the best of the best, but Patrick has changed him and given him love and a place to be more than the man he was in season 1. David in return has given Patrick a love he never thought possible while exploring what his sexuality really means to him. It's what great relationships are made of and we're sad to know that the end of the series is near. – Lyra