Oh, to love love.
It's that time of the year again, the time to look back at the fictional couples that made us smile, the ones that made us sigh and aww. The ones that made our hearts aflutter, and the ones that reminded us that love is real.
Now, narrowing this list down is hard, monumental work. I almost wish I didn't have to do it. But for you all I did my research, I watched countless hours of TV, more Youtube videos than I can count, and I have come up with a list of what I think are the best ships of 2019. I'm not magical and I don't know everything, so it's possible that I missed one, and if I did, please come yell at me in the comments or on Twitter. I want to know. In the meantime, however, I present to you my picks for best ship of 2019:
Malex, Roswell: New Mexico
It's rare to see a gay ship that's both passionate and romantic, filled with longing and vulnerability. That might be because it's rare to see LGBTQ+ ships in general, especially to see them treated right, but we don't love Malex because we don't have anything else. They're not here to fill a quota. We love them because of the way Michael looks at Alex when he isn't looking (and sometimes when he is), because of how Alex looks at Michael back, because their beautiful, angsty and heartfelt story has already been going on for years, but in many ways, is also just starting. And we can't wait for more.
Eleanor and Chidi, The Good Place
You know how back in Friends days we'd use the phrase: they're each others lobsters to mean OTP? Maybe now we can use they're each other's answers? Because they most definitely are. They started off as less than stellar people, and they made a less than stellar pair. But the amazing thing about Chidi and Eleanor is that they grew together, and more importantly, they actively made each other better. Life might not have many answers, but while these two are together, they know that they are, at least, each other's.
Upstead, Chicago PD
Sometimes ships just take you be surprise. You don't realize just how invested you are until one half of your ship is in danger, and the other is going to extremes to save them. Jay Halstead and Hailey Upton are one of those ships — a couple that's not-yet-a-couple, even though everyone around them knows it. You know, it. How they feel about each other. What they'd sacrifice for each other. It. They've developed a trusting foundation that will make their inevitable foray into romance all the more satisfying. – Alyssa
Nico and Emma, Vida
Emma and Nico didn't meet under the best of circumstances. The former had lost her mother and gained a bar. And the latter was coming from a rocky situation with her ex and a new job with a grump. But patience, kindness, and understanding were the key to opening both of them up to the love that they could have between them. Emma in particular learned a lot about what it takes to care for someone and that letting your walls down doesn't mean that disaster is on the way. And that shift in her character, because of Nico, matters. – Lyra
Brienne and Jaime, Game of Thrones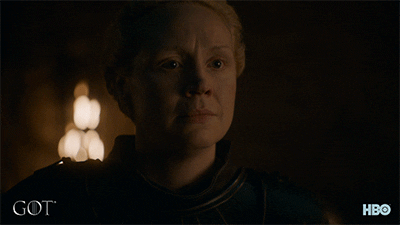 Jaime and Brienne are one of those OTP to end all OTPs. Now, I was a book reader first, so I became fascinated by the inverse Beauty and the Beast arc they were written to be, as well as their individual character arcs being both inverse, and parallel to each other. What I envisioned in my head was great, but then when I watched Gwendoline Christie and Nikolaj Coster-Waldau portray the two, I was hooked. By the end of my first read through of the books, I'd already decided to be Brienne of Tarth when I grew up and liked Jaime, but it was Nikolaj's portrayal of the character that made me fall in love with Jaime Lannister. Gwendoline and Nikolaj's portrayal of the pair is poetry in motion. Watch their facial expressions, watch their body language. Their love is so much more than the dialogue portrays. Unfortunately, D&D are too obtuse to understand the complex and nuanced relationship these two have, so my ship got sunk before it even began. However, watching Jaime go all puppy eyes at Brienne, watching Brienne smile and be a little less stoic, and then watching him knight her will always make my heart soar. – Ashley