In a decade that was dominated by Marvel, Star Wars, and well… everything Twilight – one can't be shocked that the people that we have chosen as the best movie actors of the decade mainly fall under those.
We have a lot of actors that we love, but here are our Best Movie Actors of the Decade.
Erin: Oh, once again I am torn. Chris Evans, please know that I love you and think the world of you, but I am going to have to go with Robert Downey Jr. here. I think that RDJ has shown his versatility as an actor throughout the years, but I also, he's made sure that he's engrossed himself completely in every character. So much so that you become engrossed in every character that you identify the movie by his portrayals of the role that he is playing. He takes control of the screen. He brings characters to life in a way that no one else can. He's just perfection.  He's definitely a leading man – one that others can learn from.
Lizzie: Oscar Isaac, for, well …more than Poe, though Poe is the character that comes to mind for most of us. What strikes me about Oscar the most, though, is his versatility, how he doesn't just take the easy roles, the ones that put that smile to good use, but he takes the complicated ones, the ones that require a lot of focus and sometimes, even weird looks. And that's without going into the fact that, in a decade so conditioned by Donald Trump calling latinos bad hombres and much worse, Oscar Isaac has emerged as a bona-fide latino leading
man.
Lyra: I'm with Erin here. Robert Downey Jr. carried the MCU on his shoulders and the world is not going to be the same without his Tony Stark saving the day. I'm getting feelings just thinking about how it all ended for him so we're just gonna agree with everything Grace said about his transition from comedy to drama. *tears have been awoken*
McKenzie: RDJ. Robert Downey Jr. I have loved so many of his movies this decade. While he was marvelous in the MCU and it wouldn't have worked without him he is more than just Iron Man. He is insanely talented and I hope we get more to come. I love him 3000. 
Grace: Robert Downey Jr. carried the Marvel Cinematic Universe on his back. He is a phenomenal actor, not just when he plays the lovable Tony Stark. He is remarkably able to transition from comedy to drama in a matter of seconds. While I wish we get to see more of him playing Tony, I'm very excited to see what he will do next.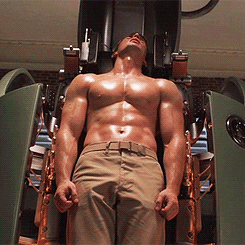 Lacey: Chris Evans; put that man in any role and he'll breathe life into it in a way you could never imagine. Even a high school quarterback who likes kool-whip and cherries haha (If you don't get the reference, check out Not Another Teenage Movie and also, you should be ashamed of yourself LOL)
Jasmine: Robert Pattinson. He really has shown how talented of an actor he is. He proved that he is more than just Edward Cullen from Twilight. I do love him in the Twilight films but his most exceptional film roles which I highly recommend are Remember Me, Cosmopolis, and Good Time. Seriously, watch these films. 
Julie: Hugh Jackman. He had us sobbing with Les Miserables, bopping along with The Greatest Showman and don't even get me started on his dad status in Logan. 
Shana: Eddie Redmayne. See also: The Theory of Everything.
---
Who is your favorite movie actor of the decade?