Walking into Extraction, starring Chris Hemsworth, I thought I knew what I was getting; a white savior that saves the life of a young man because beneath all that angst he has a heart and knows the value of life and love. And it's true. Tyler, played by Hemsworth, does have that heart of gold and he does lay everything on the line for a boy he just met aka Ovi, played by Rudhraksh Jaiswal.
But I was still stuck in this rut where I thought the white savior was going to go into another country, fuck things up, and save the day by rescuing the white little kid that was kidnapped. Been there, done that. But, oh wait, that didn't happen. The kid kidnapped is from this country the movie is based on and this is his home. So Tyler can't just whisk away with Ovi to another country, easy as pie.
This leads to the heart of the movie. Tyler has lost so much in his past and when given the chance to escape without Ovi, he chooses not to leave the kid behind. He decides to stay and fight for something bigger than him. He's fighting for the future of Ovi. And Tyler might've not realized it in the beginning that this is what he was doing but by the end of the movie it's clear where his loyalties belong.
And it sells the movie, wraps it up in a nice packaging, and delivers on an action movie that leaves you wanting more from Tyler and Ovi. It also distinguishes this movie because it's not all about him aka the white savior. It's about life, it's about doing the right thing when everyone tells you to take the easy way out. And those matter in showing that this movie is much more different than what was initially presented in the trailer and synopsis for Extraction.
On a side note, movies with the white savior syndrome (which I don't believe this movie falls into, thankfully) usually go for one of the most frustrating tropes in movies: the one where everyone speaks English. It doesn't matter what country the movie is based in. If the lead speaks English then everyone else does too. It's completely predictable and not something that would actually happen.
This isn't me saying that foreigners don't know English. This is me saying that Chris Hemsworth's character was the foreigner in a country that did not speak English. The people around him didn't have to acclimate because of the white man. If anything, Hemsworth's character had to know the language and how to use it to his advantage. And that right there feels real.
Another part that felt real was the action. It felt like a continuous stream of storytelling and not a disjointed collaboration of fighting moves and weaponry that makes no sense. This makes sense. Tyler is using every skill that he has in the book of Tyler to get him and Ovi out of the danger that seems to follow both of them like a plague throughout the movie.
It's only made better by the fact that when Tyler gets fucked up, oh lord does he get fucked up, he doesn't just dust it off. His injuries stay with him and become part of him as he desperately fights against the clock to save the boy he's decided to protect. And you don't see that as often as you might think when you look back at action movies, except John Wick of course.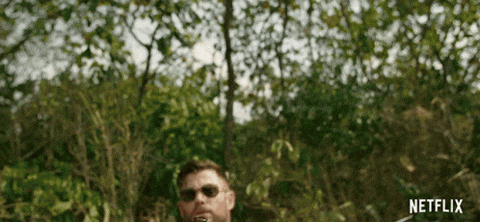 All in all, Extraction was an action packed movie that went against the grain when it comes to the white savior syndrome. Chris Hemsworth and Rudhraksh Jaiswal did an amazing job at showing a bond of love and companionship in the midst of danger and bullets. And I hope to see more of both of them in the coming future.
Extraction is available to stream on Netflix this Friday, April 24, 2020.