This is almost …a good ending, Fringe. Who would have thought?
Not me, certainly. Especially not when I started this season that I absolutely hated for about 15 episodes, and that I'm still not sure was worth the pain it brought me. But I will say, the last few episodes …well, the last few episodes were outstanding.
Yes, they were plot heavy, and yes stuff got intense, but we got to see the Fringe team actually working together, Peter and Olivia got some amazing moments (I never understood how the show wanted me to feel for this ship if they never intended to show me the two of them actually being a couple), and more importantly, we got a happy ending!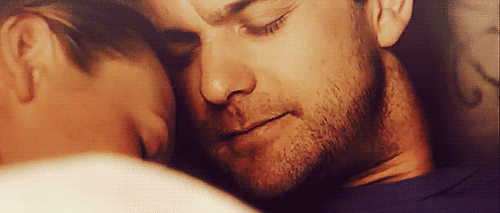 I know, I know, it all goes to hell in the future, and there's a tiny little cliffhanger of shorts, what with September showing up at the end, but it's still …good. You can pause your binge watch after season 4 and feel like this might, actually, all work out.
My biggest gripe with the season, however, as much as I truly enjoyed the way it ended, was that this …all we got, hell, even all we'll have in the future 4×19 was based off, is built on the foundation of Walter never remembering the previous timeline, never remembering the relationship he had with his son. Now, of course, it looks like Peter and Walter managed to build that relationship up again, and I'm glad, I am ….but a part of me feels cheated.
For a while I accepted that the show was doing a bad job at setting up the OTP – and let's admit it, there are so many lost opportunities in that regard that I've stopped counting – because the main relationship of the show, they one they most wanted to focus on, was Walter and Peter.
And that was fine. It was different, but I accepted it. I believed it. And then …season 4 happened.
To be fair, it started our promisingly, with Walter having visions of Peter. But at some point, the show just …abandoned that, decided it cared more about building the OTP back up than it did about fixing the relationship they'd told me was the one I should care about. And, I promise, I would have been fine with that, if they hadn't spent FOUR SEASONS tell me that wasn't the focus.
I guess, at some point, they realized that to tell the circular story they wanted to tell, which I assume is one of Peter giving it all up for his daughter, or making some crazy ass Walter decisions in the name of saving her, they had to, you know, get to a point where he could have a daughter, and for that, they needed Olivia. Which …eh …I love Olivia, I do, and I really, really appreciate that she got her memories back, but why not Walter too?
This isn't really an issue that comes up in the final few episodes, but I had to bring it up again, mostly because, when I look at the season as a whole, even when the show managed to right the ship, that was an issue. And well, in general, I didn't really enjoy season 4 as much as I enjoyed previous seasons (I'm starting to get nostalgic for Season 3 and the Fauxlivia mess, that's how much I didn't like it), so that's worth pointing out as we go into what, I hope, is the right ending we, as fans deserve.
Fingers crossed.
Fringe is available to stream on IMDBTV.