There's a lot to wrap in this week's season finale of Star Trek: Discovery. I've got to be honest. This episode had me cheering, weeping uncontrollably, gasping, and squeeing the entire episode. That's a whole lot of emotions for just an hour-long episode. Here are a few of my thoughts on episode 4×13, "Coming Home."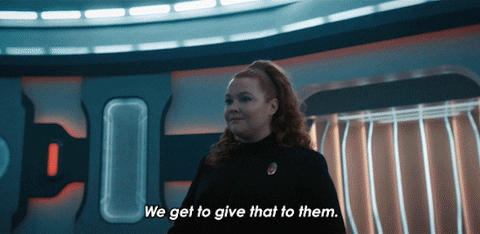 The Cheering
The first thing that had me shouting for joy in "Coming Home," is that my girl Tilly is back! I totally did lots of fist-pumping and cheering when she came on screen. She is in prime form on Star Trek: Discovery this week. Her calm voiceover as the episode opens, coaching her cadets, now officers to take on this incredibly daunting task of evacuating as many from Earth as they possibly can, helped me to feel at ease with the amount of anxiety I had about the way the finale would wrap. Watching Tilly come into her own even more this season than she already did last season is a big highlight for me. However, I'm going to need more of my girl on the show next season. She's irreplaceable.
Lots of other things had me cheering this episode too. The successful first contact and continued communication with Species Ten-C, Book's connection with the Ten-C, and the commentary on all-around sustainability, all made me quite happy. That being said, there are just as many things that had me weeping real tears and gasping during the episode.
The Crying and the Pearl-Clutching
I don't know what it says about me that I hardly ever cry in dramas or romantic films. However, if you set me in front of a science fiction show or a superhero movie, there's likely to be something that will make me ugly cry right there in front of God and everyone. That's exactly what "Coming Home" did for me. Thinking Book was gone, admiring the courage of Admiral Vance and Tilly staying behind to provide cover for everyone who was able to escape, and then being heartbroken that they might die! I was on a real emotional roller coaster with all of that.
Any Landing You Can Walk Away From
It's not an unfair critique of Star Trek: Discovery that the writers seem afraid to truly allow anything bad to happen to their crew. The crew has certainly experienced quite a bit of bad, but they seem to always land on their feet just the same. The implication is that this somehow lessens the stakes and it makes the efforts of the characters meaningless. I will respectfully disagree. Sometimes a story is about making the ultimate sacrifice so that others may live. I love those kinds of stories because they give me courage. They make me hope that if it were ever required of me, I could somehow be brave enough and love deeply enough to do that. 
Some stories are about being willing to make that kind of sacrifice and survive. Some stories are about being a living sacrifice. That's the kind of story Star Trek: Discovery is. The crew of the Discovery has constantly proven that they are willing to give everything they have to serve and protect others simply because it's the right thing to do. I love this kind of story because it gives me courage. It shows me that people who are willing to make the ultimate sacrifice for the sake of others don't always have to make that sacrifice. Sometimes just being willing to give all is enough. "Coming Home" really brings that idea home.
True selflessness is often met with skepticism. Can anyone ever be truly selfless? I don't know, but this kind of story sure makes me want to try, and I think that's the point. Living that way daily versus just having to pony up that kind of courage for one big moment are two different things. To paraphrase George Washington in Hamilton, "Dying is easy…living is harder." Discovery chooses the harder thing.
The Squeeing!
There are so many things that I truly enjoyed in "Coming Home." Saru and T'Rina getting together (FINALLY) is perfectly executed. They are the cinnamon roll of Star Trek couples–so pure and sweet. Our crew finally getting some much-needed rest time, some reunions at the end at the bar (flying Tilly Tackle Hugs™ FTW) all did much to warm my heart after some of the more stressful points of the episode. I feel Book's punishment is just and I hope we will continue to see more of him next season. However, I feel that there should've been more punishment for Ndoye. If she was reprimanded in some way, I suppose that we just have to trust that was handled offscreen.
While I feel that it can be misused by those who do not truly desire justice, President Rillak saying that "Reasons matter" is important. It's the starting point of a much larger philosophical and social discussion. I won't be surprised if this is brought up again in later seasons. Also, them casting long-time Trek fan, Stacey Abrams, as the President of United Earth is a bold move, and I applaud them for it. Whether you agree with Abrams' politics or not, someone who fights for the rights of voters and empowers all eligible citizens to use that right is a friend of democracy. That's the kind of leadership that Star Trek has always espoused–equality for all.
Final Thoughts
Finally, I want to draw attention to a line Book said, "Love always ends in grief." He says these words to Tarka as they're both about to die. That line struck me because I feel like it's the first half of a thought expressed earlier last year in WandaVision, "What is grief if not love persevering?" Though there is grief when you lose someone as Tarka did–be they a friend, a family member, or a partner–that does not mean that love has ended. You grieve because you have loved and continue to love deeply.
C. S. Lewis said in The Four Loves, "To love at all is to be vulnerable. Love anything and your heart will be wrung and possibly broken. If you want to make sure of keeping it intact you must give it to no one, not even an animal. Wrap it carefully round with hobbies and little luxuries; avoid all entanglements. Lock it up safe in the casket or coffin of your selfishness. But in that casket, safe, dark, motionless, airless, it will change. It will not be broken; it will become unbreakable, impenetrable, irredeemable. To love is to be vulnerable." Love makes us open to vulnerability and therefore makes us susceptible to grief. That doesn't mean it isn't worth the risk. In a season with themes of connection, it is this deepest connection that is the most poignant of all.
…But to Connect
In my interview with John de Lancie about Star Trek: Picard, de Lancie pointed out that Star Trek is always about "something." Star Trek has always been about ideas and how to imagine better. This season of Star Trek: Discovery, while perhaps at times is a bit maudlin, is a visual philosophy lesson about how we can imagine better, how we can connect with others who are totally different from us, and how we can care for others deeply, even in the wake of difficult circumstances. That's some heavy stuff for a "silly" science fiction show. I'm here for more shows like this that are dealing with these real types of social and philosophical issues.
What did you think of "Coming Home"? Leave me a comment and let's talk Trek.
Star Trek: Discovery has been renewed for a fifth season and will return on Paramount+.