"Do you think it's possible for us to already belong to someone before we've met them?"
If it is, then it might be possible to love a movie, and a book, before we've even watched them/read them, and if so, that's the case for me and this enchanting tale of war, friendship, loss and yes, love.
Maybe we were meant to be. I'm not truly a proponent of fate, but in the case of literary matches, I think I can make an exception.
We make the decision to watch something (and then go on Amazon and buy the book because we just need more of the characters, of the setting, of the world) for many, many reasons. I downloaded this as I had a long flight and I wanted something light, and romantic to keep my company. Because yes, that's what I thought it was. Just something fun and cute, something that I'd forget about the instant after I watched it.
Spoiler alert: I have not been able to stop thinking about this movie, and if you give it a chance, I'm pretty sure the same will happen to you.
But in a good way, I promise.
I could tell you, to convince you, that this is a romantic movie, a movie about a love that sneaks up on you when you least expect it, and more importantly, a love that doesn't require you to put up a front, but that allows you to be the best version of yourself, but that's not all the movie is about.
Although hey, if that already convinced you, you're welcome to go press play and stop reading.
The movie, however, is also about friendship, and about how, sometimes, the people you choose to be your family can be as important as the people you're related to by blood. It's about how far you're willing to go for a friend, and how much they can touch and change your life.
And it's about loss, and how to get over that, or not get over it, but learn to keep putting one step in front of the other, keep living, while still keeping the spirit of those that left you alive.
Oh, and did I mention all of this happens with the backdrop of the island of Guernsey, an island that was occupied by the Germans during World War II?
We all think we know everything about WWII, or at least, we think we know a lot, but I promise you, this is a side of the story you likely know nothing about, and if you enjoy history as much as I do, that's certain to be a draw, and quite possibly, the beginning of a research spiral after you finish watching.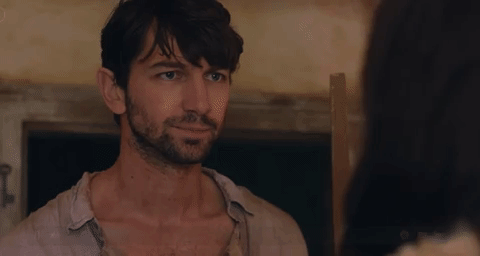 But if you don't want practical reasons, then let me tell you about how I felt while watching it, because that's the thing I most often want to hear when people are talking about why I should give something or other a try – I want to know how it affected them, how it made them feel.
Touched. Happy. Desperate to just hit play again, and again and honestly, when I've felt a bit sad the past few days, I've re-played the last 10 minutes, because those are certain to put a smile on my face.
But also, as a writer, as someone who deals in words, and as a woman, I've felt incredibly empowered by this movie that isn't trying to be empowering as much as it's trying to be …real.
We don't ask for much more than that, we really don't.
So, if you want to smile, laugh, cry, be reminded of what the human spirit can achieve, and if you want to fall in love with the way two people love each other, then I recommend you give this a try.
You won't regret it. I don't.
The Guernsey Literary and Potato Peel Pie Society is available to stream on Netflix right now.