There's a lot of good TV out there. No, really, a hell of a lot of good TV, trust me, someone who just had to spiral her way into somehow narrowing this list down. But narrow it I have, with what I consider to be the best TV has offered us in 2018.
For the purposes of this list, I've taken into account shows that have caused an impact, whether they be scripted, reality, or variety shows. If the show got people talking about it, if it taught us something, if we just could not stop watching, then guess what? It qualifies!
So, let's get on with the list! These is (according to me and only me), the best of what TV had to offer in the past year, in no particular order.
Timeless, NBC
Few shows manage to educate you, thrill you, make you swoon and do all of that while centering women and minorities, but Timeless has always felt like the little show that could. It could make you care about history. It could take you back in time without forgetting that history is often told by the winners, and that there are nuances to be considered. It could succeed with a female lead and 4 of its 7 regular cast members being POC. It could, it can, and considering the fandom this show has amassed, it will continue to do so.
Harlots, Hulu
Let me just start by saying Harlots is written and directed entirely by women, which is always one of the first things I look for when deciding if I should watch. But this show is more than just representation BTS, it's a fascinating look at the ways women relate to each other and the lengths they will go to protect themselves while living in a patriarchal society. And yes, it's a "period" drama, but two feuding brothels in Georgian-era London isn't exactly cliché.
One Day At A Time, Netflix
Representation is a beautiful thing, and what One Day At A Time has done to make the latinx community feel seen is nothing short of amazing. But this isn't just a mediocre show that understands representation, no, this is a brilliant, nuanced show that has tackled issues one-hour dramas don't dare to, and has done it with a lot of heart, and without losing sight of the story they're trying to tell, or the people they're trying to represent. And hey, they somehow manage to do all of this without being the kind of show only latinx can love. This is a show for everyone.
This is Us, NBC
When This Is Us first premiered in 2016, no one really knew what it was supposed to be about. Somehow, this series has become one of the most talked about shows currently on television. It's a family drama that has been able to bridge the gaps between the demographics of TV viewers. This is the show you're probably watching live with your parents and theorizing about with your friends the next day. It's generational and it has a built in DNA that can make it last as long as it wants to. With some of the best acting on television and the award nominations to prove it, This Is Us is television excellence that you never want to fall behind on.
A Discovery of Witches, Sky One
You might think you've seen this story before. Witches, vampires, demons, a pair of star-crossed lovers. Sounds familiar, doesn't it? And yet, this series, despite following the rules of the genre, isn't really what you expect. Instead, it's smart, compelling, feminist, twisty, and it features an OTP that will absolutely grab you and never let you go. Oh, yes, and they do that without the main female character suffering, because on this journey, Diana and Matthew are actual partners – in everything.
Queen Sugar, OWN
I've heard some people say this show only caters to the black experience, and isn't enjoyable outside of that, but I'm here to say they're dead wrong. Queen Sugar is the story of a family, with its ups and downs, its endearing characters, its characters you sometimes want to strangle, and it's idea of legacy, as the Bordelon kids fight to keep the legacy of their father alive after their passing. It's also a show that, once you watch it, you can tell women are in charge BTS. And, if only for those things, it's a show worth giving a try.
Doctor Who, BBC
Series 11 of Doctor Who changes the game completely for this long running show because our Time Lord is no longer a dude and is in fact a Time Lady. It's been incredibly interesting to see how the Doctor being a woman changes her adventures. There are challenges to her strengths and capabilities, left and right, aka something that we as women go through all the time. Some people, *cough* men of DW who are mad that the Doctor is a woman *cough*, don't like this change because they can't relate to a woman Doctor. But we've had to live with and relate to a Doctor that has always been male. Time to suck it up and step into our shoes!
Queer Eye, Netflix
This show made us laugh. (Giggle, laugh uproariously, all the levels) This show made us cry. (Happy tears and sad tears and OMG I CAN'T STOP CRYING TEARS). This show reminded us what was good about humanity, and it made us relate to people we'll probably never meet, and it made us examine who we were and how we dressed – and that's why this show deserves to be on this list.
Brooklyn 99, NBC
You want a laugh? Watch Brooklyn 99. You want to get that sense of friends-as-family? Watch Brooklyn 99. You want an OTP that will blow you away with the level of trust, respect and care? Watch Brooklyn 99. You want to be touched, and surprised, and happy? Watch Brooklyn 99. Basically, what we're trying to say is that, no matter what you want out of TV, you'll find it in Brooklyn 99, and that's probably the reason why the show was saved from cancellation and it'll be back on our TV screens in January.
Late Night with Seth Meyers, NBC
Late night has become the lifeline for a lot of people in the Trump era, and when it comes to Late Night political commentary, there's no one doing it better than Seth Meyers, who constantly breaks down the news for us in his A Closer Look segment, with jokes, yes, but with biting commentary and pointed criticism, and who also takes the time to showcase the POC on his staff and give their voices a lift, in segments like Jokes Seth Can't Tell, and Amber Says What.
Anne with an E, Netflix
This isn't your 1980's adaptation (which, btw, I love), and yet, this is, at the same time, the same Anne, and a different one, one that's more in accordance with the times, one that deals with issues that are easy to extrapolate into our own life, and yet, as always, one that puts kindness, tolerance and a desperate desire to learn above everything – and one that always, always reminds us of the good that life can hold.
Vida, Starz
Until it happens to you, until you turn the TV on and see yourself in the characters, until a show finally understands you, you don't get how big that is, and how much representation truly means. And Vida saw me, spoke to me, and it did so without pulling any punches, without dumbing down the story of two sisters who come home after their mother's death to find that the place where they grew up isn't exactly how they remember it, but it's still, in many ways, home.
Outlander, Starz
Its detractors will point out to the fact that this is a violent show, and it is. But don't let that fool you, Outlander is first and foremost a romance between two people who, somehow, manage to love each other through time – literally and metaphorically, and their family. And no, it's not just a will-they-won't they type situation, it's a love story of two people who face life's obstacles together, and who, ahem, get to show their love for each other, in very explicit ways sometimes. God bless cable!
Superstore, NBC
If you don't think this is one of the best comedies on TV, then you just haven't been watching, because  anyone who has will tell you that this show isn't just funny, it's heartwarming and real. Whoever said retail work was boring? Plus, OTP! OTP! And friends-as family dynamics. And very disimilar characters coming together and finding ways to grow, and become better, thanks to each other's influence.
NCIS: Los Angeles, CBS
I know this is a surprising addition to the list, but I stand by it. NCIS: LA is one of the few shows on TV that has gotten better and better with time, and it currently features a team-as-family dynamics that is unparalleled, a bromance we're all rooting for, and the healthiest, more realistic OTP on television. Don't let the procedural label fool you, this is a show that does characters right and one of the few on TV that understands we don't want drama for the sake of drama when it comes to couples.
Patriot Act with Hasan Minhaj, Netflix
Part The Daily Show with Trevor Noah, part Last Week Tonight with John Oliver, Hasan's weekly show showcases some topics we never really realized were as important, and explains them to us with a mixture of good humor and very well researched words that makes his show a must-see. Besides, it's on Netflix, so it's incredibly easy, and it's not exactly topical, so you can catch up at any point.
She-Ra and the Princesses of Power, Netflix
She-Ra and the Princesses of Power feels revolutionary because the commanding force to destroy the evil of the world…IS A GROUP OF PRINCESSES! Women, girls, or anyone who identifies as female is the hero of the story. We're not the weak ones or the ones that can't make change. We can and the princesses of this show, do. Love, friendship, girls of all shapes and sizes, and unapologetically queer themes are also found in this amazing Netflix show. Like seriously, there's a scene where a giant rainbow defeats the evil in a grand slam boss fight and it's amazingggggg.
Wynonna Earp, SyFy
Yes, Wynonna Earp season three saw the loss of a great hero, but it also saw our Earper family get closer than ever before. Wynonna and Nicole's relationship is strengthened and they see each other as more than just the sister of the girl I'm dating or the girl my sister is dating. We also saw Waverly and Jeremy bond over their mutual queerness, the latter getting a boyfriend as well. And most excitedly, Wayhaught kept building on their relationship and facing new challenges together. Simply put, for a show that is off the walls crazy, this show understands who it is, doesn't take it's self too seriously, but still manages to give us all the feeeeeeels!
Black Lightning, the CW
The Arrowverse adjacent Black Lightning is not just the best superhero show on the CW, it might just be the best show on the CW, period. In fact, we're kinda glad it's not looking to join the other shows anytime soon, because a functional family who loves each other, and through ups and downs, supports each other, not to mention how much the show touches on social issues isn't really the kind of thing the Arrowverse is known for. Oh, and did we mention this show has THE lesbian couple no one's talking about but everyone should?
The Handmaid's Tale, Hulu
In the current political climate, this show felt more and more current with every episode. And yet, that's probably why it made it hard to watch. In many ways, it felt like we were watching our possible future, and the quality of the show and the marvelous performances only made it even more gut-wrenching. The Handmaid's Tale is the show for the times we live in. How could it not make our list?
Atlanta, FX
The thing about Atlanta, the FX dramedy that follows the lives of two cousins navigating the rap scene in Atlanta, while trying to improve their lives and the lives of their families, is that, at no point does it do what you want, or what you expect. The show just does what it wants, without over explaining, without holding your hand through the complicated feelings it's twists may cause. And that's so refreshing and unique that the show deserves a place on this list, and frankly, and best show list.
The Haunting of Hill House, Netflix
The Haunting of Hill House is more than just ghosts, scares, and things that go bump in the night. It was a story about family, love, and how childhood trauma follows you throughout your life. The series is especially cool for how everything interconnects together, the past and the present, and how there is literally a ghost EVERYWHERE! Honestly, worth a rewatch just so you can spot the ghosts under the stairs, in the hallway, or right behind this amazing cast.
The Marvelous Mrs. Maisel, Amazon Prime
Season 2 of this show JUST premiered a few days ago, but it's enough to know that all the accolades The Marvelous Mrs. Maisel has gotten are very much deserved. The first season was a little bit of an introduction, if a delightful one, but so far the second season has managed to expand on the world – and give a much needed voice to the characters around our titular heroine, and we're very glad for it! And hey, in case you needed another reason to watch this show: prepare for the laughs. They're aplenty!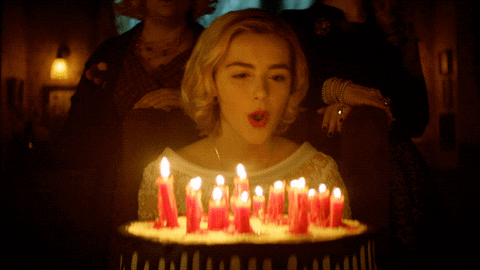 Chilling Adventures of Sabrina, Netflix
It's out with the old and in with the new in this twisted retelling of Sabrina the Teenage Witch. Our favorite half mortal/half witch is an ally, friend, and champion for good in the small town of Greendale in the Chilling Adventures of Sabrina. She tells the devil, and any subjugation or loss of her free will, to go and suck it. Sabrina Spellman is here to make her own path in life! That right there is the heart of the show, free will and how you use it. This witch doesn't let others choose, push, or force her into a certain path in life. Sabrina chooses and teaches us that we can too.
The Daily Show With Trevor Noah, Comedy Central
As I said before, Late Night is in probably it's best moments, and Trevor Noah is uniquely situated to triumph in the day and age we live in, as basically the only POC in the crowded Late Night landscape. When he explains something, his POV is something you will only hear from him. When he compares Donald Trump to an African Dictator, he can do that in a way no one else can. And when he continues to use his show to give voice to other minorities, well …that just makes you want to support him more.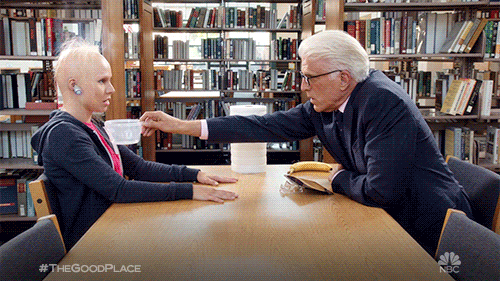 The Good Place, NBC
Contemplating life and what will happen to us after we die has never been as fun as in The Good Place. The irreverent comedy has reinvented itself three whole times during its three seasons on the air, and it still continues to impress – and surprise us – by delivering not just laughs, not just characters who grow in ways we can relate to, and not just did-that-really-happen cliffhangers, but a hell of a lot of heart to go with it.
The Good Doctor, ABC
We end with a double dose of 'good' and with a show that has constantly surprised us not just by telling medical stories that are compelling, but by showing us the human side to everything, and by doing it from a POV we very rarely get to see. Freddie Highmore is one of the best actors of his generation, there's no doubt about that, and the gravitas he brings to his character makes this show, still, in it's second season, one that finds way to touch you deep. And isn't that what we want out of TV?
Agree? Disagree? Did we miss one of your favorites? Share with us in the comments below!