In an effort to build a space for queer people like myself, every Tuesday I'll be posting opinion pieces, listicals, reviews, and more focused on the LGBT community (and occasionally about the Latinx/WOC community since I am Latinx.) Welcome to Queerly Not Straight! Enjoy and leave a comment below if you have a suggestion for what I should cover next.
---
The Perfection could've been good. It could've been different. Charlotte and Lizzie, the female leads of this Netflix movie, have instant chemistry. There is a fire and passion for music that draws them to each other. And it works. Unfortunately for us, it's a twisted rescue attempt by Charlotte to save Lizzie from the rapey hands of the men that trained both of them. The writers of The Perfection thought they'd make things edgy by starting it off as a lesbian love story before making you wonder if this movie was an end of the world/infection type story. Instead we got the same old same old: young women making "mistakes" and being punished with sexual assault aka rape.
And it's fucking bullshit.
These "mistakes" in The Perfection were as minimal as missing a note in the famed inner sanctum of the school all of these characters call home, or used to call home. And I feel disgusted and so disturbed that this is how sexual assault or rape is presented, because in the eyes of men we, as women, make "mistakes." We didn't smile when they told us to. We didn't respond to their advances like they thought we should. And we didn't give them a chance because they're a "good guy." Mistake, mistake, and mistake built on misogyny and this thought that men own our bodies and we should be grateful for their attention. And again, bullshit.
We don't owe men shit and I'm sick and tired of watching movies where this is the only thing that happens to us or what drives us. We are more than the men that have hurt us or the "mistakes" they think we should be punished for. And that's why I'm so pissed off after watching The Perfection. They could've done something different with the two leads. Something beautiful and romantic, where these two young women fall in love across a backpacking trip where they discover their past and look at what they can do together for their future. Instead we get some gorey and twisted lesbian love story that misses the mark so badly my hands are shaking as I'm typing this.
So, fuck you The Perfection. Fuck the way you portray women. Fuck how you made me fall in love with Charlotte and Lizzie before turning this into a crazy shit show where Lizzie cut off her own hand in a hallucinogenic state. Fuck you for telling another creepy AF story about women being assaulted when they were girls and how violence is the only way to get revenge for what was done to us. It's bullshit, it's regressive, and it still makes us, survivors of assault, seem like victims who could only get revenge by stooping to their violators level.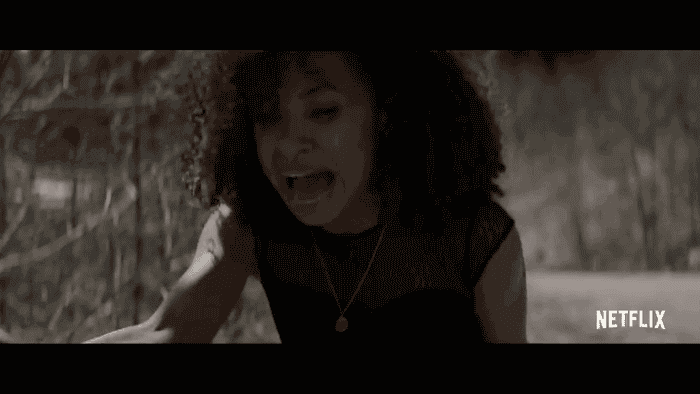 We, as survivors, are better than them.
We are stronger than them.
And I wish I could delete The Perfection movie from my mind and save the beginning 22 minutes of this movie. Everything else is gorey garbage meant to draw the eye, satisfy the queer community, before serving up a side of rape. And we don't want it.
I don't want it.
---
Queerly Not Straight posts every Tuesday with opinion pieces, listicals, reviews, and more focused on the LGBT community (and occasionally about the Latinx community since I am Latinx.)
Don't miss out on posts like this! SUBSCRIBE to our monthly newsletter HERE!