Following Emily Bett Rickards' departure, I had no intent to watch Arrow on the regular in its eighth and final 10-episode season. After all, I'd always said that I'd keep watching until Felicity was no longer on the show, which I never expected to come to fruition.
But with news that Kat McNamara has been promoted to series regular — and with the promise of Next-Gen Team Arrow in flash forwards — I'd be lying if I said I wasn't intrigued. When all is said and done, maybe I'll just end up watching for the flash forwards. Because, hey, technically Mia is a part of Felicity, which means that Felicity is still present on the show, kinda, sorta.
We'll no doubt be trying to get an answers to all things Next-Gen OTA, as well as any Felicity developments, when we head to Comic-Con this week.
Here are five questions we want answered at Comic-Con:
---
1. How will the show handle Felicity's absence?
It's one thing to write a character out of a show. It's something else entirely when an actor chooses to leave and you have to adapt. That's the problem the Arrow producers face in the final season as they have to do the unthinkable: Manage to go on without Felicity Smoak. To this point, they've written it so that Felicity is in hiding, which means her friends have no idea where she is, other than Diggle. So if we're to get any references to Felicity, it'd come from Diggle — or Oliver, assuming he returns.
But it's not so much of how they'll address Felicity's absence as much as it's going to affect the foundation of the show. Felicity has been a part of this since season 1 and helped create the Arrow we know and love. How does this show manage to be anything but less than what it already is?
---
2. Where is Oliver?
When we last left Arrow, our hearts were ripped out of our chests and completely crushed. The Monitor returned to collect from Oliver, which meant he was taking Oliver somewhere else. But where?
Is it another Earth? That would make the most sense, as it would explain how Oliver is still in this season of Arrow. Otherwise, how would this show explain how Felicity hasn't seen Oliver until last season finale's final flash forward? It wouldn't make sense. Oliver wouldn't not visit her if he was on Earth-1.
So I guess the better question is: Where does season 8 take place?
---
3. Will the flash forwards set up a spinoff?
The only reason I'm even a little bit excited for Arrow's final season is that we'll be getting Next-Gen Team Arrow in the flash forwards, minus adults. Now that OTA won't be on our screens (miss you, EBR), it's time for their kids to step in and fill the void.
But even more important, with Arrow ending, could Next-Gen Team Arrow be spun-off into its own show? The only answer is "yes."
---
4. Will Mia take on her father's mantle of Green Arrow?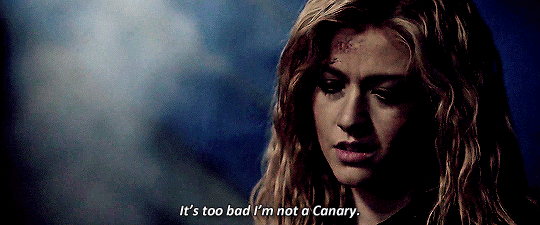 Sorry, comic stans, Mia Smoak is not another Canary. She's something better. Much better. She's the daughter of Oliver Queen and Felicity Smoak, and hopefully she's about to take on her dad's mantle of Green Arrow. Now that would be a legacy.
As we've seen before on Arrow or other Arrowverse shows, the Green Arrow is a legacy that will live on past Oliver. Whether it was Connor Hawke in Legends of Tomorrow or Diggle, the Green Arrow is a symbol. And assuming Oliver is hanging up his bow, the only person that makes sense to take it over is his daughter.
---
5. Will Felicity be in the series finale?
Now, I don't think this question is as simple as: Will Emily Bett Rickards return? Because I'm still not convinced that they didn't film potential series finale scenes before she left. Just in case she wouldn't be able to return for the series finale. Because there's no way to have an Arrow series finale without Felicity Smoak.
---
Arrow's final season prepares Oct. 15 on The CW.
What questions do you have for Arrow? Sound off in the comments below!