Euphoria has such a way of capturing everyone's attention, from the first scene you see on screen. It pulls you right in, and gives you a landing pad of how the week's episode will progress. This week was no different, and I love the way they continually take the time to highlight a different character every week to focus on in the introduction.
It show's that while we do have main characters in this story, the rest of the cast is just as important. Euphoria is becoming such a special show, and I hope that everyone is seeing that, especially with the season about to end.
Let's jump in to this week's review and discuss "The Trials and Tribulations of Trying to Pee While Depressed," before the season finale next week:
Friendship
Why does being friends with girls always have to be so complicated? It seems to me that there is always something that gets in the way. Cassie just wanted her group of friends to get together, so she could ask their advice, but it turned into a fight between Maddy and Kat.
Maddy and Kat are both being self absorbed in their issues, and need to be there for Cassie. Step it up, girls! Not the time or place. Also, can we learn to be supportive of each other? You are both obviously lost, and could use each other's support. Don't tear each other down and call each other names. That isn't the way.
Reality TV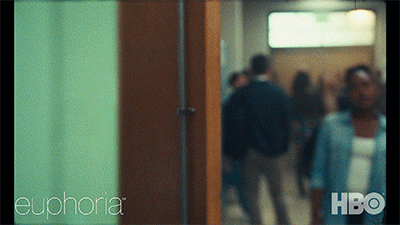 Rue's description of watching Reality TV is so perfect. It lets you drown out life, and escape into petty problems and drama that doesn't touch you in anyway. Her description of being so depressed that she can't go to the bathroom is so real, as well. I think everyone at some point reaches a point in their life that they just can't get up from their bed and do anything.  She is so relatable. The way she is describing depression in this episode, and how you try to remember the happy moments and you just can't…that hit me. You just remember the endless loops of nothing.
Also, let's talk about Zendaya and the clip of her trying to figure out what is going on with Jules. She sold me her performance as a detective, and it was entertaining as hell. It was my favorite scene of this whole episode. Zendaya deserves all the awards for her acting in this show.
Garbage Human
Welcome to Vol. 2 of the Garbage Human. This edition is solely dedicated to Nate. Seriously, how do you find me new ways to loathe you more than I already do? Fezco?!? Really? He just wants to protect Rue. Sure, he is a drug dealer, but he has a heart of gold. Stay away from him, you asshole. I can't wait until you get justice for everything you have done. I want it to be painful and vindictive. Your time will come Nate. Just wait.
Agree? Disagree? Share with us in the comments below!
Euphoria airs Sunday's at 9/8c on HBO.