After all the waiting, endless tweets, trailers and interviews… it is finally here. The Witcher premiered on Netflix, and it lived up to the all the hype, expectations and so much more. Join me as I talk about my overall impression, my favorite episode, characters, the ship of all ships, and season 2.
Overall Impression I went to Comic Con back in July and The Witcher had a panel in Hall H.  I had never heard of the series before, but the cast was there and we were able to see exclusive footage from the show and the panel discussion after.  Before that moment, I had never heard of the best-selling series or video games, but I was so excited. From just the small glimpse that I saw and the discussion panel, I knew this was going to be an amazing series.  
I'm glad to say that my instincts were right.  The way Netflix was able to put this production together is nothing short of amazing. It is an epic fantasy world and if not done right, it's a disaster. That wasn't the story.  The casting was top notch, Henry Cavill, Anya Chalotra and Freya Allan all played their characters beautifully. I couldn't have asked them to do anything different.  
The writing on this series is top-notch as well.  It's just the right mix of fantasy, drama, love and fighting.  Showrunner and Executive Producer, Lauren Hissrich, did an amazing job bringing this tale to life. It was a bit of a slow start  with the first three episodes, but then I was hooked. 
 Another thing I loved was that this was such a female led production.  That doesn't happen very often anymore. Two out of the three leads are females as well as the Showrunner/Executive Producer.  It brings back a little bit of hope for me in the industry for more productions to have more of a female presence. Both in front of the camera and behind.  
 Favorite Characters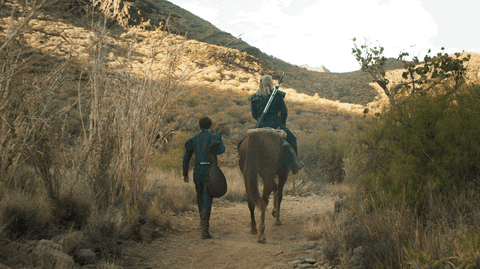 Yes, Henry Cavill did give an excellent performance as Geralt of Rivia. However, he was not my favorite character. Though he is up there right up there with Freya Allan as Ciri.  Freya played Ciri with such conviction and she was so relatable. However, my two favorite characters by far were Yennefer and Jaskier. 
Let's start with Jaskier.  He is a master of bards and giving shade.  Any moment he is on screen, I am laughing. He amuses me to no end.  He brings levity to the show that otherwise wouldn't be there. 
Yennefer of Vengerberg. I love you. I saw a meme on Twitter the other day that said it's a Yennefer world and we are just living in it. I couldn't agree more. She is badass and goes after what she wants. She makes no apologies for who she is.
As we see later on episodes seven and eight, Yen goes back to her roots. I think it reminds her of who she was a little bit, and will bring her a new sense of purpose. More than anything, she wants a family and a legacy.  I'm calling it now and saying that is going to be Geralt and Ciri. They are going to be exactly what she needs.  
 The Ship
┏┓
┃┃╱╲ In this
┃╱╱╲╲ house
╱╱╭╮╲╲ we
▔▏┗┛▕▔ ship
╱▔▔▔▔▔▔▔▔▔▔╲
Geralt & Yennefer
╱╱┏┳┓╭╮┏┳┓ ╲╲
▔▏┗┻┛┃┃┗┻┛▕▔
They are straight fire together. Episode six "Rare Species," about set me on fire. That forehead touch, and the tender moments. Just Ughh. They leave me with a warm and fuzzy feelings. 
Ciri is apparently Geralt's destiny, but that doesn't have to mean his romantic destiny. I'm saving that spot solely for Yen. I can tell they care deeply for each other and have a good time.  I'm looking forward to their reunion in the future, and what becomes of their relationship. 
Also, does anyone have any ideas on a ship name?  I have found a couple so far, but nothing solid. The ones we have so far are Yeralt, Gennefer and Yenneralt.  I am leaning towards Yenneralt myself, but give us more suggestions.  
Favorite Episode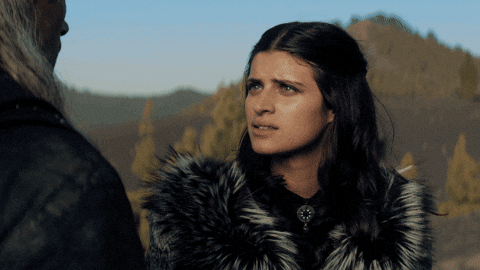 Episode six "Rare Species" is just straight fire.  I mean, you get Geralt and Yen reuniting. Those steamy side glances and the clear yearning they have for each other. You can't fake emotion like that.   Yen bringing along the random Lord/Knight was great at making Geralt jealous, even if he was annoying. I wasn't sad when he was killed.  
Jaskier throwing shade at Yen was also a little hilarious. It's like a best friend that doesn't like his best friend's girlfriend or is just jealous of their relationship.  It's probably for a petty reason as well. I can see Jaskier being petty and holding something small against her. I really want to see what happened in the time jump between their first meeting and their reunion in episode six. 
 Anyone Confused?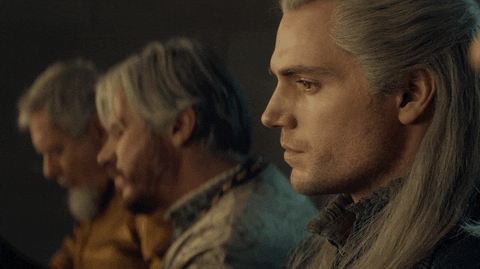 I don't know how many of you are aware, but the series operates on three separate timelines.  This can cause it to get a bit confusing. Even knowing that, at times, I was still having trouble keeping track of which timeline we were in.  However, I think by the end of the season we are converged so I think as we go along it will become a lot clearer. 
Not Game of Thrones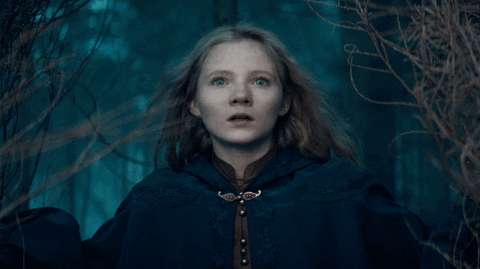 The Witcher has been compared to Game of Thrones a lot lately in the press. It's not. It's it's own amazing series.  They are both fantasy series yes, but to me that is where the comparisons stop. Both shows are amazing and shouldn't be compared to each other. They stand alone and both live up to the hype that was behind them.  
 Interview with Anya and Freya
 A couple of weeks ago I got to interview Anya Chalotra and Freya Allan, who play Yennefer and Ciri.  They talk about their experiences working on The Witcher, lessons learned and more.  Go check it out here. They were both lovely and amazing to talk to, as well as incredibly insightful. 
 Season 2 Before the series premiered, Netflix announced that The Witcher had already been renewed for a second season.  That is amazing news as there is nothing like falling in love with a series only for it to be cancelled. Let's hope that we don't have to wait too long until we get to see it. Because that cliffhanger sucked ass and left me wanting so much more. 
The Witcher is now streaming on Netflix.