Welcome to A-Z Movie Reviews.  Every Sunday, for the next several months, I will be posting a review of a film in my home movie collection.  How it works is, I will be reviewing movies in alphabetical order until I get to the letter Z (Yes, I do have a film that ends in Z).  Now I realize there are many ways to alphabetize a film collection but this is mine so don't judge me.  This is simply for fun. 
---
"All women are princesses." 
This quote always stuck with me as a kid and to this day it still does.  A Little Princess, is such a classic from my childhood which is why it's part of my movie collection.
Based on the book by Frances Hodgson Burnett, A Little Princess tells the story of Sara Crewe, (Liesel Matthews) a young girl who is sent to a boarding school by her father Captain Crewe (GOTs Liam Cunningham) while he goes off to fight in WWI. 
Sara is a girl with a very vivid imagination and a kind heart.  Although she is a child of money, she doesn't focus on wealth and sees people as equal. That's clear when she tries to get to know the servant girl Becky (Vanessa Chester).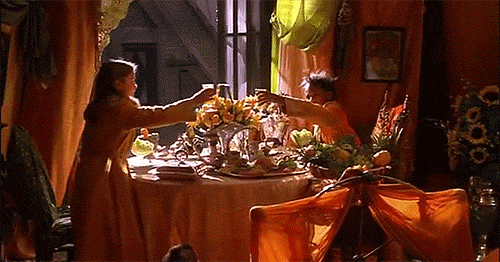 Becky is also a child but because she's black, she has to work as a servant.  There is a moment I love when one of the little girls Lottie, tells Sara they are not supposed to talk to Becky.  Sara asks the girl why and she says "because she's a servant and has dark skin."  Sara replies "So?" 
That scene resonated with me because Sara saw beyond Becky's skin color and social status.  All she saw was another little girl in need of a friend.  
Sara brings light and gives all of the girls at the school a different way to view life.  She teaches them they don't have to conform to what society thinks a girl should be.  The headmistress Miss Minchin does not like that at all and tries to tear Sara down at every turn.
When Sara's father is presumed dead in the war, Miss Minchin takes all of her belongings away including a special locket given to her by her father before he left.  She tells Sara because all of her assets have been seized by the bank and she can no longer pay for the school, she must stay on as a servant.  Sara is mourning the loss of her father and that shrew of a woman has zero sympathy.  I always hated Miss Minchin and even as I watched the film with adult eyes, I still do.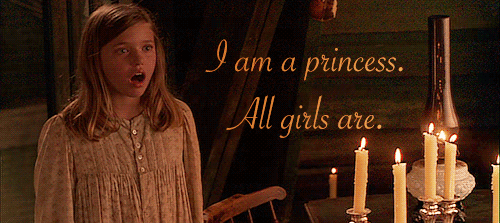 Sara for a time feels lost but one thing she never stops believing is that she is a princess.  Being told early on in the film that she is a princess, and that all girls are princesses, helped her maintain that strength and she did not let anyone take it away.  With all of the suffering she was enduring at the hands of Miss Minchin, she never faltered.  
Eventually, we find out that Sara's father who was injured and has no memory of who he is, is staying with the father of a soldier he attempted to save.  He is literally right next door.  The two reunite in one of the most memorable scenes ever.  It still gives me chills when after remembering who he is, he runs outside and yells "Sara!" It's an emotional scene that will bring you to tears.
A Little Princess is such an important film to show young girls because it teaches them to never let anyone try and take away their crown because we are all princesses in our own way.
A Little Princess is available to stream on Amazon Prime Video.