The third season of 9-1-1 was an absolute emotional roller coaster. I laughed, I cried, I yelled at my TV. Every episode had special moments, but I think I finally narrowed down my top 10 moments from this season. They're all listed below.
The Tsumani
The tsunami was one of the most devastating disasters the show has ever had. Watching Maddie try to help a man who ultimately drown in his attic was heartbreaking. My heart raced as the team tried to rescue the people trapped on the Ferris wheel. It was also nerve wracking to watch Buck try to be a hero and rescue civilians (even though he was still recovering from his injuries) and try to keep Christopher out of danger. Which leads me to…
Christopher Disappears
After Christopher falls into the water, Buck desperately searches for him and feels guilty for losing him. This episode was some of Oliver Stark's best work ever. All Buck wanted was for Christopher to be safe, and he really didn't want to tell Eddie that Chris was gone. Luckily, Buck found Chris alive and well, and Eddie didn't harbor any hard feelings towards Buck.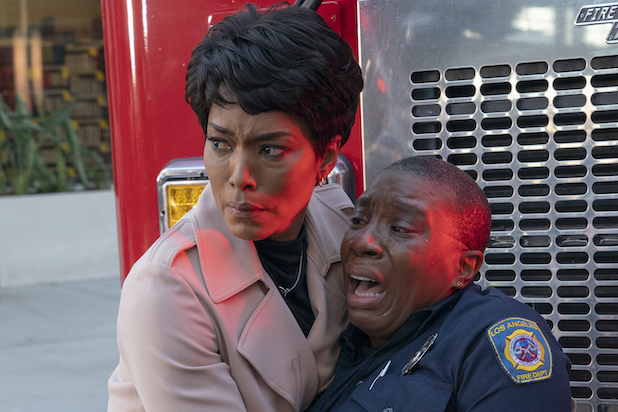 Hen's Accident
This was absolutely heartbreaking. It wasn't Hen's fault as the girl drove her car through the intersection and ignored the sirens, but it was still devastating. I felt awful for Hen as she broke down while the rest of the 118 tried, unsuccessfully, to save the girl. The scene was brilliant with the music in the background, and Aisha Hinds was outstanding.
9-1-1 Call Center Held Hostage
It was intense watching Maddie, Josh, and the rest of the call center try to survive the hostage situation. I didn't think the show would kill off a main character, but you just never know. Luckily, the 9-1-1 operators were smarter than the criminals and survived. I love that Maddie warned Chimney in her own way by saying she loved him, and he knew something was wrong. It was also an interesting twist that the girl was the brains behind the entire heist and back stabbed the others. And she almost got away with it.
Eddie Begins
9-1-1 always excels in character backstories, but Eddie's was probably my favorite. Knowing that he changed and became the father that Chris needed made me love him even more. Now he's this kind, loving father, and even though his son has special needs, Eddie makes it clear that Christopher saved him. More than once. Plus, this episode had some great Eddie-Buck moments, and I'm sucker for a good bromance (#sorrynotsorry).
Athena in Danger
Athena tracks down the rapist from the previous episode and puts her life on the line to capture this horrible man. I was afraid Bobby wasn't going to get to her in time, and while Athena was pretty beat up, she made the world a little safer by getting this guy off the streets. And I loved that her daughter still wanted to have a prom picture with Athena even though she had some battle wounds. It's wonderful that May knows how badass her mom is.
Bobby Risks His Life
After Bobby discovers that a truck was transporting cobalt through L.A., he makes everyone else leave. He stays to save the driver even though he knows there could be dire consequences. This shows what kind of person Bobby is: a leader willing to do what it takes to save a civilian and keep his team safe. The 118 loves Bobby so much as they were all devastated about the possibility of their captain having long term health problems from the cobalt.
Maddie and Chimney's Surprise
I love Maddie and Chimney together. These two have had a very slow build up, but they've both been through so much. So I guess I had my doubts that this would work. But it is working; they love each other and are having a baby! I'm really excited about this as I think Maddie and Chimney will be amazing parents. Plus, Buck's going to be a great uncle. It's nice that something good is happening after a season full of heartache for the 118.
Athena Begins
Like Eddie, Athena also has a shocking past. She was engaged to another police officer, but he was murdered. His murder was never solved…until this episode. As Athena pointed out, she loves her kids and she's happy with her life, but it's hard not to wonder how her life would have turned out if her fiancee lived. Through the flashbacks I could see how much Athena loved this man and how devastated she was after his death. Seriously, 9-1-1's character origin stories are the best.
Christmas Spirit
I love Christmas themed episodes. Some may say they're cheesy, but I love seeing all the decorations and everyone happy. The end of this episode gave me so much joy as everyone sat around the table at the firehouse enjoying their Christmas meal and each other's company. And it was so sweet that their families were there to share the joy of Christmas with them.
Honorable Mention
Let's be real: It was impossible to narrow it down to the 10 best moments. So I've included two honorable mentions:
The Worst First Date Ever
9-1-1 has so many serious and dramatic moments, but sometimes I can't stop laughing. The worst first date ever was one of the funniest stories the show has done. If you think you've had bad dates, it probably wasn't anything compared to Tessa and Gary's. I can't get over the fact that she got stick in the bathroom window and had to call 9-1-1. But kudos to Gary for still wanting to continue the date!
Ice Ice Baby
While the 118 tries to rescue a man trapped in a freezer, the show played "Ice Ice Baby" in the background. Maybe it was just me, but I thought this was hilarious. And brilliant.
There were some other really great stories from season three including the picture above of Buck rescuing the cat. What were your favorite moments? Leave a comment below and let me know!
9-1-1 returns mid-season 2021 on FOX.