Welcome to A-Z Movie Reviews.  Every Sunday, for the next several months, I will be posting a review of a film in my home movie collection.  How it works is, I will be reviewing movies in alphabetical order until I get to the letter Z (Yes, I do have a film that ends in Z).  Now I realize there are many ways to alphabetize a film collection but this is mine so don't judge me.  This is simply for fun.
---
Werewolves are the unsung bunch of the paranormal world. If you think about it, there really aren't that many films dedicated to them. Now don't get me wrong, I know there are wolves in movies like Twilight, and TV series like The Vampire Diaries but, they don't take center stage. Sure, we had Jacob Black, and Tyler Lockwood but most of us, myself included watched all of these for the vampires.
Aside from watching An American Werewolf in Paris (1997), I hadn't seen any other Werewolf films growing up so, when Blood and Chocolate released in 2007, I was interested in checking it out. I'm going to be honest with you, my main reason for watching it was Olivier Martinez. I fell in love with him in 2002 after I saw him in Unfaithful so when I saw the trailer, I was like sign me up, I will watch anything he's in especially if he's playing a supernatural being.
What it's about:
A teenage werewolf is torn between honoring her family's secret and her love for a man.
---
This trailer makes this film look so much better than it actually is. I haven't watched Blood and Chocolate in a very long time and I remembered why. The plot is interesting enough but, I just couldn't really get into Agnes Bruckner. I didn't feel emotionally invested in her character Vivian. I should have felt more for her and I didn't. The emotion just wasn't there from her and her chemistry with Hugh Dancy who did a great job of playing Aiden, didn't feel natural to me.
The scenes between her and Olivier's character Gabriel were interesting to watch but, I didn't feel like he was a man in pursuit of having Vivian as his mate. He honestly acted more like a father figure to me. It just didn't feel believable to me that he actually wanted to be with her like a love interest. Basically, there was no love triangle anywhere in this film and if he wanted her as his mate, we should have seen that tension but it wasn't there.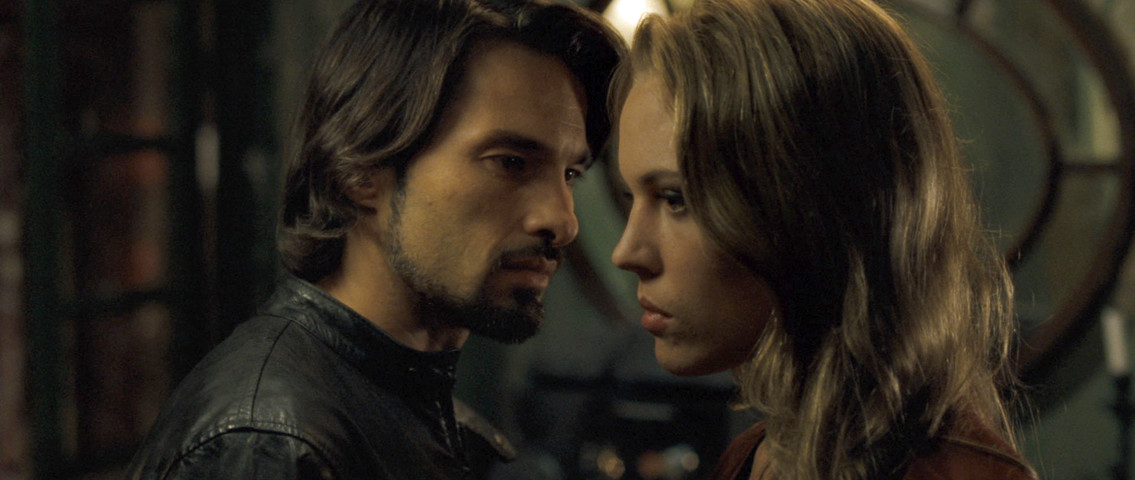 One thing I did really enjoy about this film was the special effects. Given all the technology we have now, looking back at what was done in 2007 with the wolf transformations was pretty interesting to see. The transitions from human to wolf were actually quite beautiful and graceful to watch and I couldn't take my eyes off the screen.
Overall, Blood and Chocolate is a film that if you're into the paranormal genre, will hold your attention. It's not the best film I've seen but I enjoyed it enough to buy it and add it to my collection so that's something I guess.
Other Thoughts
The movie is called Blood and Chocolate but there isn't too much mention of the chocolate shop, it's just there. I didn't even realize it belonged to Vivians aunt.
I know Vivians a wolf but, it got a little annoying watching her hop off of every wall she ran by.
I say again Hugh Dancy is dreamy in this movie.
Watching Aiden (Dancy) dip his finger in the chocolate sauce for public consumption, made me cringe because I started thinking about Covid-19 and how gross it was.
Vivians cousin Rafe (Bryan Dick) was a douche but I was still a little sad watching him die.
The hunt scenes were some of my favorites to watch. They were tense and scared me like they should have.
Blood and Chocolate is available to stream on Amazon Prime Video.