If there's anything that's been good to come out of quarantine, it's that I was introduced to one of my new favorite shows: Sweet Magnolias.
The Netflix show was the perfect answer to my quarantine blues, introducing me to three amazing, strong, independent, outspoken women that had their own unique stories to tell. Through it all — the good, the bad and the downright disheartening — they had each other to lean on through it all.
But Sweet Magnolias was more than just our three leading Sweet Magnolias. There were a wonderfully diverse cast of characters, including the kids in Ty, Annie and Kyle, as well as the charming Erik Whitley that breathed life into this wonderful show.
And because I love this show so much, I decided to do a rewatch — especially now that Netflix has finally renewed Sweet Magnolias for a second season — complete with a review.
So let's revisit the fourth episode of Sweet Magnolias, "Lay It All Down," where Dana Sue reevaluates her life after a health scare, Maddie and Cal continue their flirtation and Helen reignites a spark with an old flame.
Dana Sue's health scare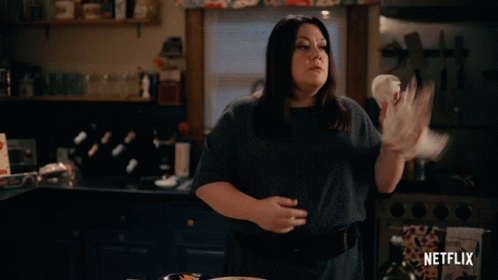 For the previous three episodes, we've seen as Dana Sue dealt with the stress of her job. The demands, the conflicts and the misogynistic pigs like Brad. For someone that we're told loves to cook, we haven't seen that love or passion since maybe the pilot. It felt like the previous events of those three episodes were all leading to a breaking point for Dana Sue – which was needed to make her realize that she needs to fix things.
Dana Sue suffered a health scare, which caused her to faint in her kitchen, as everyone watched helpless. While she was okay, she was warned by her doctor that she needs to take this event serious given her family history of insulin issues. Her mother died from diabetes, and Dana Sue was reminded that she needs to take care of herself.
It says a lot about a person when they have so many people around them that reach out and want to help. For Dana Sue, that was her daughter Annie, her friends Maddie and Helen and her sous chef Erik. And what did she do? She pushed them all away. She refused to let them help her. And all I could shout at my TV was – "Why? Let them help you!"
Something that I relate to with Dana Sue is not ever wanting to appear or feel weak, which is exactly how she felt as those that care about her were coming to her aid. All they cared about was helping her, and she would snap at them. At least she was aware of it. While Dana Sue had her loved ones concerned, she admitted that she also scared herself. She watched this happen to her mother – feeling helpless to do anything – and now she is reminded of it. Having everyone fretting over her health made her feel weak, which is why she kept snapping at everyone.
But after a nice talk with Pastor June – who helped Helen last episode – Dana Sue realized that she needed to find her joy in life again. Cooking is what she loves – and her kitchen is her stronghold – so that's exactly what she did. She helped the VFW cook some catfish – and had a blast doing it. She was able to find the joy in cooking again, and you could see the immediate effect it had on her. She looked more at peace, healthier, just from being in a good head space.
The tension between Dana Sue and Annie was also resolved as Dana Sue worked through her issues. Obviously, there is going to be some tension – teenage daughter and a mom? That's an obvious. But Annie was scared about something happening to her mom, and Dana Sue helped reassure her that she was going to be fine.
P.S. I immediately noticed Ty's concern about Annie after word about her mom's incident and how cute he was when texting her. I'm just saying.
Everyone's talking about Maddie and Cal
It's not a small town unless the entire town is gossiping about what should be your private business. And when it comes to Maddie Townsend, the town has talked enough about her recently. First, it was her soon-to-be ex-husband's affair and subsequent knocking up of Noreen. Now, it's Maddie's flirtations with Cal.
Although, to be fair, it was only us, the audience, that saw the flirting. All Mary Vaughn saw was a wet Cal Maddox changing his shirt in her driveway. I mean, sure, it's easy to speculate what might've happened in that house, but there's no way to know for sure. But, at this point of the show, it was obvious that Mary Vaughn was the kind of gossip queen that everyone secretly hates but won't tell her to her face.
Cal brought it up with Maddie, who brushed it off saying there's nothing to worry about since they're friends. Oof. The "F" work. It was clear that he didn't want to hear that. But it was even more clear when he was being hit on by an attractive woman that loves sports and turned her down because she wasn't for him. It didn't take a genius to finish the sentence. He wants Maddie.
Although, give it up for Cal, he's not going to back down from something he wants. But he approaches it in a way that comes off as respectful. He's honest with Maddie – he doesn't want to be friends, he wants to be more. He thinks they have a shot at something special. If she's interested. Cal is the epitome of – the worst thing she could say is no. He's not afraid to go for it, even if he gets rejected.
While Cal couldn't care less about what people have to say, it's not as easy for Maddie. Obviously, there are some issues. Mostly with her son Ty, who makes it clear that he doesn't want anything to happen between them. Mostly because people won't stop talking about him and his family. First, it was his dad. Now, it's his mom and his coach. Ty just wants to play baseball without people talking behind his back and distracting him. Then there's Bill's clear disdain that Maddie is clearly moving on and happy. How dare she, right Bill? *eye roll*
Maddie could care less about what Bill thinks and everything about what Ty thinks, which is the only issue. But we saw that she approached Cal at Wharton's following the baseball game, which showed that she clearly is interested in him. Screw the gossipers around them.
Helen and Ryan
We finally got to meet the infamous Ryan that was mentioned in the pilot. The one that Helen had gone on adventures with and followed to San Francisco. Possibly the one that got away. And until this fourth episode, we had no idea about that time in Helen's life. Well, that all changed when Ryan made his way back to Serenity after he got word that his Aunt Francis' house was being torn down for a new business. Although someone forgot to mention that it had been bought by the Sweet Magnolias and they were simply renovating it.
But his entrance and subsequent scenes did not shine Ryan in a good light. He looked angry, demanding and everything I wouldn't want for Helen. Don't mind me, I'm over here still waiting for Helen and Erik to give things a try. But when Ryan showed up, I knew this wasn't a one-episode arc. There was resolution that needed to happen – be it a happy ending or not.
Ryan insisted that he came for Aunt Francis' house – the house that he grew up in – but it was clear as day that he was there for Helen. Everyone and their mother – including his Aunt Francis – knew it. There was unspoken business between the two, and Ryan was the one that had to make the first move – because Helen certainly wasn't going to give him the time of day.
He eventually agrees to drop his bid to make Aunt Francis' house a historical landmark after Helen shows him that they're preserving the property. But there's a reason why Ryan acted so passionately about the house potentially being in danger. The house meant that much to him because it's where he saw Helen for the first time, he told her as they stood in the darkened house. The house was a reminder of Helen – a happier time for them. And he lost Helen. The thought of losing the house where there were so many happy memories with her, he couldn't bear it. Helen felt it, too. And the two eventually locked lips – a reminder that their story isn't over just yet.
Stay tuned for the next installment of my Sweet Magnolias rewatch next Saturday.
Sweet Magnolias is streaming on Netflix and season 2 is coming soon.