We all have our favorite and least favorite tropes. From love triangles to slow burns, tropes are often the best ways to showcase great characters and storylines. They can also be frustrating and make you question why it is even a trope at all. In this bi-weekly column, we'll take a deep dive into some of the most classic television tropes.
What do Buffy the Vampire Slayer, Grey's Anatomy, and Once Upon A Time have in common? At one point in each of these shows, all main characters burst out into song.
That's right, they all had musical episodes.
One was iconic, one will forever be a meme and one was kind of forgettable. However, they all deserve some credit as pulling off a musical episode in the middle of a twenty-plus episode season is extremely difficult. Not only do the writers have to plan out an entire episode as they normally do, but they also have to incorporate writing, recording, and choreographing musical numbers.
Since it's a pretty intense and time-consuming process, only a handful of television shows have ever attempted a musical episode. And most of them aren't even that great.
When thinking of musical episodes, most will think of Buffy the Vampire Slayer's "Once More, With Feeling" as it's typically regarded as the best musical episode ever. Playing off their monster of the week theme, this episode features a demon that forces people to sing their emotions. However, if they sing too much they combust — making the stakes just as high as any other episode.
What makes this episode stand out is that instead of just inserting random musical numbers, Buffy the Vampire Slayer used songs to further advance certain storylines. For example, this episode had one of the biggest emotional bombshells of the series with Buffy revealing through song that despite all her friends believing they saved her from hell, she was actually in heaven ever since her death in the season five finale.
Poor Buffy. Not only was she forced to reveal this gut-wrenching truth, but she had to do it while dancing and singing in front of all her friends.
In all seriousness, it's hard for me to envision what this reveal would have been like had it been delivered in a normal conversation. These musical numbers served as a distraction, making me forget about all the troubles these main characters were dealing with. So when all was revealed toward the end of the episode, I was thrust back into this dark vampire and demon reality. It brilliant episode that put viewers on an emotional rollercoaster.
However, while I enjoyed the emotional aspects of Buffy's musical episode, I can't say the same for Grey's Anatomy.
Everyone breaking out into song as they're trying to save Callie's life felt both forced and awkward. I've also seen multiple Tik Toks making fun of this episode which just goes to show that just because you can do something, doesn't mean you should. Though I do enjoy Sara Ramirez belting it out throughout the episode.
Let's be real, this episode is just the writers wanting to give a treat to longtime viewers by having the characters sing songs such as "Chasing Cars" and "Breathe." Otherwise, Callie singing while she's being operated on just doesn't make any sense. Do I think it's a fun episode to watch when you're bored? Yes. Does it stack up as one of the best musical episodes on television? Definitely not.
Buffy the Vampire Slayer's musical episode worked so well because it used musical numbers to support the various storylines they were telling. Grey's Anatomy just was another dramatic episode with more music. 
However, at least Grey's Anatomy didn't keep making musical episodes despite negative fan reactions, unlike some shows. And by some shows I mean Riverdale. 
Riverdale is notorious for kind of just doing its own, strange thing and their musical episodes are no exception. I remember when the musical episode was first announced back in season two and I was pretty excited about it. With the creator of the show having formally worked on Glee, I knew this type of episode would happen eventually. Never did I think two more musical episodes would follow.
Unlike the shows previously mentioned, Riverdale's musical episodes involve actual musicals. Riverdale High School put on a production of Carrie: The Musical in season two, Heathers in season three, and Hedwig and the Angry Inch in season four. All of which provided even more singing opportunities for its main characters. 
Seeing as Riverdale lost my interest in season three, I can't really critique all their musical episodes. However, I will say that "Chapter Thirty-One: A Night to Remember" was one of my favorite episodes in the early seasons of Riverdale. The music wasn't terrible, it had some cute Barchie moments, and it actually made sense. It also led to a big reveal at the end of the episode with the return of the Black Hood.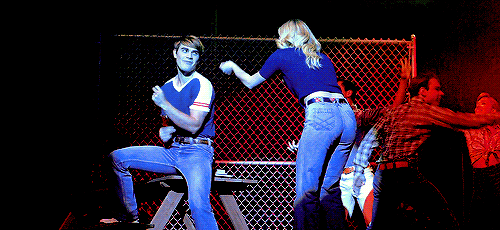 Riverdale doing a musical episode is pretty comical to me given that they constantly have their main characters singing regardless. Despite that, I enjoyed the first musical episode. Who knows what I would feel after the third, however. 
There is one instance in which I wouldn't mind having another musical episode. While the chances are pretty slim, I would love another musical crossover between The Flash and Supergirl before Supergirl ends later this year. Unlikely, I know, but of all the Arrowverse crossovers, "Duet" remains one of my favorite crossover specials.
Between Grant Gustin, Melissa Benoist, Jesse L. Martin, and Darren Criss, this episode just screams musical talent. By bringing all these characters together, they were able to resolve a bunch of built up character drama across two different shows. The music wasn't necessarily vital to the story, but it added a fun layer to it. Plus, Barry serenading Iris at the end of the episode made me swoon.
For me, a musical episode should just be fun. That's what sets it apart from a normal episode of television. That and the creativity behind it.
Writers who want to take a stab at musical episodes should also be prepared to take creative swings. Make your characters sing some awful yet original songs that tie into the storyline. Don't just sing "Chasing Cars" just because you used that song once at the beginning of your series. If we wanted to listen to Snow Patrol, we would. 
Musical episodes are a daring task and so you might as well go all in.