We all have our favorite and least favorite tropes. From love triangles to slow burns, tropes are often the best ways to showcase great characters and storylines. They can also be frustrating and make you question why it is even a trope at all. In this bi-weekly column, we'll take a deep dive into some of the most classic television tropes.
The other week, long-time fans of Law & Order: SVU were treated with a highly anticipated return. After being absent from the show for ten years, Elliot Stabler finally made his return to the franchise.
What made his return so impactful was that it provided closure that the viewers were robbed of when he initially left the series. His departure at the end of season twelve was abrupt and wasn't really explained. While they passed it off as Stabler not wanting to do paperwork after killing someone, it just felt like a cop-out. That along, with the fact that he apparently never spoke to Olivia in the ten years he was gone, has always left a sour taste in most viewers' mouths.
Elliot Stabler was an instrumental part of SVU, so it's no wonder his departure left a hole in my heart even all these years later.
He's also not the first and only character to unexpectedly leave our screens. In this week's column, I'll be taking a look at some of the most dramatic television exists. But rather than focussing on characters who were intentionally killed off for story reasons, I want to discuss characters that we're forced to believe would really walk away from their current lives.
Fox Mulder, The X-Files
As much as I love Dana Scully, it's impossible for me to imagine The X-Files without Fox Mulder.
The X-Files was built on the foundation of Mulder and Scully. They were like yin and yang — one a skeptic, the other a believer. To remove one meant disrupting the entire way the show works. While they did all they could to move on after Mulder went on the run, the show just felt empty — like it was missing a giant piece of the puzzle.
To make up for Mulder's absence, they introduced John Doggett, a new partner for Scully. He wasn't a bad character and I even enjoyed some of their new partnership on occasions. However, it just never felt like the same show. After all, it's not really an episode of The X-Files without Mulder ranting about some conspiracy while Scully rolls her eyes to the back of her head in annoyance.
I'm not completely upset that they continued to make The X-Files without Fox Mulder, but I'm also not going to sit here and say I enjoyed the Mulder-less episodes more than I did when he was a part of the series.
Peyton & Lucas, One Tree Hill
I'm a big Leyton fan, but even I wasn't mad they left One Tree Hill after season six. Maybe it was because I was afraid that if they were on the show for another season, they'd try to revive the stupid love triangle again.
To have one character leave a show unexpectedly can be rough, but two at the same time is especially brutal. And it's not like Lucas and Peyton were minor characters on One Tree Hill — they were the main characters up until they left. While it was an ensemble show, you can't ignore the fact that everything really started with Lucas joining the basketball team. Obviously, the show evolved to be a lot more than just kids playing basketball, but no matter what was going on, Lucas and Peyton were a part of it.
I always wonder what the show would've been like had they stuck around for the next couple of seasons. We probably never would have gotten so much emphasis on Brooke, Nathan, and Haley's storylines which would have been a bummer. But we also could have avoided that insane Clay and Quinn dream sequence episode.
While it doesn't make sense to me that Lucas and Peyton would raise their kid anywhere other than Tree Hill, I'll still always be grateful that these two left the show together. If Lucas and Peyton weren't endgame, I would have rioted.
Alex Karev, Grey's Anatomy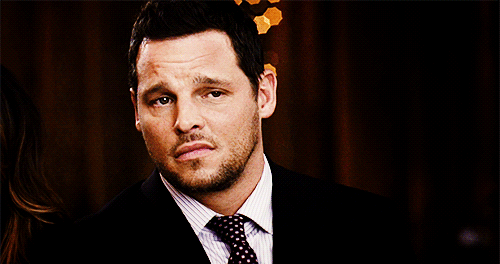 Not going to lie — this one hurt a bit. And I don't even watch Grey's Anatomy anymore.
When I heard of Karev's departure, I was nearly as furious as avid Grey's Anatomy watchers. His decision to leave Meredith and Jo to go live on a farm with Izzie just blows my mind. Part of me wishes he got hit by a bus like George because that would have been easier to swallow.
Shonda Rhimes could write a whole book on the subject but she still could never convince me that Karev would ever up and leave the life he had in Seattle. I get decisions need to be made when actors decide to leave a show, but this one was just that actual worst. Izzie basically stole his sperm and kept his children a secret from him for years and we're just supposed to be okay with that and move on? No thanks.
Michael Scott, The Office
Of all the character departures, this one makes the most sense. Michael could have easily stayed at Dunder Mifflin for the rest of his life and no one would question it. But after seven seasons (and thanks to Steve Carell's booming acting career), he left Scranton to be with his fiance, Holly.
The Office did his character justice in his departure as it indicated growth and maturity which he long lacked (and maybe still does in some ways). Michael's departure is a great example of being dealt with not-so-great cards (i.e. the main character wanting to leave a show) and making something of it. While he could've stayed in Scranton the rest of his life, The Office demonstrated what happens when someone special enters your life. Things you thought would be your whole life end up being not so important in the grand scheme of it all, and you have to put it behind if you ever want to move forward.
For Michael, Dunder Mifflin was his past and Holly was his future.
Rick Grimes, The Walking Dead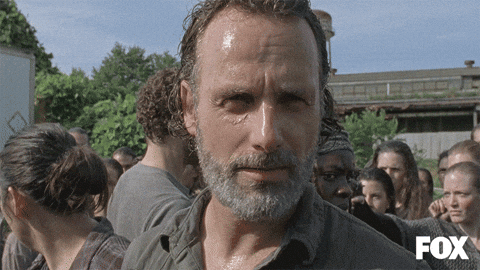 The Walking Dead, like many others mentioned on this list, is an example of a show that has gone on for too long. I think The Walking Dead should have ended after the introduction of Negan, but it definitely should have ended when Rick Grimes left.
Even though characters like Daryl and Michonne (who also leaves by the way) are great, it's Rick that made this show stand out. His journey from finding his wife and child to then mourning their loss is one of the best storylines out there. Rick Grimes is what captivated audiences for years, so what do you do when he's gone?
Well, that's another gold mine right there. When a leader falls, it can be fascinating to see how their followers react and respond. For the past couple of seasons, The Walking Dead has explored a world in which Rick isn't at the top. We get to see what Daryl is like without his ride-or-ride friend. We get to see people face challenges we may not have ever seen if Rick was still around.
The Walking Dead was definitely at its peak during its Rick Grimes years, but that's not to say it's not good now. I guess that's up to the viewers to decide.
There are many instances in which an actor chooses to leave a show. And no matter how many times we experience it, it's always hard to watch. Are there any other character exits that still stick with you? Let me know in the comments below!