He's made us laugh for years with Rick & Morty, but now he's splitting our sides with Star Trek: Lower Decks. I had the good fortune to sit down with Star Trek: Lower Decks creator Mike McMahan last week to chat about Lower Decks.
Mike is a delight and is one of the most genuine interviews I've had the pleasure of doing. I felt like Mike was just as excited to speak to me and to be doing his job as I was to speak to him. He's a fanboy living the fanboy dream and it really shines through in our conversation. We only got to chat for about 15 minutes, but Mike packed a TON of info into our time. Here's part one of what Mike McMahan had to say about Star Trek: Lower Decks season 3, the future of Lower Decks, and Star Trek fandom in general.
Back to the Cerritos!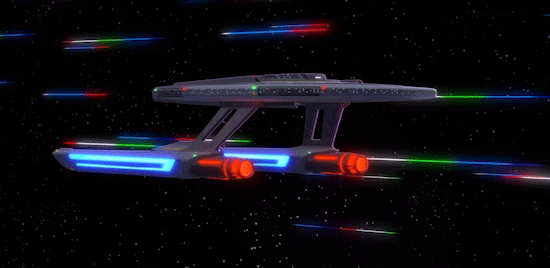 Mike McMahan graciously gave me a look behind the curtain of Lower Decks during our chat when I asked about how a season of Lower Decks gets planned. Mike said,
"At the beginning, I come in with some stuff that I know I want to do. Some structural things, like I know I want this episode to feel like a sketch comedy episode. I knew I wanted to go to Deep Space Nine, and then if you watch all three seasons, you'll notice I have a pattern for how I want the stakes to rise with enough room…for specific character exploration episodes.
So most of the time it's saying, 'This week, let's tell stories about times when we were in our 20s and working in the service industry or customer assistance or whatever it was. Let's tell stories about being 'lower deckers' and how it can apply to our four leads.' [We ask] where are they this season? What can we explore with them? What can they learn about themselves? And THEN we layer in the sci-fi parts on top of that."
I love the idea that the Lower Decks crew are basically doing the Starfleet equivalent of a service industry job, which is where most folks work, especially younger ones starting out. That's the sweet spot of Lower Decks, relatable characters with lots of good humor.
Honoring the Star Trek Legacy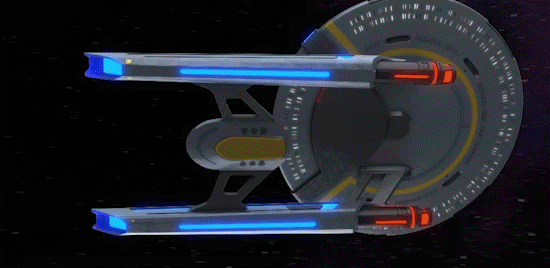 One of the best things about Star Trek: Lower Decks is the legacy actors that join our crew every season. Jeffery Combs, Alice Krige, Marina Sirtis, and Jonathan Frakes all appear in previous episodes. One episode into season 3 and we've already gotten James Frickin' Cromwell to reprise his role as Zefram Cochrane from Star Trek: First Contact. I asked Mike about getting so many legacy actors for the show. Here's what he had to say.
"So far it's been great! I think because Jonathan Frakes set the tone for the whole thing. I hung out with him before we made the first season in Toronto while I was up there shooting 'The Escape Artist,' the Short Trek that I wrote. And I kind of pitched him Lower Decks and showed him the pitch art before I sold it. …He was like, so excited to be on Lower Decks. He came in and was so fun. But he set the tone for all the other legacy actors who then saw his work, saw how much fun it was, saw that they could be those characters and then, get to be them in a way they had never been before.
It still protects the work that they had done because they love it so much. We kind of went from me having to be like, 'Hey so we have this show. I swear that it's really Star Trek,' to I went to Comic Con this year, I walked into a room and Gates McFadden came running up to me and said, 'I'm such a fan of the show! I'd love to be in it sometime!' Tawny and Gates and I hung out for like half an hour, and I was like, 'Wow! This is amazing! We've been so embraced by everybody!' I never would have predicted it."
You never would have predicted it Mike, but the proof is in the work you do. Lower Decks shows great care for its source material, and while humorous, shows how much you love Star Trek. If I were a legacy Trek actor, rest assured, I'd be beating down your door for a part on Lower Decks.
A New Legacy For Lower Decks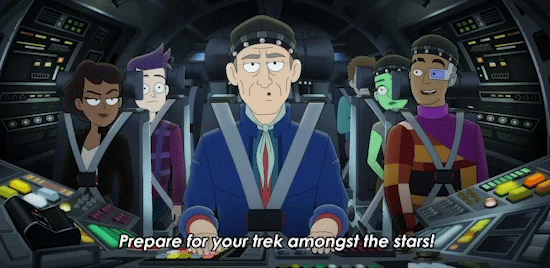 As a follow-up question, I asked Mike to tell me who he'd love to have on Lower Decks that haven't made it into the show yet. I love his response, so I'll let him tell you himself.
"I haven't had Geordi and Data on. I haven't had Spiner or LaVar on, and to me, they were really the heart of TNG. I just love them so much. I'll never be able to get Rene Auberjonois because he passed away, but he was another dream person to be able to work with on this show. Geordi and Data are spiritually in the show as Tendi and Rutherford, but getting them actually in there in some way you know, like in the timeline, it's tough with Data, but the holodeck always exists! I want to wait and see.
I've heard that there's going to be some of the legacy cast in Picard season 3, and I want to see what Terry does with all of them before I start mucking around. Because his show takes place 30 years after mine, everything that they've figured out for them and written for them is really going to define where they are in the time period for Lower Decks."
Note the care that Mike has for canon in his answer. I really appreciate that he wants his work to fit in well with the upcoming final season of Star Trek: Picard. If there are any "Lower Decks isn't canon" folks in your life, well, I think that proves that they're flat-out wrong. *sips tea, Earl Grey, hot*
Strange New Worlds, Lower Decks-Style
The most ambitious crossover of the 23rd and 24th centuries is about to happen in the next season of Star Trek: Strange New Worlds! There is still a lot of justifiable hullabaloo about the crossover between Star Trek: Lower Decks and Star Trek: Strange New Worlds that was announced at SDCC. I asked Mike how all of that came to be. The answer is quite surprising.
MIKE: Strange New Worlds came to us. I love the thought that I could call up Henry and Akiva at Strange New Worlds or Kurtzman and be like, "Hey! Here's what we're going to do with your show!" But no, they have always been huge fans of Lower Decks. I know Henry wears the Lower Decks t-shirts in the writers' room of Strange New Worlds.
And you know the first thing that happened was that first season, Henry had me kind of punch up a couple of the scripts to add a bit more humor to the dialogue, in some of the funnier episodes uncredited and we had such a blast doing that together. I got to do a bunch of stuff on "Spock Amok" and…
ME: That's my favorite episode.
MIKE: It's so charming! And that's because the cast is so charming and the Enterprise as a place is so comfortable, I just got to play in their playground for a minute and that lead to them being like, "Well, what if we had Tawny and Jack on the Enterprise? They look like their characters, they're great screen actors, it was such an easy yes to say. And so Kathryn Lyn co-wrote the episode.
She was the writer on Lower Decks who wrote, "wej Duj" which made me really happy, and then I got to do a ton of punch up. I got to direct some of the animated portions. I got to sit in the edit for a bit like, you know, I've been really heavily involved. Those guys are so collaborative. But it's really the thing they built. It's the world of the Enterprise in Strange New Worlds in that era that my characters are going into that really makes it feel special. It's like a charm offensive. You're going to be grinning the entire time.
I am BEYOND excited for that episode. We'll have to see if the "Troubles and Tribbleations" prediction I made in my SDCC round-up is right.
Will the Tendi and Rutherford Ship Sail?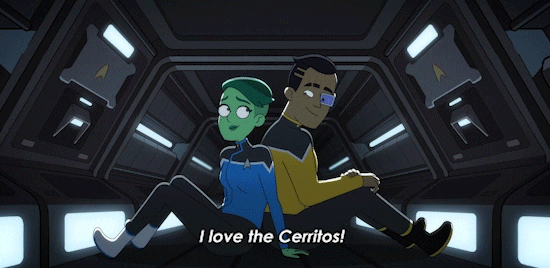 I didn't expect full spoilers on this question, but I would have kicked myself if I'd not asked Mike about my Lower Decks OTP, Tendi and Rutherford! While Mike didn't give any spoilers, he did give me a much deeper answer than I anticipated. I asked him if Tendi and Rutherford would ever get together. Here's what he had to say.
"Gosh, I hope so! They seem so compatible. They're so sweet! They both love engineering. You know, here's the thing. If you ask me, 'Will Tendi and Rutherford ever repair the warp core together?' I'd be like, 'Fuck yeah, absolutely, can you ever imagine them not?'
But you know, there's something about…there's clearly a deep friendship between them and maybe something more. But because they're the Geordi and Data of the show…it's [more about] their friendship and learning about themselves, and Tendi trying to become a senior science officer, Rutherford both becoming a better engineer and learning who he was and that there was a part of him that he didn't know was hidden…like those things are almost more important than their romance with each other.
We address this a little bit more in season 4. There's an episode that kind of forces them into addressing it a little bit in a way that's like this is giving me what I wanted, but I also don't know if I want it anymore! We do it in a fun way. You're not going to leave that episode feeling bad, you know what I mean. It's one of those things where…obviously they're such cuties, you're just like, 'GO AND BE IN LOVE! WHAT ARE YOU DOING?'
Do you know what I mean? But that's not what we're here for in Lower Decks. We're not here for them to get together. We're not here to see a relationship between like, Boimler and Mariner, very obviously. Even Mariner's relationship with Jennifer the Andorian is like, you want it to work, but as you know, Mariner's very hard to be with, and circumstances are always very hard. What it really comes down to is that Star Trek isn't really about romantic relationships to me. It's about colleagues and respect and being on a crew together and best friends."
Definitely agree with Mike here. It doesn't have to be the main focus, but if I get just a bit of sweet shipper lattice, if you will, to make Lower Decks that much sweeter, then I'll be okay. Either way, that is a BIG tease for season 4 that I didn't anticipate getting in this interview! I'll be over here drawing hearts around pictures of Tendi and Rutherford until then.
Final Thoughts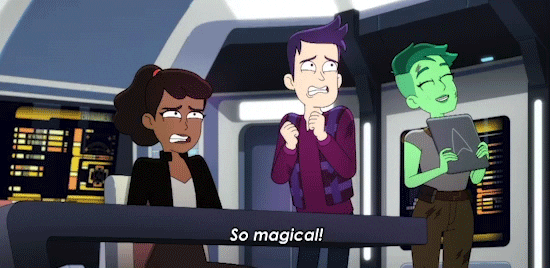 I think that's a good place to push pause for now on my interview with Mike McMahan. Thank you SO much to Mike for sharing his time and insight with me. I hope we are able to talk Trek together again soon!
New episodes of Star Trek: Lower Decks stream Thursdays on Paramount+.
Want MORE of our interview with Mike McMahan? Stay tuned to Fangirlish for Part 2, coming soon. In the meantime, what are your thoughts on this first part? Leave me a comment and let's talk Trek.