"Don't trust anyone."
That seemed to be the theme for this week's episodes of Gold Digger as we saw a lot of deceit. There were so many lies I couldn't keep up.
Let's Discuss:
Episode 3: 'Her Rival'
With Friends Like These
Often when we think of someone being a rival, we never expect it to be a friend. With Julia, this is not the case. In episode 3, we are introduced to Julias former best friend Marsha (Nikki Amuka-Bird). How did she become a former friend you might ask? well, she committed the ultimate sin. She broke the girl code and slept with Julia's husband Ted (Alex Jennings) and now the two are shacking up together not far from Julia.
After receiving a card of condolence from Julia on the anniversary of her former husband's death, Marsha shows up on her doorstep to have a friendly visit. In Marsha's mind, this is Julias way of showing she still wants to be friends. That was not Julias intention at all and she lets Marsha know she only sent the card because "that's what people do."
Marsha knows she has severely destroyed her friendship with Julia but she continues to push because she's actually a very lonely person. Julia decides to put Marsha out of her misery and the two sit down for some coffee. The conversation seems to be flowing like old times but when Marsha begins to talk about the old times they had together, Julia immediately cuts it off.
Benjamin shows up and immediately likes Marsha. The two spark up a friendly conversation as Julia observes from the kitchen clearly jealous. In my opinion, if you're trying to get your old friend back, then it's probably not a good idea to flirt with her new beau.
Julia short stops the conversation between Benjamin and Marsha and has no problem letting him know who she is. Can you really blame her though? Benjamin is handsome and after what happened before, it's only natural Julia would have some trust issues.
It only makes matters worse when Julia later calls Marsha to ask her if she would sleep with Benjamin and she says yes. BIG MISTAKE MARSHA! like, come on, have you learned nothing yet? that was a test and you FAILED. Miserably.
The Kids Have Proof
Since day one, Patrick (Sebastian Armesto) has made it his mission to break up his mom and Benjamin. He believes he's finally got the proof he needs in the photo he took of Benjamin out with another woman. He and Della (Jemima Rooper), share the photo along with the information that Benjamin is being evicted. Patrick and Leo (Archie Renaux) are now even more certain that Benjamin is a gold digger and they think she needs to break up with him immediately.
Burn Baby Burn
After Julia's children leave and she makes the phone call to Marsha asking if she'd sleep with Benjamin, Julia is ready for a fight. When Benjamin returns from his walk, Julia tests Patricks theory of him being a gold digger by talking about a villa she owns in Italy. She also mentions being "well off" financially to which an unsuspecting Benjamin replies "i'm dating a millionaire."
That was a big mistake because it sets Julia off. After partaking in a few glasses of wine, Julia takes all of Benjamins shit and lights it on fire. Benjamin loses it and they get into a shouting match. He has no clue why she's burning all of his belongings until she tells him she knows about him being with another woman and that he's being evicted. Benjamin is stunned and immediately pulls his phone out to explain the woman he was with was a client from work.
Benjamin asks Julia why she didn't talk to him about her concerns and she informs him she has a lot of trust issues.  He finally lets her know what's going on with his financial situation and they end up reconciling.
Make Yourself At Home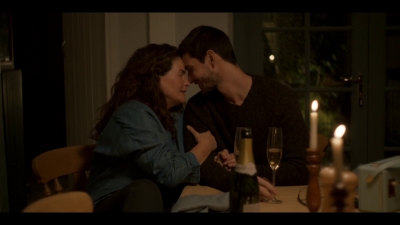 Since Julia and Benjamin got together, they're relationship has been on the fast track. Julia cares about Benjamin and she is willing to do anything for him. Because she knows his living situation isn't the best, she asks him to move in. He has a moment of hesitation but naturally, he says yes. I know it's super fast for them to move in together but hey, if you were being evicted and someone offered you a place to stay, you'd probably say yes too.
What The Fuck Was That Proposal?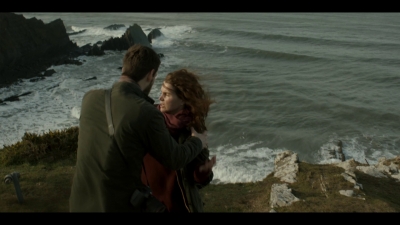 Seriously, what the fuck was that? while Julia and Benjamin are out for their walk, he's acting extremely nervous and just weird. Julia is standing near a cliff and Benjamin tells her to just stand there because he wants to remember the moment. He pulls out his camera and takes a reluctant Julias photo, then stands up and walks towards her in a way that seems menacing.
With a look of fear and tears in his eyes, he grabs Julia by the shoulders. She's understandably terrified as her feet are beginning to slide leading her close to the edge of the cliff, he then says "will you marry me?."
What kind of creepy proposal is that?
Episode 4: 'Her Husband'
In episode 4, we get to know Julia's ex-husband Ted a little bit more and honestly, it made me dislike him even more. Ted is a loose cannon and he feels like he has to save Julia from Benjamin. Now, mind you, he's dating Julia's ex-best friend so why does he even care? like, mind your business Ted.
I guess it could be that it's only been 3 or 4 months since the divorce but still, he made a decision and it's time for Julia to be able to move on and have her own life. Finding out that Julia is engaged to Benjamin only adds more fuel to the fire. Ted is constantly saying that Julia still wants him but it's obvious it's the other way around.
It becomes more evident when he kisses Julia after dropping his mom off at her house for Christmas dinner. Seriously, he kissed her right outside of the house while Benjamin was inside. What if he saw them? Ted has some huge balls to do some shit like that.
The Prenuptial Agreement
Julias kids are adjusting to finding out that she and Benjamin are getting married. Della is being as supportive as she can while Patrick and Leo are still very much against it. Julia has already told them she no longer wants to hear anymore negativity about Benjamin. Patrick being his persistent self, gives her a prenuptial agreement for Benjamin. In his mind, if Benjamin signs it without a fight, it will prove he is serious about being with Julia.
Julia is extremely upset and she tells Patrick it's unfair of him to ask her to do that and she tells him no.
Other Thoughts
Julias flashbacks are coming more frequently and now Ted is having them as well.
Did Ted try to kill himself before? his flashback appears to show that.
Was Ted violent with Julia all the time, if so, why would he ever think she would want to be with him again?
I love that they used Petit Biscuits song 'Sunset Lover' while showing Benjamin and Julia walking and frolicking in the pool because it's one of my favorite songs.
Julia, now you're paying for Benjamin to go back to school for his Masters degree? come on girl!
Ted keeps saying Julia's relationship with Benjamin is laughable, no. Your jealousy and the fact you think Julia still wants you, is laughable.
Ted getting so upset he literally banged his head on the wall in the kitchen was insane. No wonder he's so crazy, he does shit like crack his head on walls!
Julia's son Leo knew about Ted and Marsha's affair for an entire year, and didn't tell her. WHAT. THE. FUCK?.
Yeah, I'm still stuck on that. How do you not tell your own mom your dad is cheating on her?
Again, what the fuck was that proposal Benjamin?
Eimear went back to work. You go girl!
Benjamin called his ex-girlfriend to tell her he was engaged. WHY? you broke up. What was the reason?
Ted's mom has zero chill and I love her
JULIA YOU BOUGHT YOUR OWN ENGAGEMENT RING? GIRL BYE!
Julia forging Benjamins signature on the prenuptial agreement. Umm, yeah, it seems Julia doesn't trust him as much as she claims to.
Episodes 3 & 4 of Gold Digger are currently available to stream on Acorn TV. The final 2 episodes will be available Monday May 18th.